Registration and configuration of an Office 365 tenant
After you created a CodeTwo Admin Panel panel account and logged in, it's time to register your Office 365 tenant.
You can add a new tenant to the Admin Panel directly from the Dashboard, by clicking the Add (

) button on the Tenants card (Fig. 1.). Alternatively, go to the Tenants tab and use the Add new tenant (

) button.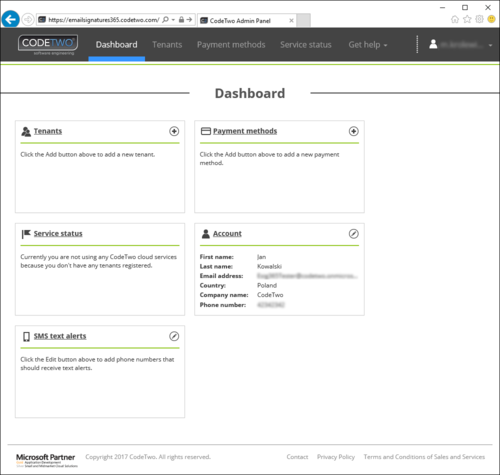 Fig. 1. The Dashboard's initial appearance (no tenants added yet).
In either case, a 4-step wizard will open. In the first step (1. License agreement) read and accept the terms and conditions (Fig. 2.).
In the next step (2. Login - not shown here) click Next and you will be redirected to the Microsoft account sign-in website (Fig. 3.). Sign in with your Office 365 global admin credentials - this is the only account type that has all the permissions required by the program to add personalized email signatures.
Info
The program uses Azure OAuth 2.0 authentication. Your credentials are safe, because they are passed directly and only to Microsoft servers; they are never stored on any CodeTwo or third-party servers.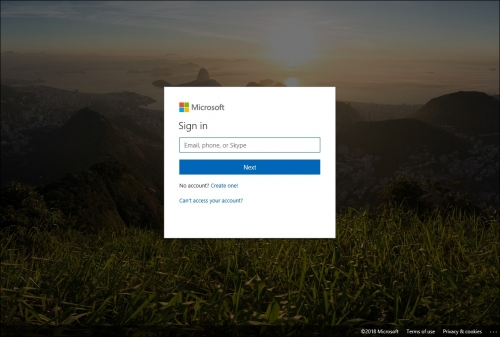 Fig. 3. The Office 365 sign-in page.
Accept the permissions necessary to run CodeTwo Email Signatures for Office 365 with your tenant.
After that, in step 3. Geolocation (Fig. 4.) you need to select a geolocation for CodeTwo cloud services. Choose the location of the server in which your Office 365 tenant resides (or the nearest one) and click Register.
Important
Be sure to choose the right location for CodeTwo services as it is not possible to change this later without deregistering your tenant (which will also cancel your subscription). If you need to modify your geolocation, please contact our Support.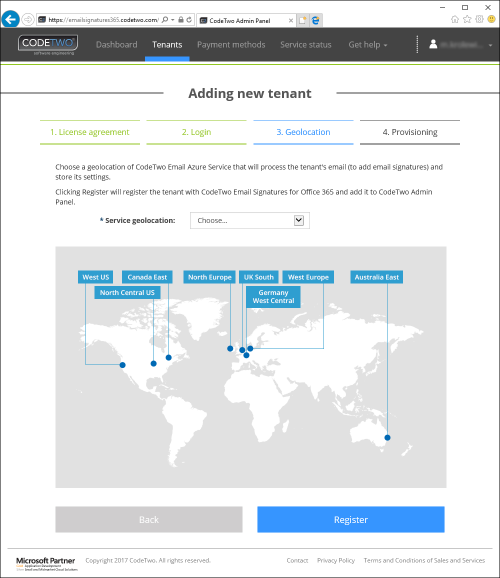 Fig. 4. Choosing the location of CodeTwo Email Azure Service.
Successful registration will be confirmed in the last step (4. Provisioning), shown in Fig. 5.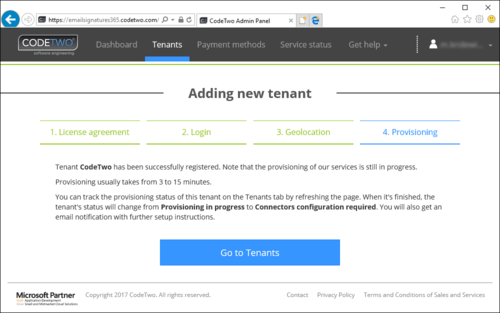 Fig. 5. Successful tenant registration.
Directly after tenant registration you need to wait (usually for about 3-15 minutes) for our services to be provisioned, before you can proceed with further configuration. You can track the provisioning status of your tenant on the Tenants tab, by refreshing the page. When it's finished, the Status on your tenant's card will change from Provisioning in progress to Connectors configuration required (Fig. 6.). You will also get an email notification with further setup instructions.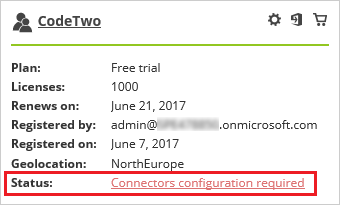 Fig. 6. The tenant status displayed after the provisioning of our services is completed.
Once the provisioning of our services is finished, a new accepted domain will be added to your Office 365 tenant: [your unique ID].smtp.codetwo.online
Please do not remove the new domain - it's the new requirement from Microsoft, to make your email even more secure. If you remove it, the program will not work correctly. If you accidentally deleted the new CodeTwo domain from your Office 365, contact us.
Please do not verify this domain in your Exchange admin center. If Office 365 sends you notifications or warnings (e.g. to update the domain's DNS settings), you can configure this domain as described in this article or ignore these warnings - your mail flow is not affected.
At this point, your tenant is almost ready - you only need to complete a few additional steps to finish the tenant's configuration. To learn more, click the Connectors configuration required status on your tenant's card (Fig. 6.).The program will show additional information and redirect you to the Next steps page (Fig. 7.), where you will learn what is required to finish the configuration of your tenant.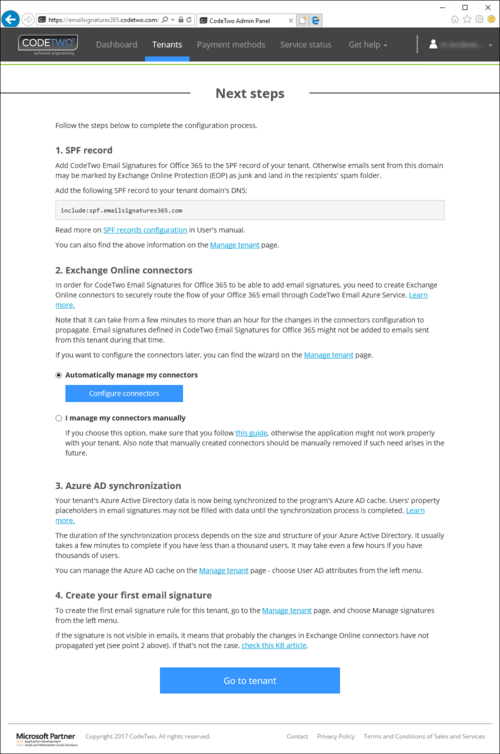 Fig. 7. The Next steps page.
It is recommended that you configure SPF records and Exchange Online connectors now, according to the instructions displayed (Fig. 7.). For a detailed procedure, see the next articles in this section.
See next