Admin Panel overview
When you sign in to the CodeTwo Admin Panel, the Dashboard opens (Fig. 1.).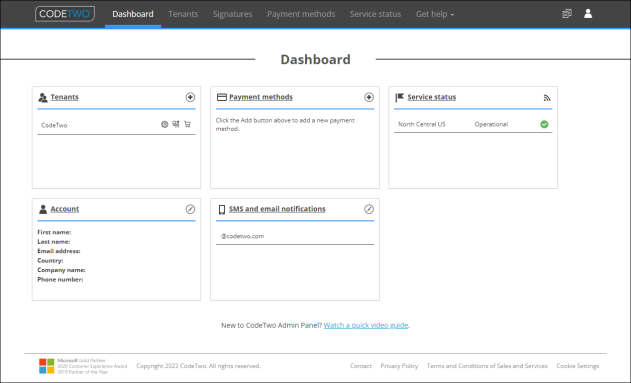 Fig. 1. The Dashboard tab in the CodeTwo Admin Panel.
Dashboard shows basic information about your organization's Admin Panel account, Microsoft 365 (Office 365) tenants registered to CodeTwo Email Signatures 365, health status of the CodeTwo services, selected payment methods as well as your email address and phone number(s) used for notifications. Use the links on this page for a quick access to the settings that correspond to different sections of the CodeTwo Admin Panel.
You can also click the tabs and icons in the top menu to navigate between the Admin Panel sections:
Tenants – this is where you add a new tenant, view the information about your registered tenant(s), and configure tenant settings. Learn more
Signatures – this tab opens the signature management app (app.codetwo.com) that lets you manage signature rules and automatic replies. Learn more
Payment methods – this is where you can add and manage your credit card details for subscription payments. Learn more
Service status – this tab opens the CodeTwo status page that displays health information for CodeTwo services in all Azure regions. Learn more
Get help – this drop-down menu contains shortcuts to this user's manual, the quick video guide on setting up CodeTwo email signatures, the program's website, and CodeTwo's contact information.
What's new () – this is where we publish release notes for new features, improvements and fixes, or provide other important news regarding CodeTwo Email Signatures 365 to keep you up to date. New, unread entries are identified by a red dot.
Account & admins () – this is where you can view and/or manage the settings of the currently signed-in account (contact details, sign-in type) as well as the setting of your organization's Admin Panel account (billing details, Admin Panel admins, service status notifications, and contact ID). Learn more