Tenant management
CodeTwo Admin Panel offers various configuration options for registered Office 365 tenants. To access tenant-related settings, open the Dashboard or Tenants tab, find the card with your tenant (Fig. 1.) and click the Manage tenant (

) button next to the tenant's name.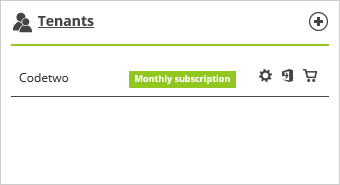 Fig. 1. The Tenants card.
This will lead you to the Manage tenant pages. The Subscription page opens by default (Fig. 2.).

Fig. 2. Tenant management in CodeTwo Admin Panel.
Use the menu on the left (Fig. 2.) to access individual management pages:
Even if you do not have access (i.e. login credentials) to CodeTwo Admin Panel, you can still change most of the settings listed above. As long as you are a global admin of an Office 365 tenant, you can launch the tenant management pages directly from the Manage Signatures App, via the Settings (

) button in the upper-right corner of the application's window. A simplified version of the Admin Panel (without the top menu) will open in your default browser (see Fig. 3.). Use the left menu to access various configuration pages, as described earlier in this article. Most of the tenant management options are available: you can change connectors, enable/disable SIU, synchronize custom attributes or register your tenant to another CodeTwo Admin Panel account. The only exception is the Subscription page: to manage your subscription (e.g. buy it, as in Fig. 3.), you will have to log in using your CodeTwo Admin Panel account credentials.

Fig. 3. The manage tenant pages launched directly from the Manage Signatures App.