Tenant management settings
CodeTwo Admin Panel offers various management settings for registered Microsoft 365 tenants. To access these settings, first sign in to CodeTwo Admin Panel. Next, on the Tenants page, click on the tenant you want to manage (Fig. 1.).
Only CodeTwo Admin Panel admins and Microsoft 365 global admins can access CodeTwo Admin Panel and manage tenant settings. See this article to learn more about admin roles and how to grant access to CodeTwo Admin Panel to other users/admins.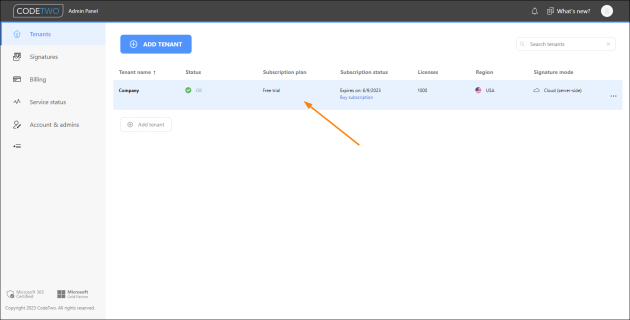 Fig. 1. Accessing tenant settings from the Tenants page in CodeTwo Admin Panel.
The tenant management settings will open, as shown in Fig. 2. The menu on the left is divided into sections and subsections for clarity and allows you to access individual management settings.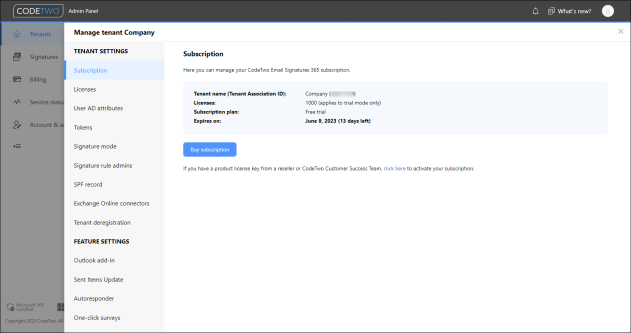 Fig. 2. Tenant management settings.
TENANT SETTINGS
FEATURE SETTINGS
Outlook add-in:
Sent Items Update – here you can turn on the Sent Items Update (SIU) feature if you want CodeTwo cloud signatures to be also visible in email apps in the Sent Items folders. Learn more about this feature
Autoresponder – here you can turn on the Autoresponder feature, which lets you manage automatic replies and out of office messages centrally for all users in your Microsoft 365 organization. Learn more about Autoresponder
One-click surveys – here you can unlock One-click surveys that you can add to your email signatures to measure customer satisfaction. Learn more about this feature