Tenant options
CodeTwo Admin Panel offers various management options for registered Microsoft 365 (Office) 365 tenants. Use the links below to find out:
Tip
You can grant access to the CodeTwo Admin Panel account of your organization to other users/admins and let them take care of tenant management-tasks. Learn more
How to access tenant management pages in CodeTwo Admin Panel
To access the management options for your Microsoft 365 (Office 365) tenant registered to CodeTwo services, log in to the CodeTwo Admin Panel, open the Dashboard or Tenants tab and click the Manage tenant (

) button next to your tenant's name (Fig. 1.).


Fig. 1. Accessing tenant management pages from the Dashboard tab.
This will lead you to the Manage tenant pages. The Subscription page opens by default (Fig. 2.).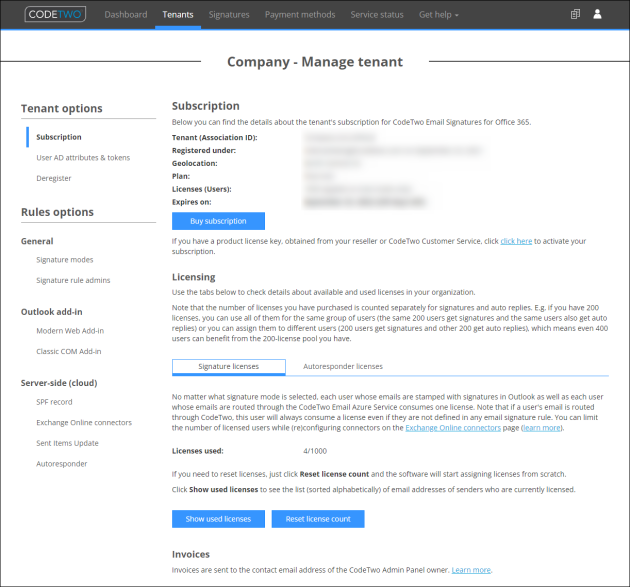 Fig. 2. Tenant management screen in CodeTwo Admin Panel.
The menu on the left is divided into sections and subsections for clarity and allows you to access individual management pages (Fig. 2.):
Tenant options
Subscription - this page allows you to edit your subscription, check the status of your licenses, etc. For more information, visit the Licensing section.
User AD attributes & tokens - here, you can set the program to add your own AD attributes to email signatures. Click here for more information.
Deregister - if you want to stop using CodeTwo Email Signatures for Office 365, this is where you can deregister a tenant. The whole procedure is described in this section.
Rules options
General
Signature modes - here you choose between server-side, client-side and combo mode to set how the program will handle emails. Read more in this article.
Signature rule admins - on this page you can specify which users can create and manage email signatures in your organization. Learn more
Outlook add-in
Modern Web Add-in - this page contains information about the CodeTwo Signatures Web Add-in for Outlook that adds signatures to emails in Outlook for Windows, Outlook for Mac (early access) & Outlook on the web (OWA) and lets users preview their server-side (cloud) signatures. Here you can also configure advanced options of the Web Add-in. Learn more
Classic COM Add-in - here you will find information and deployment instructions for the classic CodeTwo Signatures Add-in for Outlook. This add-in works only in client-side or combo mode and can be used to add signatures to emails in Outlook for Windows. Learn more
Server-side
How to manage a Microsoft 365 tenant without a CodeTwo Admin Panel account
If you purchased the software from one of our distributors (resellers) and you do not have your own CodeTwo Admin Panel account, you can still manage tenant-related settings as long as you are a global admin of your tenant. To access these settings, go to app.codetwo.com, log in using global admin credentials, click the

button in the upper-right corner of the window, and then click Settings (Admin Panel), as shown in Fig. 3.

Fig. 3. Accessing tenant settings from the signature management app.
A simplified version of the Admin Panel opens in your default web browser (Fig. 4.). It gives you access to tenant management options: you can reconfigure connectors, specify which users are allowed to manage email signatures, enable/disable SIU, synchronize additional attributes, deregister your tenant from CodeTwo Admin Panel, etc. The only exception is the Subscription page: you are not able to modify your subscription in any way. Subscription options can be managed only by the person who owns the CodeTwo Admin Panel account (e.g. your reseller). The account under which your tenant is registered in the CodeTwo Admin Panel is shown next to Registered under (see Fig. 4. below).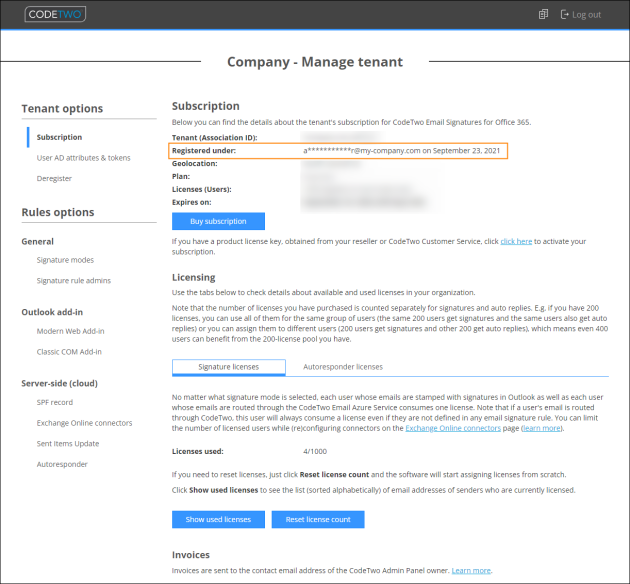 Fig. 4. Manage tenant page accessed from the signature management app by a global admin.
Users who are not global admins but have permissions to manage signatures in your organization cannot access the Manage tenant pages in the way shown earlier. If they try to go to the Admin Panel settings as shown in Fig. 3., they will land on the CodeTwo Admin Panel login page (Fig. 5.).