CodeTwo Signatures Add-in for Outlook
CodeTwo Signatures Add-in for Outlook adds CodeTwo email signatures to your Outlook and keeps them up to date. You can get these signatures automatically as you type your email (Fig. 1.) or you can choose signatures manually from the Outlook ribbon.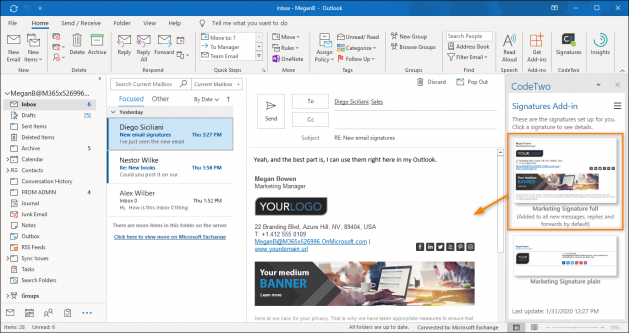 Fig. 1. CodeTwo Signatures Add-in for Outlook automatically adds your default signature as you type. You can also preview the other available signatures via the add-in pane.
Important
For the add-in to work, either client-side or combo mode must be selected by the administrator during tenant registration. Then, individual users need to install the add-in locally. See this article for step-by-step guidelines for your organization's administrators (they need to manage who can use the add-in) and installation instructions for Outlook users.
CodeTwo signatures are available just like any other Outlook signatures. If they are set as default by your organization's admin, they are added automatically when you compose a new message or when you forward/reply to an email (see Fig. 1.). You can also add them from your Outlook ribbon - in compose mode, go to the Message tab, click Signature on the ribbon (Fig. 2.) and choose any signature that is available to you (if a signature is already added to your message, it will be replaced with the one you selected).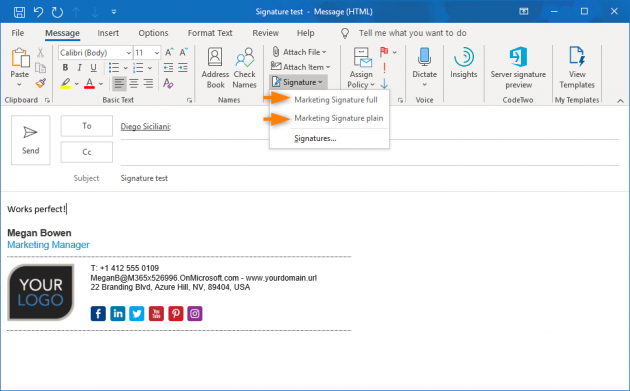 Fig. 2. You can use Outlook's ribbon to add/change a signature.
Click the add-in button on the Outlook ribbon (see Fig. 1.) to show/hide the add-in pane. Note that the button might not be visible if you open a message in a new window. You can use the add-in pane to:
quickly preview the signatures that are available to you
force signature refresh (note that signatures are automatically synchronized every couple of minutes)
sign in or sign out of your user account.