Autoresponder
Autoresponder is an optional feature in CodeTwo Email Signatures for Office 365 that you can use for free if you have an active subscription (learn more). It allows you to create smart auto-reply messages for selected users or groups of users in your organization. Auto replies can include any type of content: text, graphics, personalized email signatures, and more.
How does it work?
Autoresponder sends automatic replies based on rules created in the signature management app (just like email signature rules). It works like this: you first need to create an autoresponder rule for a user (users) in your organization. Then, if an email is sent to that user (users), the sender of the original email will receive an auto-reply message you designed in the autoresponder rule.
An autoresponder rule allows you to define:
which users / email addresses will send auto-reply messages and when (e.g. only during specific days and hours),
who you want auto replies to be sent to (e.g. all users or only specific email addresses),
how many auto-reply messages should be sent to the same user per a specified time period (e.g. 1 auto reply per day),
the contents of your auto-reply message (e.g. message body with a personalized email signature, custom From, To and Subject fields; you can also decide whether to include the original email or not),
and more.
See our quick guide on how to create an autoresponder rule
Examples of use
Auto replies can be used to inform your customers or any people who send emails to your organization that:
You received their message and that their enquiry/request/question will be answered within a specified time.
You created a support ticket for them.
The person they tried to reach no longer works in your organization. You can also provide contact details of another person in the auto-reply message.
The email address / your organization's domain will soon change (e.g. due to a merger or acquisition).
The person they tried to reach is out of office until a specified date.
And so on.
How to enable Autoresponder
Once enabled, the Autoresponder application is registered in the Azure Active Directory of your Microsoft 365 tenant. In the process, you need to grant the necessary permissions to the application so that it can send auto-reply messages from your users' mailboxes. Follow the steps below to enable Autoresponder.
Important
Auto-reply messages are added in the cloud, which means Autoresponder works only in server-side or combo mode. If you use CodeTwo Email Signatures for Office 365 in client-side mode but want to use Autoresponder, we recommend changing the signature mode to combo. That way, your users will continue to get client-side signatures in Outlook – there's no need to change anything in your existing client-side signature rules. You just need to create autoresponder rules for those users for whom you want to set up auto replies. Learn more about signature modes
By default, Autoresponder is disabled. To turn it on:
Log in to CodeTwo Admin Panel.
Go to the Dashboard or Tenants tab and click the Manage tenant () button next to the name of your tenant.
Select Autoresponder in the menu on the left and click Turn on (Fig. 1.).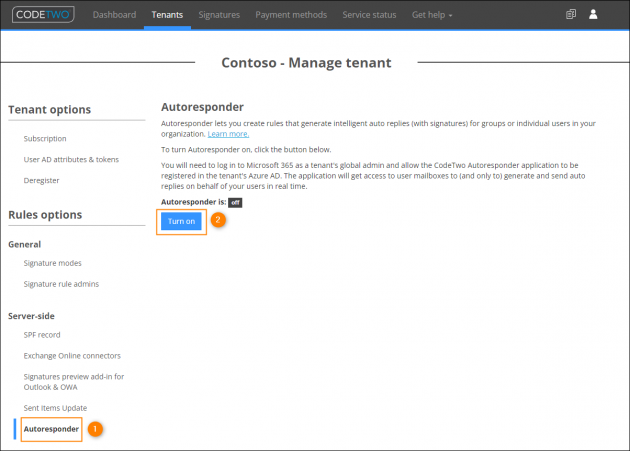 Fig. 1. Enabling Autoresponder in CodeTwo Admin Panel.
You may also be required to accept CodeTwo's Terms, Privacy Policy and Data Processing Agreement by selecting the necessary checkbox and clicking Accept.
Log in using your Microsoft 365 tenant's global admin credentials and accept the permissions required by Autoresponder.
Autoresponder is now turned on. You can now log in to app.codetwo.com and create your first autoresponder rule as described in this article.
It may take a few minutes until auto replies are generated and sent for the users specified in your autoresponder rules.
Autoresponder FAQ
1. How does licensing work for Autoresponder?
Autoresponder licenses are counted separately from signature licenses. If you buy a subscription for CodeTwo Email Signatures for Office 365 that includes 150 licenses, you get 150 signature licenses and 150 autoresponder licenses.
Learn more about the licensing of CodeTwo Email Signatures for Office 365
2. What types of mailboxes are supported by Autoresponder?
An autoresponder rule is triggered if an email is sent to an email address of a user mailbox, shared mailbox or resource (room or equipment) mailbox defined on the Reply from tab of the rule and other rule's conditions are met. Support for other types of mailboxes will be added in the future.
Apart from what triggers your autoresponder rule, you can define the sender and recipient of your auto-reply message separately:
You can choose any email address as the message sender (some limitations apply, see this article to learn more),
You can send this message to any existing email address (including mail-enabled groups). Keep in mind that Microsoft 365 groups might require additional configuration, as described in this article.
3. Why users defined as senders or recipients of auto-reply messages sometimes get Non-Delivery Report (NDR) messages?
In certain scenarios, end users in your organization might get NDRs. Examples:
Someone sent an email to your organization from a no-reply address, and it triggered an auto-reply message. If you configured this automatic reply to be delivered to the original sender, it will trigger an NDR. Learn how to limit the number of NDRs generated in this scenario
Auto replies generated and sent by Autoresponder can be treated as external emails by your organization. So if you configured an autoresponder rule that sends/forwards auto replies to other users/groups in your organization, you need to make sure these users/groups can receive external emails. Otherwise, these auto replies will not be delivered and will trigger NDRs.
Users (such as your customers) who receive auto replies from you might get NDRs if:
they try to reply to an auto-reply message sent from an email address of a non-existent / non-mail-enabled mailbox (you configured such an email address in the From field of your auto-reply message when setting up an autoresponder rule, as described here).
4. Sometimes, auto replies sent by Autoresponder end up in spam folders. Why?
The most common reason for this is when you configure an autoresponder rule to send auto replies from a non-existent email address. It is also possible that your Sender Policy Framework (SPF) TXT records are not configured correctly and that is why Exchange Online Protection (EOP) treats your emails as spam or junk. Learn more about problems related to SPF
5. Can I limit Autoresponder to specific users/mailboxes?
Yes. You can select users / email addresses who will send automatic replies on the Reply from tab when configuring an autoresponder rule. Learn more
6. Does Autoresponder have a mail loop prevention mechanism? Can I limit the number of automatic replies?
Yes. You can configure Limiter to send only a specific number of auto-reply messages to the same recipient (email address) over a specific period of time (e.g. once per day). Limiter works per autoresponder rule.
If you forget to set up Limiter, we have also implemented an internal security mechanism that identifies and prevents most common email loop scenarios.
7. Does Autoresponder work with all email signature types? Does it work with server-side signatures (added after emails are sent)?
If you set up an auto reply for a user who also gets a server-side signature, this signature will not be added to the auto-reply message. If you want your auto replies to have an email signature, you should include the signature when designing a template for the auto-reply message.
If you set up an auto reply for a user who also gets a client-side signature in Outlook, this signature will not be added to the auto-reply message. Auto-reply messages are added in the cloud, and client-side signatures are added directly in Outlook as users type an email.
8. Does CodeTwo Email Signatures for Office 365 override automatic replies sent by Outlook?
No. CodeTwo Email Signatures for Office 365 works independently of Outlook's automatic replies. If you configure an autoresponder rule for a specific user and this user sets up an auto reply in Outlook as well, this person will send two auto-reply messages – one by Autoresponder and one by Outlook.
The same applies if auto replies are configured in:
Outlook on the web (OWA),
the Microsoft 365 admin center,
Exchange Online mail flow rules.
9. Why don't I see auto replies in my Sent Items folder?
The Sent Items folder stores emails that are sent from your mailbox. Auto replies are generated by Autoresponder, not your mailbox.
See next
Set up an autoresponder rule - a quick guide