Creating a CodeTwo Admin Panel account
CodeTwo Admin Panel is a web-based component of CodeTwo Email Signatures for Office 365. The Admin Panel is where you can add and configure your Office 365 tenant and perform administrative tasks: manage the tenant's subscription and payment-related settings, assign users who can manage email signatures, and more.
Signature management is done via a separate component - the Manage Signatures App - and does not require access to the Admin Panel. Before you start working with email signatures, however, you first need to configure your Admin Panel account and register your tenant, as explained in this article and the ones that follow.
To access the Admin Panel, either create a new account or log in using an existing account (Fig. 1.).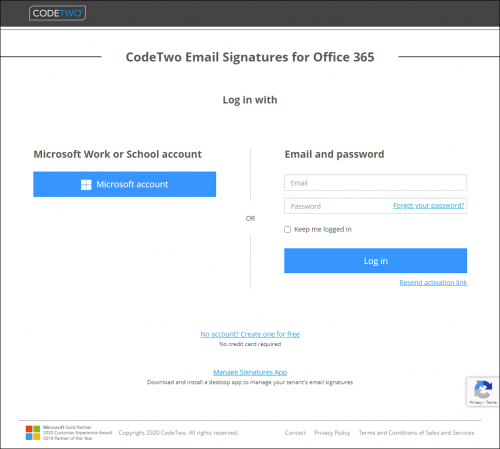 Fig. 1. The CodeTwo Admin Panel's login page.
When creating a new account to log in with, you can use an existing Microsoft account or any other email address (Fig. 2.). It's not possible to use two different accounts to log in to the same Admin Panel.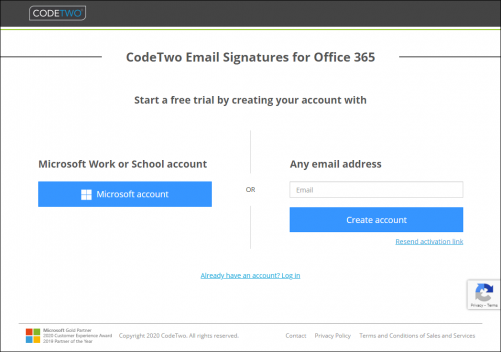 Fig. 2. The CodeTwo Admin Panel's account creation page.
Which account type should I choose?
If you have a work or school Microsoft account, you can use it to log in to the Admin Panel with no further configuration. If you select this login type, you only need to sign in via the Microsoft's sign-in page to start using the Admin Panel (when logging in for the first time, you also need to accept our terms and privacy policy). Since the Admin Panel is now associated with your Microsoft account, your contact details are automatically pulled from that account as well (see this article to learn how to change them). With this account type, you are not able to change your login and password from the Admin Panel because the Microsoft account login type uses Azure's OAuth 2.0 authorization: your credentials are passed directly and only to Microsoft servers. CodeTwo does not store, copy or have access to your credentials.
Tip: When choosing the MS account to manage CodeTwo Admin Panel, it's a good idea to use a service or shared account instead of a private user account, so that access to the Admin Panel is not affected by any personnel changes in your organization.
A dedicated CodeTwo Admin Panel account (the Email and password login type) allows you to change your login and reset your password any time. This proves useful, for example, when you want to assign access to the Admin Panel to a different person. If you decide to create a new CodeTwo Admin Panel account, you need to fill in a sign up (registration) form (Fig. 3.). You do not need to fill the Contact email address field with the credentials of your Office 365 tenant's admin. It can be any valid email address you would like to use to log in to CodeTwo Admin Panel. The Office 365 admin credentials will be required later on, when adding an Office 365 tenant. After you click the Create account button, we will send you an email with an activation link to complete the registration.
You can change your login type from Email and password to Microsoft account (but not the other way around) at any time on the Manage account pages in the Admin Panel. Learn more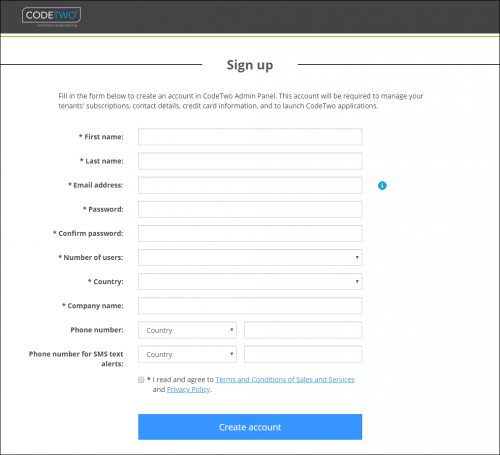 Fig. 3. The registration form.
Once you select an account and log in to the Admin Panel, you will land on the Dashboard tab (Fig. 4.). Dashboard contains multiple cards which allow you to supervise various sections of the Admin Panel and quickly access some options. You can:
To continue configuring the software in your Office 365, you need to register your tenant in the Admin Panel.
Tip
If you are a global admin of your Office 365 organization, you can manage some of the tenant and signature related settings without the Admin Panel account. You can access these settings by installing and starting the Manage Signatures App, logging in with your admin account, and clicking the More (

) button. Learn more
See next
Registering and configuring an Office 365 tenant