Creating a CodeTwo Admin Panel account
CodeTwo Admin Panel is a web-based component of CodeTwo Email Signatures for Office 365. It lets you configure an Office 365 tenant, manage your subscription, and perform other administrative tasks.
To access the Admin Panel, go to the product's website and click Log in or create account (Fig. 1.).

Fig. 1. The product's website.
You can use your existing Microsoft account or create a dedicated CodeTwo Admin Panel account (see Fig. 2.).
Info
If you choose to log in via your Microsoft account, you will be redirected to the Microsoft account sign-in page.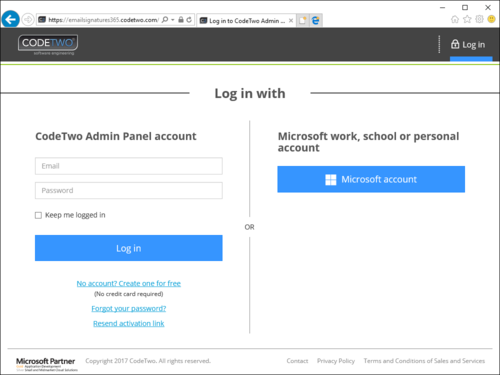 Fig. 2. CodeTwo Admin Panel's login page.
If you decide to create a new CodeTwo Admin Panel account, you need to fill in the registration form shown in Fig. 3. After you click the Create account button, we will send you an email with the activation link to proceed with the registration. Through the link you will be redirected to the program's Admin Panel.
Info
Be aware that you do not have to fill the Contact email address field with your Office 365 tenant's admin credentials. It can be any valid email address you would like to use to log in to CodeTwo Admin Panel. The Office 365 admin's credentials will be required later on, when adding a tenant or launching the software's Manage Signatures App.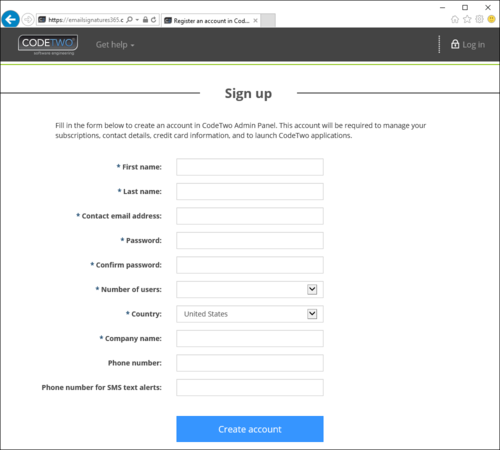 Fig. 3. The registration form.
Once you log in to the program's Admin Panel via a CodeTwo or Microsoft account, you will land on the Dashboard tab (Fig. 4.). Dashboard contains multiple cards which allow you to supervise various sections of the Admin Panel and perform basic tasks: manage your tenants, configure payments for the subscription to use the software, check the service status, edit your account, etc. We suggest that you begin with registering your tenant in the program.
See next
Registering and configuring an Office 365 tenant