Creating a CodeTwo Admin Panel account
CodeTwo Admin Panel is where you can add and configure your organization's Microsoft 365 (Office 365) tenant(s) and perform administrative tasks: manage the tenant's subscription and payment-related settings, grant access to the Admin Panel account to other admins, assign users to manage email signatures, and more.
Signature management is done via a separate component and does not require access to CodeTwo Admin Panel. Before you start working with email signatures, however, you first need to configure the Admin Panel account for your organization and register your tenant, as explained in this article and the ones that follow.
Watch our tutorial below to see how to create an Admin Panel account step by step or read the instructions below.
To access the Admin Panel, either create a new account or sign in using an existing account (Fig. 1.).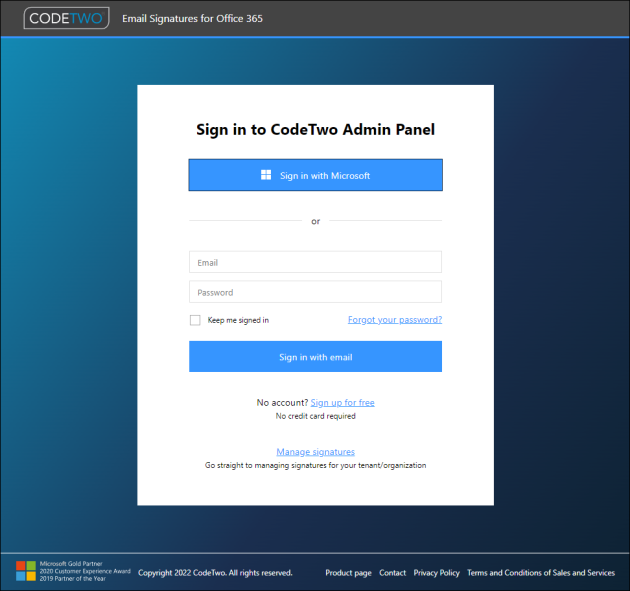 Fig. 1. The CodeTwo Admin Panel's sign-in page.
When creating a new account to sign in with, you can use an existing Microsoft account or any other email address (Fig. 2.).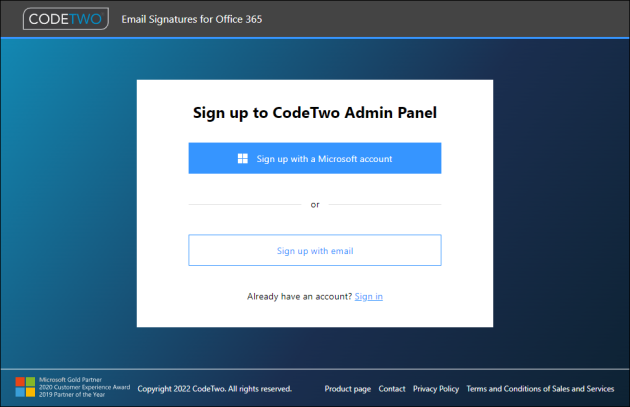 Fig. 2. The CodeTwo Admin Panel's account creation page.
Which account type should I choose?
If you have a work or school Microsoft account, it's the quickest way to create a CodeTwo Admin Panel account. Click Sign up with a Microsoft account and sign in via the Microsoft's sign-in page to start using the Admin Panel. The Admin Panel is now associated with your Microsoft account so your contact details are automatically pulled from that account as well (see this article to learn how to change them). With this account type, you are not able to change your sign-in and password from the Admin Panel because your credentials are passed directly and only to Microsoft servers (using Azure's OAuth 2.0 authorization). CodeTwo does not store, copy or have access to your credentials.
If you decide to create a dedicated CodeTwo Admin Panel account, click the Sign up with email option. Provide any valid email address you would like to use to sign in to CodeTwo Admin Panel (Fig. 3.). It doesn't need to be a Microsoft 365 account – the Microsoft 365 admin credentials will be required later on, when adding a tenant.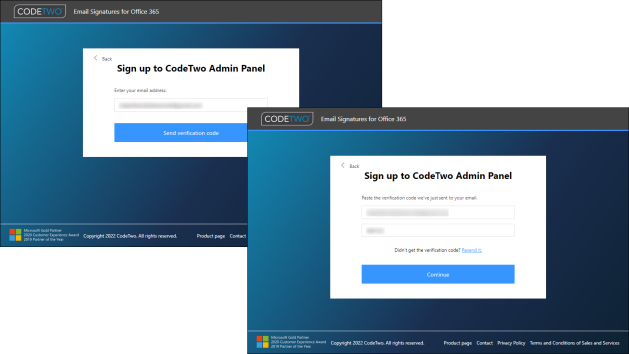 Fig. 3. Email address verification.
Click Send verification code to receive a code that is required to verify your email address. Paste the code and click Continue, as shown in Fig. 3., to proceed to a sign up (registration) form.
Important
The verification code stays valid for 20 minutes. After this time, the code will expire, and you will need to request a new one.
Here, you need to provide the remaining details necessary to finalize the account creation process (Fig. 4.).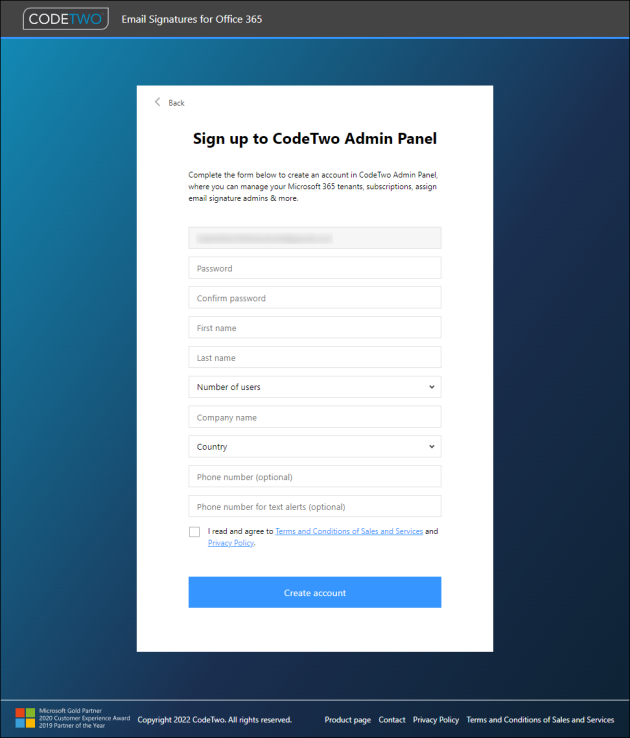 Fig. 4. The registration form.
You can change your sign-in type from a dedicated CodeTwo account (email and password) to Microsoft account (but not the other way around) at any time on the account management pages in the Admin Panel. Learn more
Important
A user who creates a new Admin Panel account for their organization automatically becomes the Admin Panel owner of that account. Admin Panel owners can invite other users to join their organization's Admin Panel account as admins (see this article to learn how to do so), allowing them to perform management tasks on tenants and subscriptions. However, you cannot invite other admins when using the Email and password sign-in type. Learn more about admin roles in CodeTwo Email Signatures 365
Once you select an account and sign in to the Admin Panel, you will land on the Dashboard tab (Fig. 5.). From here, you can supervise various sections of the Admin Panel and quickly access different management options. See this article for a quick overview of the CodeTwo Admin Panel.
To continue configuring the software in Microsoft 365, you need to register your tenant in the Admin Panel.
See next
Registering and configuring a Microsoft 365 (Office 365) tenant