CodeTwo Email Signatures for Office 365
Customers from 150 countries love us for:

24-hour Tech Support
Signatures visible while typing emails
Super-fast deployment
Easy scheduling of meetings
Scheduling a meeting is often a surprisingly complicated task. You have to pick a time when everyone is available, take into account time zone differences and add the information to the right calendar to get reminders. Prolonged conversations just to determine the right time for a meeting are a simple way to discourage customers from even trying to book a meeting.
With CodeTwo Email Signatures for Office 365, you can change the scheduling experience to a quick and simple task. You can enhance your email signatures by adding a link to a meeting scheduling service, like Cogsworth, Calendly or x.ai or even to a direct 1-1 video call with a Microsoft Teams user. This way, each email sent gives your recipients an opportunity to book an appointment with you.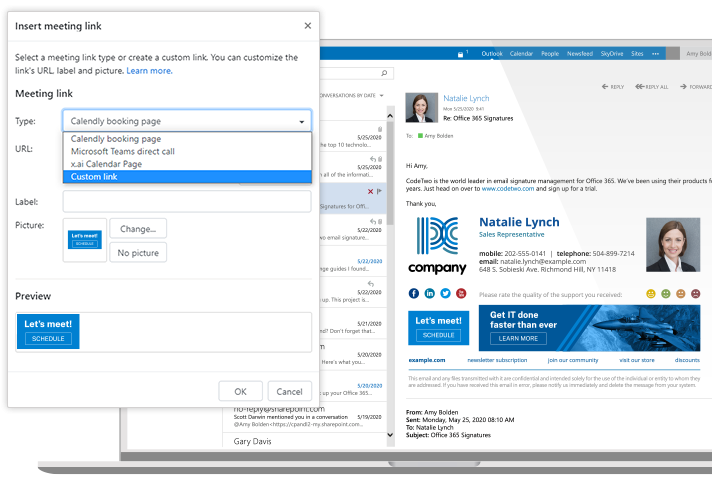 Thanks to this single additional element in your email signatures, you can let your employees focus on their work by taking an unnecessary weight off their shoulders. They will not need to send each and every customer their working hours or worry about time zones and their other meetings – the scheduling tool will do that for them.
Thanks to the scheduling button embedded in email signatures, you can get the following benefits:
Give your recipients a chance to inquire about your products or services with each sent email.
Make scheduling easy and intuitive.
Encourage your customers to schedule meetings with you.
Promote your services in an effective, yet non-invasive way.
You can easily integrate CodeTwo Email Signatures for Office 365 with the following services:
Learn more: