CodeTwo Email Signatures for Office 365
Centrally managed email signatures for Exchange Online
Customers from 150 countries love us for:

24-hour Tech Support
Signatures visible while typing emails
Super-fast deployment
Buy
See subscription pricing
How does the program work?
CodeTwo Email Signatures for Office 365 is a cloud-based solution developed to help administrators centrally manage email signatures and disclaimers in Office 365. You can create and manage signature templates with the Manage Signatures App. The app is also where you create signature rules that specify which users or user groups get access to individual signature templates. Signatures can be added in different ways, depending on the signature mode in which the software operates: server-side, client-side or combo. Signature mode is first selected when you register your Office 365 tenant to our service but can be later changed at any time.
Server-side mode
When working in server-side mode (default), CodeTwo Email Signatures for Office 365 requires emails to be routed through the CodeTwo service hosted in Microsoft Azure – CodeTwo Email Azure Service. During the process, emails stay within Microsoft datacenters, which ensures reliable and secure email processing. Once an email has been stamped with a signature, it goes back to the original Office 365 tenant from where it is sent out to recipients. With this solution in place, email signatures can be added to messages sent from any email client and mobile device.
To make this process work, while configuring initial settings, the program creates send and receive mail flow connectors in Exchange Online. These connectors route internal and outgoing emails through program's services. In the diagram below you can see how the whole process is handled.
To find out more on how CodeTwo Email Signatures for Office 365 works and integrates with Microsoft Azure technology, watch the video below and read this article on Microsoft's blog.
Client-side mode
This mode works with Outlook desktop app. CodeTwo Email Signatures for Office 365 integrates with Outlook via a dedicated add-in – the CodeTwo Signatures Add-in for Outlook. With this add-in, users get access to signature templates that have been made available to them in the Manage Signatures App. Signatures are added automatically to messages when users compose them in Outlook, so there is no need to set up connectors in Office 365 to route the outgoing email through the CodeTwo Email Azure Service. Users can also choose other signature templates from Outlook's signature menu whenever necessary.
CodeTwo signatures managed by your organization are in sync with the add-in, so any changes made to the signature templates are also propagated to users' Outlook clients. This maintains integrity of email signatures across your whole organization.
Combo mode
In combo mode, CodeTwo Email Signatures for Office 365 combines the functionalities of both server-side and client-side modes. The way signatures are added depends on the email client used to send an email. If a message is sent from an Outlook desktop app, email signature is added to that message while its being composed. If sent from any other client or device, the message is routed through CodeTwo Email Azure Service, where it gets a signature.
Eight geolocations available
The CodeTwo services responsible for adding email signatures to your emails can be located in a geolocation of your choice. As the application lets you select a preferred geolocation, it helps you stay GDPR compliant. Currently, there are eight Azure locations available: West US, North Central US, Canada East, North Europe, UK South, Germany West Central, West Europe, and Australia East. Each geolocation is constantly monitored by our team. You can view the status of our services at status.codetwo.com.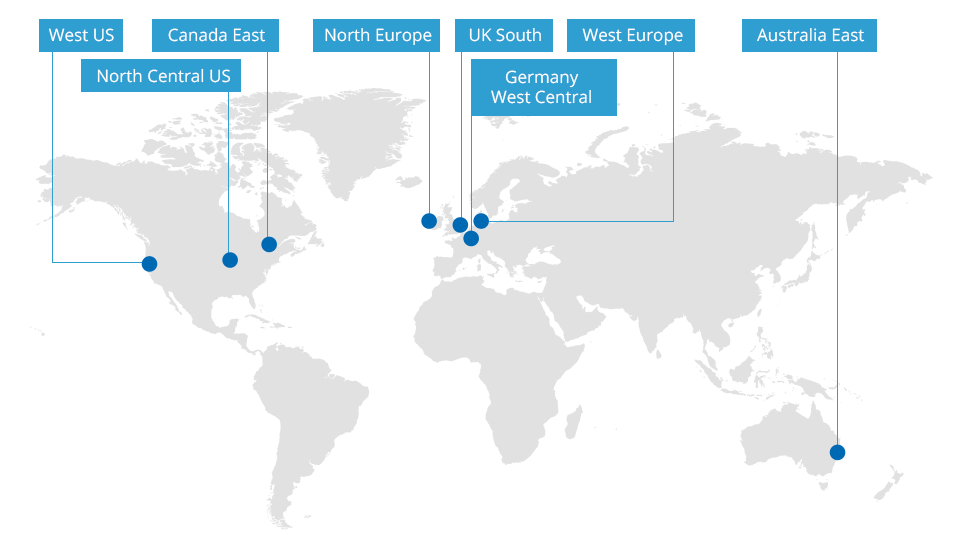 Hybrid environments
CodeTwo email signature management products support Office 365 hybrid environments. The choice whether to use CodeTwo Email Signatures for Office 365 or one of our desktop applications depends on your hybrid environment configuration. If you're not sure which product to choose, please contact us.
Other environments
Still not sure which CodeTwo software is best for you? Check out this comparison of our email signature solutions.