CodeTwo One-click surveys for Microsoft 365
Let email recipients rate your employees, teams & services from their mail app
Analyze customer satisfaction, comments & employee performance in real time
Cloud service that works with all email apps, used by 50,000+ organizations worldwide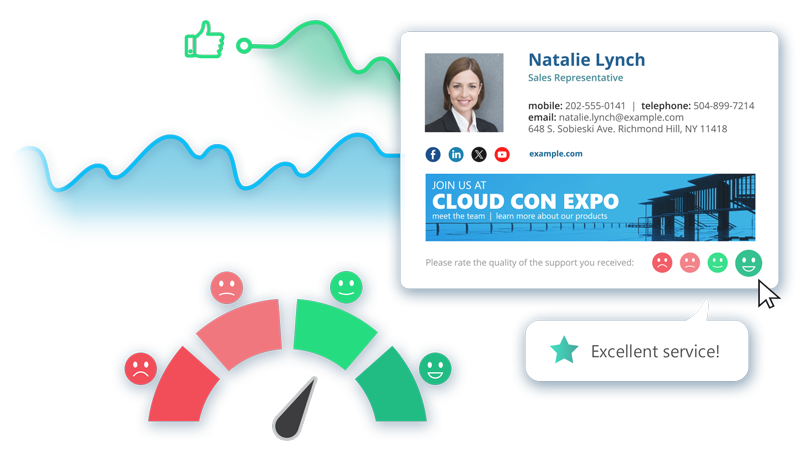 Try One-click surveys in 10 seconds
Send your friend an email with a one-click survey and see how this all works.
This demo looks like the actual app but includes less templates & customization options, and no centralized management (automation).
Create one-click survey
Choose the rating scale
This wizard will help you design a one-click survey and send it to any email address. To start, choose your rating scale.
2-point scale



The quickest & simplest rating.
3-point scale



Give customers an opportunity to stay neutral.
4-point scale



Give customers more rating options.
5-point scale



The most universal rating.
Design your one-click survey
Customize the appearance and size of your survey. This demo offers fewer icon sets and customization options than the actual app.
Thank you for testing CodeTwo One-click surveys!
We've sent a sample email with your survey to the email address you provided.
The recipient can now click a rating icon in the survey to view a sample Thank you page. Simple as that.
But that's not all – the full version of the CodeTwo app also allows you to:
fully automate surveys in your organization,
analyze ratings, comments and customer satisfaction using built-in analytics,
add email signatures, marketing campaigns and automatic replies to emails,
and more! See the Overview page.
And the best part is, One-click surveys is a free feature for CodeTwo Email Signatures 365 subscribers.