CodeTwo User Photos for Office 365
Upload user photos to Office 365 in bulk and manage them from one place

What it is
CodeTwo User Photos for Office 365 is a free desktop app that lets you quickly upload multiple users' photos to your Microsoft 365 (Office 365) tenant and easily manage them from one place.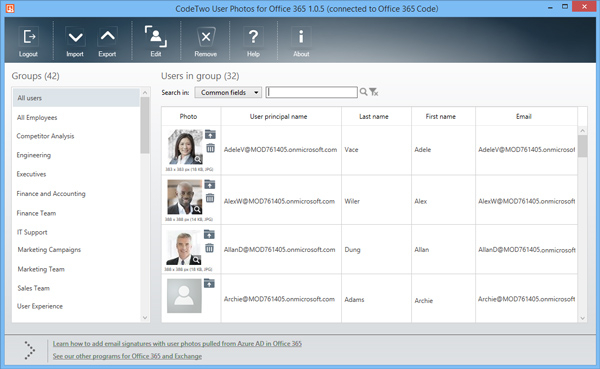 Please note! This is NOT a mobile app so please do not install it on your mobile device. Download the program and install it on your PC.
The application takes care of photo sizing, automatically matches multiple photos to corresponding user accounts, and uploads them directly to users' mailboxes on Exchange Online. From there, the photos are automatically propagated to SharePoint Online and on-premises, Outlook on the web (and its services such as Calendar, People and Groups), Outlook, Microsoft Teams, Skype for Business, OneDrive, Delve, Planner, Microsoft 365 Groups, Newsfeed, Microsoft 365 Video, etc.
Watch a video presentation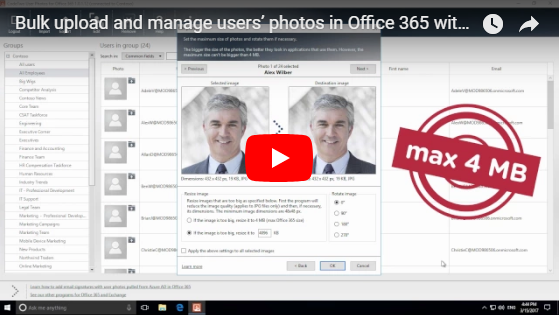 Key benefits
Central management of users' photos in Microsoft 365
Intuitive GUI (no need for PowerShell scripting, photo preparation, etc.)
Auto-match and upload photos to user accounts in bulk
In-app photo size adjustment
Easy import/export features
Support for both pure Microsoft 365 and hybrid environments (Learn more…)
It's free!
How it works
CodeTwo User Photos for Office 365 feeds photos directly to root directories of users' Exchange Online mailboxes. Next, the photos are synchronized across Microsoft 365 workloads that connect to the mailboxes, and to users' accounts in Azure Active Directory.
There is no need to use scripts and the Set-UserPhoto cmdlet, as the entire photo management process is automatic.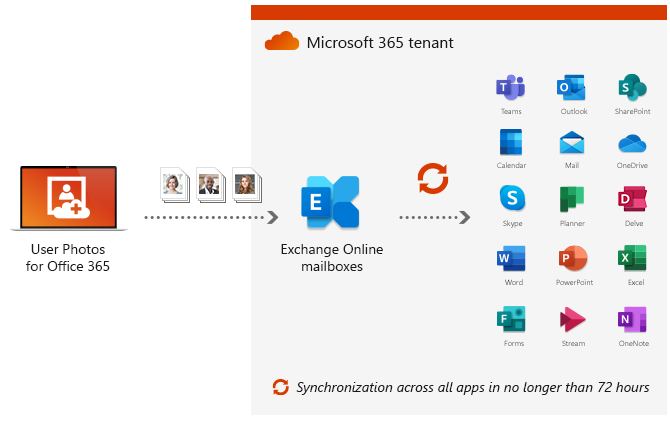 Where the uploaded photos are displayed
Photos uploaded to Exchange Online mailboxes using CodeTwo User Photos for Office 365 are automatically synced to and displayed in a range of online and desktop applications connected to Microsoft 365.
Users will be able to see them in Microsoft Outlook, Microsoft Teams, SharePoint, Microsoft 365 services and apps, as well as in email signatures.
Screenshots
A quick look at the interface of CodeTwo User Photos for Office 365.
Microsoft 365 user photos in email signatures
Once you have uploaded the photographs of your users to Microsoft 365, you gain the ability to insert them into emails sent by people in your organization.

This is possible using CodeTwo Email Signatures 365.
The software lets you design email signature templates that contain placeholders for senders' Microsoft 365 data and photos.
When an email meets the conditions you have defined in CodeTwo Email Signatures 365, the application updates the placeholders with the sender's Microsoft 365 information and photo, and adds the signature to the message.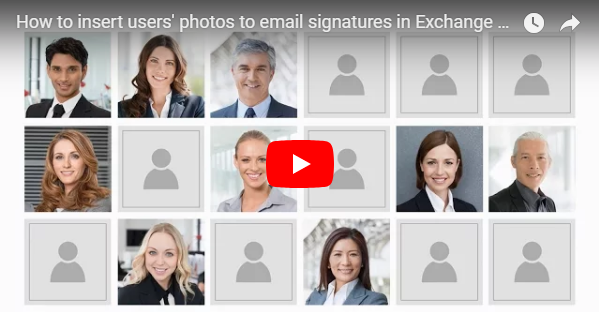 Learn more about adding users' photos to Microsoft 365 mail
How to use CodeTwo User Photos for Office 365
The application is extremely straightforward. To upload users' photos, you just have to:
Run CodeTwo User Photos for Office 365 on a machine connected to the Internet.
Click the Import button and point the application to a folder containing user photos.
Define the filename pattern according to which your photos will be matched to users.
Configure image size settings.
Click Finish.
Technical details