IT conferences to attend in 2023
If you haven't decided what IT conferences to attend in 2023, we've gathered the ones we find most interesting in the table below. The events are organized mostly on-site but some of them offer virtual experience, too.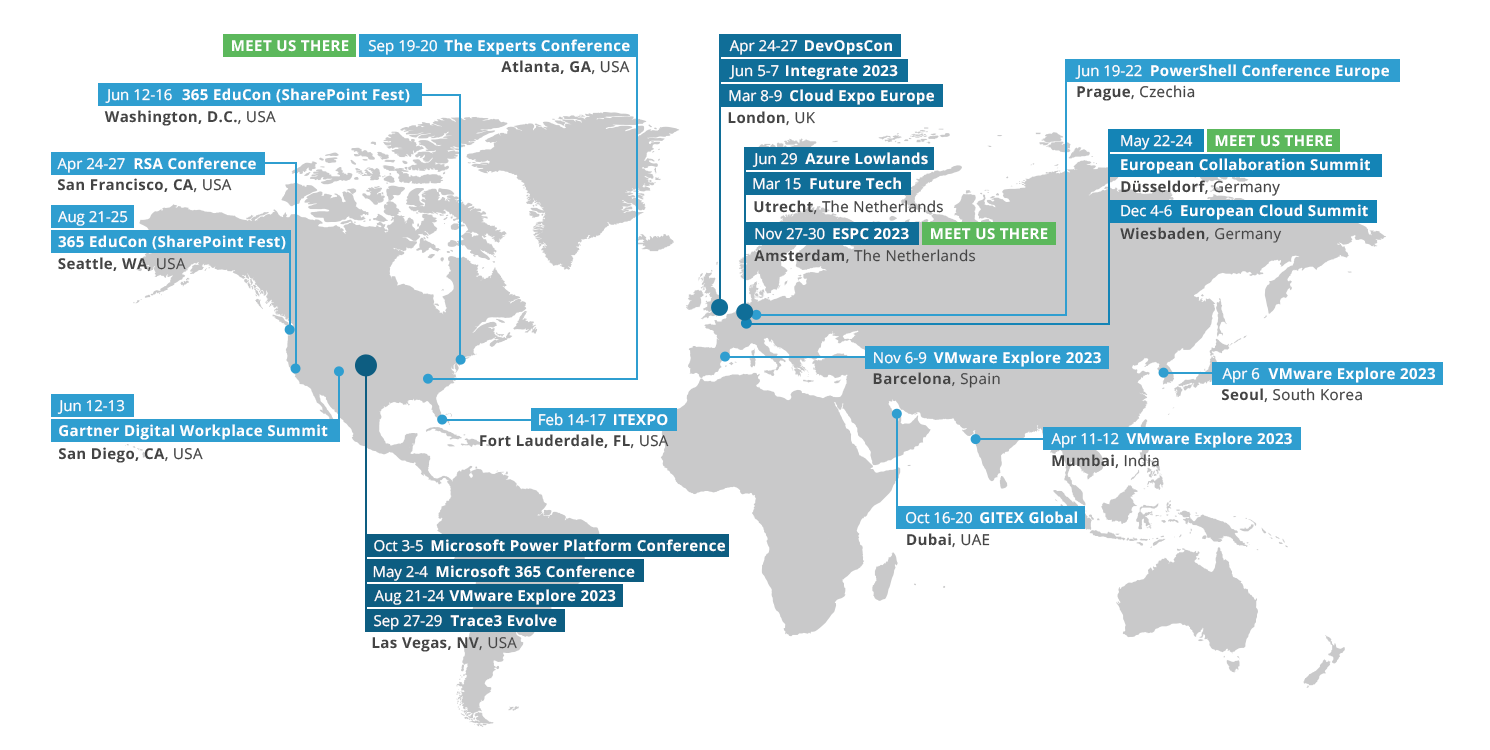 IT events in 2023
Event
When?
Where?
What is it about?
Costs*
ITEXPO

February 14–17, 2023

Greater Fort Lauderdale/Broward County Convention Center, FL, USA
An IT event full of not only sessions and presentations, but also trainings and workshops. This year's ITEXPO focuses on the process of choosing the right technology to protect your business.
$199 - $3,499 (depending on the plan and the date of purchase)
Cloud Expo Europe

March 8–9, 2023

ExCeL London, 1 Western Gateway, London, UK
UK's top cloud technology event focusing on the topics of digital acceleration, hybrid and multi-cloud strategies, cloud skills, and the future of the cloud.
Free
FutureTech

March 15, 2023

Jaarbeurs, Utrecht, the Netherlands
An event devoted to Microsoft Technologies and .NET applied in the fields of AI, Cloud, DevOps, and cybersecurity.
€219
VMware Explore 2023
April 6, 2023 (Seoul)
April 11–12, 2023 (Mumbai)


August 21–24, 2023 (Las Vegas)




November 6–9, 2023 (Barcelona)

Grand InterContinental Seoul Parnas (Seoul)
Jio World Centre (Mumbai)
The Venetian Convention and Expo Center (Las Vegas)
Fira Gran Via (Barcelona)
Formerly VMworld, the event has been renamed to VMware Explore.
This event focuses on all the things related to multi-cloud, including accelerating the cloud journey, hybrid work, etc.
N/A
DevOpsCon

April 24–27, 2023

Park Plaza Victoria, London, UK & virtual attendance

The three key buzz-words for the event are Continuous Delivery, Microservices, Cloud & Lean Business.

The conference is primarily for DevOps.
From £699 +VAT for 1 Conference Day to £1599 +VAT for the 3-Day Pass
RSA Conference

April 24–27, 2023

Moscone Center, San Francisco, USA
The theme for the 2023 event: Stronger Together. The conference offers to grow knowledge on cybersecurity with various sessions, tutorials and trainings.
From $50 for the Expo pass to $2,645 for the Full Conference regular pass (bought online)
Microsoft 365 Conference

May 2–4, 2023

MGM Grand, Las Vegas, NV, USA
The event is about the latest developments in the collaboration tools and AI capabilities, focusing in particular on Microsoft Viva, Teams, SharePoint, and Power Platform.
From $1799 to $3549 (depending on the plan and the date of purchase)
European Collaboration Summit

May 22–24, 2023

Düsseldorf Fair, Germany
An event devoted to Microsoft 365, Teams, and Power Platform.
Conference ticket: €350-€450 + optional tutorial: €340-€450
Integrate 2023

June 5–7, 2023

etc.venues St Paul's, 200 Aldersgate St., London, UK + Remote
The conference revolves around the topic of integrating the latest Microsoft solutions into your business IT environment.
£899–1299 (Live) or £275–400 (Remote) + VAT, depending on the date of purchase
Gartner Digital Workplace Summit

June 12–13, 2023

Marriott Marquis San Diego Marina, San Diego, USA
An event focuses on digital workplace and hybrid work strategies, applications, architecture, and infrastructure.
Early-bird price: $3,300
Standard price: $3,675
Public-sector price: $2,875
365 EduCon (SharePoint Fest)

June 12–16, 2023 (Washington, D.C.)




August 21–25, 2023 (Seattle)

Walter E Washington Convention Center (WA), Seattle Convention Center (WA), USA

The conference revolves around Microsoft 365 and SharePoint. Still, you can also learn there about topics related to Office 365, Microsoft Teams and Azure.
From $795 for a 1-Day Workshop Pass to $2,795 for a 5-Day Pass (at the door price)
PowerShell Conference Europe (PSConfEU 2023)

June 19–22, 2023

Prague, Czechia
PowerShell presentations on Security, Performance, Databases and more.
Kč36,800 (approx. €1,500) + VAT
Azure Lowlands

June 29, 2023

De Fabrique, Westkanaaldijk 7, Utrecht, the Netherlands
A single-day event devoted to the Microsoft Azure Platform, dealing with such topics as security, containers, integration, or DevOps.
€211.75
Microsoft Inspire

July 18–20, 2023

Digital event
This annual conference is dedicated to the worldwide community of Microsoft Partners.
Free
The Experts Conference (TEC) 2023

September 19–20, 2023

Loews Atlanta Hotel,
1065 Peachtree St. NE, Atlanta, GA, USA
A conference for administrators, security architects, solution architects, and IAM managers, devoted to the topics of security and management in Microsoft 365.
From $600 to $999 for the Conference (depending on the date of purchase), $499 for the Pre-Conference Workshop
Trace3 Evolve

September 27–29, 2023

The Cosmopolitan, Las Vegas, NV, USA
The conference aims to present the latest & innovative IT solutions, with its target audience being IT leaders.
Free (until May 15, 2023), then ‍$525 (bought online) or ‍$550 (bought on-site)
Microsoft Power Platform Conference

October 3–5, 2023

MGM Grand, 3799 S. Las Vegas Blvd, Las Vegas, Nevada, USA
An event devoted uniquely to Microsoft Power Platform products such as Power Apps, Power Automate, Power BI, Power Pages, and Power Virtual Agents.
From $1699 to $3399 (depending on the plan and the date of purchase)
Gitex Global

October 16–20, 2023

Dubai World Trade Centre, Dubai, UAE
Gitex is all about new and innovative technologies. The main focus is on 6G, AI, Metaverse, Future Mobility, Digital Economies, Cybersecurity and Cloud & Edge Computing.
To be announced.
Microsoft Ignite

November 15–16, 2023

Hybrid event
Microsoft technologies, including Microsoft Teams, Microsoft Viva, Azure, Dynamics 365 and more.
Free
European SharePoint, Office 365 and Azure Conference (ESPC)

November 27–30, 2023

RAI Amsterdam Convention Centre, Europaplein 24, 1078 GZ Amsterdam, the Netherlands
A conference for Microsoft 365 & Azure professionals that offers plenty of expert content and opportunities to connect.
€1895 + VAT
European Cloud Summit
December 4–6, 2023
RheinMain CongressCenter (RMCC), Friedrich-Ebert-Allee 1, Wiesbaden, Germany
The conference is dedicated to cloud and cloud-related technologies, including Microsoft Azure, and brings together major cloud platform providers.
€300–450 (+€340–450 for full-day tutorial add-on), depending on the date of purchase
* The attendance cost was taken from the event sites at the time of writing. There is no guarantee that the cost will be the same later on. Always check the prices at the official event website to avoid surprises.
Note: Information in the table above was last updated on March 10, 2023. Please bear in mind that some of the conference details might have changed since the last update.