IT conferences to attend in 2021
IT events are a great opportunity to learn more about the contemporary trends and new technologies, and to connect with other tech enthusiasts and professionals in the field.
Due to Covid-19, 2020 was the year when most IT conferences transformed from on-site events to virtual or hybrid ones. Although the event format has shifted completely, the organizers try their hardest to ensure high-quality content, expert sessions and workshops to deepen the knowledge about the tools the IT professionals have at their disposal. Right now, it may be even more important than ever to connect with others and stay in the know.
If you haven't decided yet what IT conferences to attend this year, we've gathered the ones we find most interesting in the table below.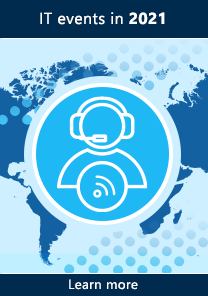 IT events in 2021
Event
When?
Where?
What is it about?
Costs*

Microsoft Ignite

March 2-4, 2021

Digital event

Microsoft technologies, including Microsoft Teams, Microsoft Viva, Azure, Dynamics 365 and more.

Free

FutureTech

March 24-25, 2021

Digital Event

A digital event devoted to Microsoft Technologies, .Net, AI, Cloud, DevOps, VR, AR and cybersecurity.

Free

DevOpsCon

April 20-23, 2021

Park Plaza Victoria, London (& virtual attendance)

The three key buzz-words for the event are Continuous Delivery, Microservices, Cloud & Lean Business.

The conference is primarily for DevOps.

From £539 for an early bird 1-Day Pass to £1,499 for a standard 4-day pass.

Interop Digital

April 29, 2021

Digital Event

Interop Digital focuses on IT trends and best practices for Cybersecurity. The event will cover the subject of working with cloud service providers, managing endpoints and application development.

Free

RSA Conference

May 17-20, 2021

Digital Event

The theme for this event can be described with one word only: Resilience. The conference offers to grow knowledge on cybersecurity with various sessions, tutorials and trainings.

From $75 for a Digital Expo pass, to $795 for an All Access pass.

Microsoft Build

May 25-27, 2021

Digital Event

A conference for developers interested in Microsoft technologies. No matter if you are a coding beginner, or a seasoned developer, you should find something for yourself. Apart from opportunities to learn practical skills, the event includes keynote sessions with announcements from Microsoft executives.

Free

Microsoft 365 Collaboration Conference

June 8-10, 2021

Walt Disney World Swan and Dolphin Resort Orlando, FL, USA (& virtual attendance)

All about Microsoft 365, featuring Microsoft Teams, SharePoint, Power Platform and other collaboration-enhancing solutions.

$1,749 - $3,199, depending on the chosen package and date of purchase.

ITEXPO

June 22-25, 2021

Miami Beach Convention Center, Miami, FL, USA

An IT Event full of not only sessions and presentations, but also trainings and workshops. This annual event is dedicated to reimagining communication and better understanding of technology tools.

$0 - $3,499, depending on the plan and the date of purchase.

Microsoft Inspire

July 14-15, 2021

Digital Event

Formerly known as WPC, this annual conference is dedicated to the worldwide community of Microsoft Partners.

Free

SharePoint Fest

September 20-24, 2021

Walter E Washington Convention Center, Washington, D.C., USA

As the name suggests, the focus of the event is on SharePoint, but that's not all. Sessions and Workshops will be devoted to Office 365, Azure, Microsoft Teams, OneDrive and more.

From $695 for a 1-Day Workshop Pass to $2,695 for a Diamond Pass (at the door price).

SpiceWorld
September 27-29, 2021
Digital Event
That's the second year since SpiceWorld became a virtual event. It is an IT event for both IT specialists and business decision makers. The main theme is Cybersecurity, Cloud collaboration, Network resilience and remote workforce.
Free
VMWorld
October 5-7, 2021
Digital Event
This virtual event offers a large number of different sessions. The entire focus is on accelerating the cloud journey.
N/A
Gitex Technology Week
October 17-21, 2021
Dubai World Trade Centre
Gitex is all about new and innovative technologies. The main focus is on 5G, AI, Future Mobility, Digital Economies, Cybersecurity and Cloud & Edge Computing.
N/A
Microsoft Ignite
November 2-4, 2021
Digital event
Microsoft technologies, including Microsoft Teams, Microsoft Viva, Azure, Dynamics 365 and more.
Free
European Collaboration Summit
November 29-December 1, 2021
Dusseldorf, Germany
A conference dedicated to modern workplace transformation and innovation in general. Subjects will incorporate Microsoft 365, Teams, SharePoint, Power Platform and Business Apps.
€300 - €850, depending on the chosen Pass and the date of purchase.
* The attendance cost was taken from the event sites at the time of writing. There is no guarantee that the cost will be the same later on. Always check the prices at the official event websitepage, to avoid surprises.
Note: Information in the table above was last updated on September 29, 2021. Please bear in mind that some of the conference details might have changed since the last update.
Don't miss the IT events that are important to you
If you are interested in any of the upcoming events, make sure to copy them to your own Google calendar from the calendar below.