IT conferences to attend in 2022
IT events are a great opportunity to learn more about the contemporary trends and new technologies, and to connect with other tech enthusiasts and professionals in the field.
If you haven't decided yet what IT conferences to attend this year, we've gathered the ones we find most interesting in the table below.
Note that due to Covid-19, most IT conferences transformed from on-site events to virtual or hybrid ones in 2020 and 2021. In 2022, organizers seem to return to the on-site format, with some of them offering virtual experience, too. If you want to join any of these conferences in person, remember to consult its website for Covid-19-related restrictions and requirements. Depending on the event, you may be asked to present an up-to-date vaccination proof or a negative COVID-19 test on entry.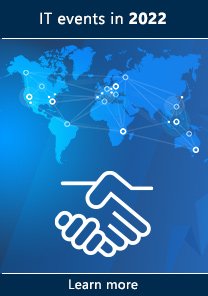 IT events in 2022
Event
When?
Where?
What is it about?
Costs*
Interop Digital

March 10, May 24, July 19

, September 29,
December 1, 2022
Digital Event
Interop Digital focuses on IT trends and best practices for Cybersecurity. The event will cover the subject of working with cloud service providers, managing endpoints and application development.
Free
DevOpsCon

April 26-29, 2022

Park Plaza Victoria, London, UK & virtual attendance

The three key buzz-words for the event are Continuous Delivery, Microservices, Cloud & Lean Business.

The conference is primarily for DevOps.
From £619 (+VAT) for an early bird 1-Day Pass to £1,529 (+VAT) for a standard 4-day pass
SharePoint Fest (365 EduCon)

May 9-13, 2022 (Seattle)




August 8-12, 2022 (Dallas)


September 26-30, 2022 (Chicago)

Washington State Convention Center (WA), Irving Convention Center at Las Colinas (TX), and McCormick Place West Building (IL), USA

As the name suggests, the focus of the event is on SharePoint, but that's not all. Sessions and Workshops will be devoted to Office 365, Azure, Microsoft Teams, OneDrive and more.
From $595 for a 1-Day Pass to $2,695 for a Diamond Pass (at the door price)
RSA Conference

June 6-9, 2022

Moscone Center, San Francisco, USA & virtual attendance
The theme for this event can be described with one word only: Resilience. The conference offers to grow knowledge on cybersecurity with various sessions, tutorials and trainings.
From $50 for the Expo pass to $2.195 for the Full Conference pass, and $495 for the Digital pass
FutureTech

June 21, 2022

Jaarbeursplein, 3521 AL Utrecht, the Netherlands
An event devoted to Microsoft Technologies, .Net, AI, Cloud, DevOps, VR, AR and cybersecurity.
€169.99 for a regular Future Tech 2022 ticket
ITEXPO

June 21-24, 2022

Greater Fort Lauderdale/Broward County Convention Center, FL, USA
An IT event full of not only sessions and presentations, but also trainings and workshops. This annual event is dedicated to reimagining communication and better understanding of technology tools.
$0 - $3,599, depending on the plan and the date of purchase
Microsoft Inspire

July 19-20, 2022

Digital Event
Formerly known as WPC, this annual conference is dedicated to the worldwide community of Microsoft Partners.
Free
VMWorld (VMware Explore)

August 29-September 1, 2022 (USA)


November 7-10, 2022 (Europe)
San Francisco, CA, USA
Barcelona, Spain
This event offers a large number of different sessions. The entire focus is on accelerating the cloud journey.
N/A
European Cloud Summit
September 26-28, 2022
Mainz, Germany
A conference dedicated to cloud and cloud-related technologies such as Artificial Intelligence and Machine Learning, Internet of Things and Industry 4.0.
€450 - €600 (+€450 - €600 for full-day tutorial add-on), depending on the date of purchase
SpiceWorld
September 28-30, 2022
Austin Convention Center, Austin, TX, USA & virtual attendance
SpiceWorld is meant for both IT specialists and business decision makers. The main theme is Cybersecurity, Cloud collaboration, Network resilience and remote workforce.
From $199 (through May 5) to $599 (after September 26)
Gitex Global
October 10-14, 2022
Dubai World Trade Centre, Dubai, UAE
Gitex is all about new and innovative technologies. The main focus is on 5G, AI, Future Mobility, Digital Economies, Cybersecurity and Cloud & Edge Computing.
N/A
Microsoft Ignite
October 12-14, 2022
Hybrid event
Microsoft technologies, including Microsoft Teams, Microsoft Viva, Azure, Dynamics 365 and more.
Free
* The attendance cost was taken from the event sites at the time of writing. There is no guarantee that the cost will be the same later on. Always check the prices at the official event websitepage, to avoid surprises.
Note: Information in the table above was last updated on March 9, 2022. Please bear in mind that some of the conference details might have changed since the last update.
Don't miss the IT events that are important to you
If you are interested in any of the upcoming events, make sure to copy them to your own Google calendar from the calendar below.