CodeTwo Autoresponder for Microsoft 365
Fully branded automatic replies and out of office messages
Central management for all users
Smart scheduling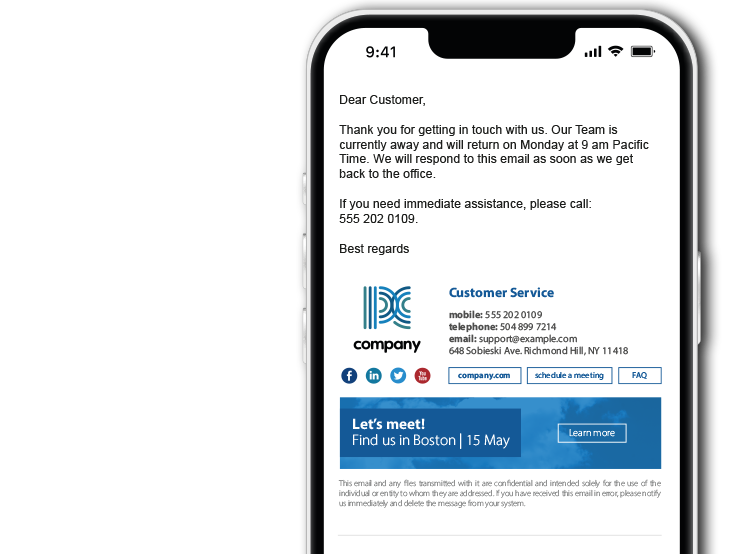 CodeTwo Autoresponder for Microsoft 365
is a cloud service that allows you to create and centrally manage smart automatic replies and out of office messages in Office 365 & Microsoft 365. Auto replies are added in the Microsoft Azure cloud and work with all email apps and devices.
Centrally managed auto replies and OOF messages
CodeTwo Autoresponder lets you set up and send auto-reply messages for any scenario. You can trigger automatic replies when emails:
are delivered to specific users or group members in your organization,
are sent by specific users (from inside and outside your organization), groups or email addresses,
are delivered to your organization at a specific time or date,
include certain keywords or phrases, and more.
See how to quickly set up auto-replies in our user's manual.
Fully branded and customizable auto-reply messages
Design professional HTML templates for your auto-reply messages. Enrich text with links, graphics and personalized email signatures. You can also customize the email header: the sender, recipient(s) and subject of your auto replies.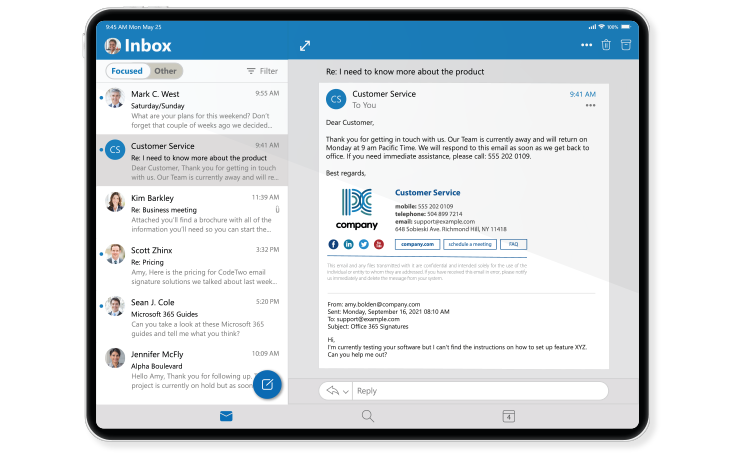 Advanced scheduling options
Schedule auto replies in advance, send them during specific time period only or turn them on/off manually. The built-in Scheduler and Limiter let you configure both recurring and one-off auto-reply messages.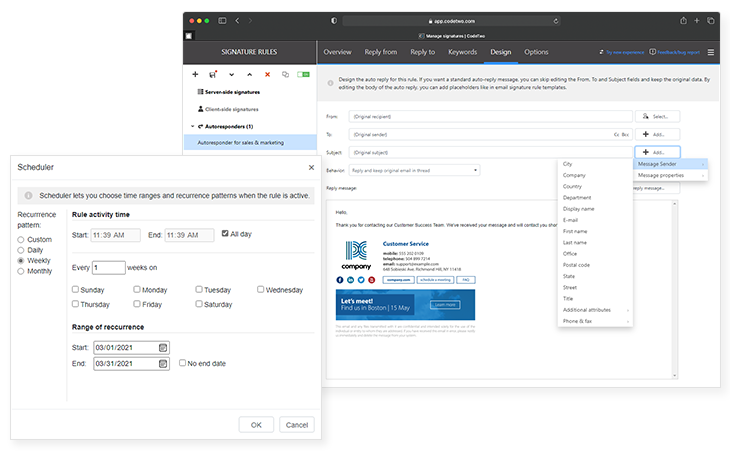 With CodeTwo Autoresponder, you can:
Create automated responses for your Customer Support team

Set up out of office replies for any employee

Notify customers about changes in your email addresses

Send auto replies from inactive or deleted mailboxes

Forward or redirect incoming emails to another email address

And many more!
Get started!
Autoresponder is an additional feature available in CodeTwo Email Signatures 365, the world-leading cloud service that allows you to centrally manage email signatures, legal disclaimers and marketing campaigns for all users in your Office 365 (Microsoft 365) organization.
Start a free 14-day trial now and test all the features with full customer support. No strings attached.
Need more information? See the user's manual.