CodeTwo One-click surveys for Microsoft 365
Let email recipients rate your employees, teams & services from their mail app
Analyze customer satisfaction, comments & employee performance in real time
Cloud service that works with all email apps, used by 50,000+ organizations worldwide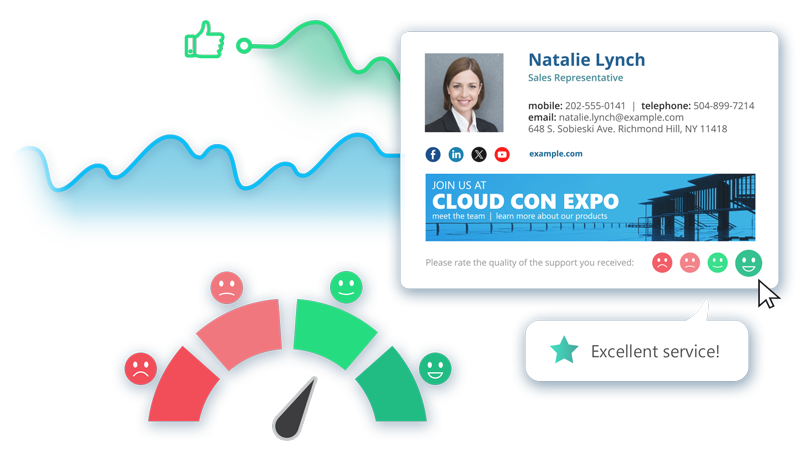 CodeTwo customer feedback platform
Add customizable one-click surveys (with smileys, thumb-ups, stars & more) to your emails. With extensive automation capabilities, powerful real-time analytics and support for all email apps and devices, it's the most user-friendly tool to measure employee & customer satisfaction, period!
Why measure customer satisfaction?
In today's consumer-driven landscape, one in three customers will switch to a competitor after just one poor experience. Measuring consumer feedback will prevent that and help identify where your business can improve in areas like customer service, team performance, products and campaigns. With the right customer satisfaction (CSAT) tool, you can highlight customer preferences for effective marketing strategies, optimize new product launches, and ensure a truly customer-centric approach in everything you do.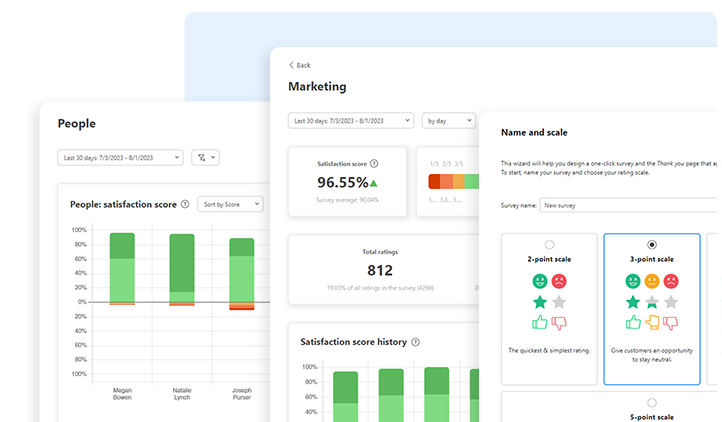 One-click surveys are the way to go
No one has time for complicated text-based questionnaires anymore. With one-click surveys, you can use emojis, thumbs up, likes or stars that people click instinctively. Our customer feedback service comes with dozens of customizable survey templates designed by experts, and creating a satisfaction survey for customers or employees is easy as 1-2-3.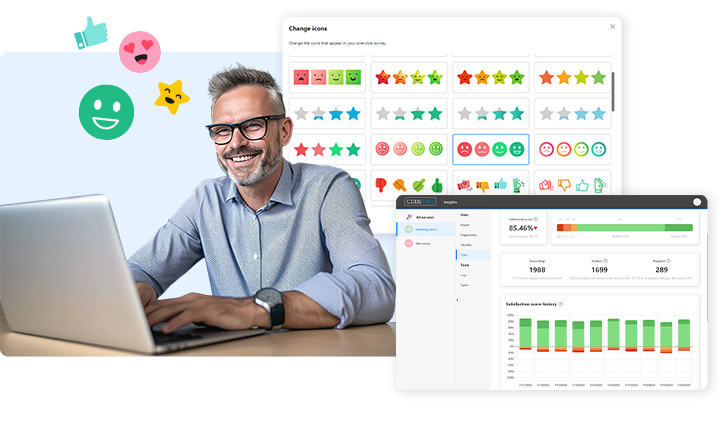 Collect feedback automatically
With CodeTwo cloud service, you can gather customer feedback directly from your emails and signatures. And you can easily automate feedback collection: insert different surveys for your Sales, Customer Success and Service Desk teams, change the survey based on keywords or where you send your email, and many more!
Sending business emails from your phone? Not a problem. We'll add a survey whenever you need it, no matter what email app or device you have. It all happens in the cloud, so you don't need to set up or install anything on end-user devices (as long as they are connected to Microsoft 365).
Who can benefit?
At CodeTwo, we've created a customer feedback survey tool for every company. No matter if you're a small family business or a worldwide enterprise, here's how you and your co-workers can benefit from 1-click survey insights:

Customer Support
• Analyze satisfaction of your customers at every touchpoint
• Get customer insights on how your technician/team performs

Sales & Customer Relations
• Measure customer loyalty and predict business growth
• Monitor & respond to negative feedback in real time

Product/Service Development
• Learn about customers' experience with your product or service
• Create product surveys to plan future updates

Human Resources
• Evaluate employee satisfaction within your company
• Use quick employee surveys to plan HR initiatives
Analyze customer feedback in real time
with CodeTwo Insights
With our built-in CSAT analytics tool, CodeTwo Insights, you'll gain instant visibility into your customers' satisfaction levels. Get real-time analytics on how your employees, products and services perform, track trends and measure customer loyalty to identify where you can improve.
You're in safe hands - unrivaled security
Our Microsoft 365 email branding service has been on the market since 2016 and is used by 50,000+ companies worldwide, processing millions of emails every day. That's why we've made sure it's the most secure solution you can get – we're ISO 27001 (information security) and ISO 27018 (personal data protection in the cloud) certified, and we're proud to have the only Microsoft 365-certified CSAT solution on the market.
Get started!
One-click surveys is a feature available at no additional cost in CodeTwo Email Signatures 365, the leading email branding service used by 50,000 companies worldwide. CodeTwo allows you to centrally manage email signatures, legal disclaimers and marketing campaigns for all users in your Office 365 (Microsoft 365) organization.
Start a free 14-day trial now and test all the features with full customer support. No strings attached.
Need more information? See the user's manual.