Delegation of signature management rights
CodeTwo Email Signatures 365 lets you delegate email signature design and management tasks to any user or group in your organization. The assignment of signature management rights is quick, and you don't need to assign any additional Office 365 (Microsoft 365) admin roles to CodeTwo signature admins.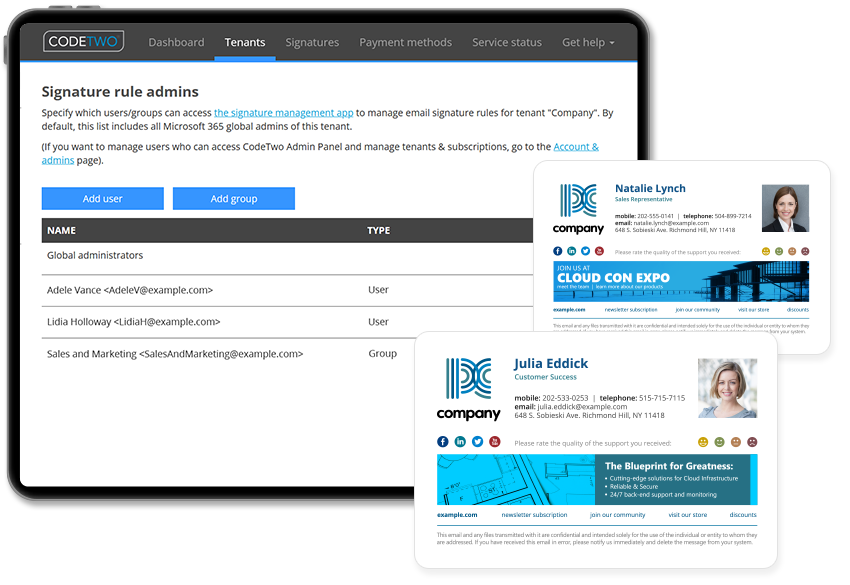 With access rights settings in CodeTwo Email Signatures 365, you can:
Delegate email signature management to individual users or multiple users who are members of Office 365 groups, distribution lists or security groups.
Assign signature creation tasks to non-IT teams like Marketing or Sales.
Control access to email signature rules for all Office 365 tenants registered in CodeTwo Admin Panel.
Reduce the number of non-administrative tasks for your Office 365 admins.
Instead of having to be a jack-of-all-trades, your admin can now delegate specialists to create organization-wide legal disclaimers, run personalized email marketing campaigns or use email signatures to collect satisfaction data without compromising the security of your Office 365 tenant. None of the delegated users need to be IT experts in order to manage email signatures – the application is very user-friendly, and the built-in signature template editor makes it really easy to create professional email signature templates. Still, if the need arises, Office 365 global admins will always be able to access and manage all signature-adding rules.