Conditional Active Directory placeholders
CodeTwo Email Signatures 365 makes use of placeholders to create personalized signatures with senders' data obtained from Azure Active Directory. The program also features multi-value conditional placeholders that can add other type of information to email signatures in the form of text, images, animation and HTML code snippets. Conditional placeholders can be used to, for example: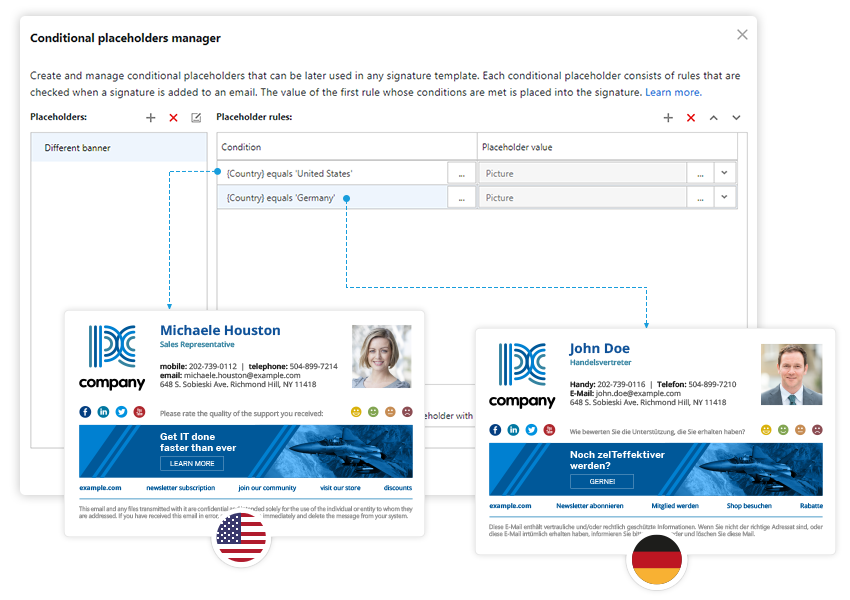 Conditional placeholders are created in the built-in signature template editor. They are based on user-defined rules. Each rule has a condition (built using senders' Azure AD data) and a value. When an email is sent, the program checks all rules and replaces the placeholder with the value specified in the first rule whose conditions are met. If none of the rules apply, the default placeholder value is used.
For example, you can create a conditional placeholder which is replaced with a banner in the following way: if an email is sent by a user that belongs to the Marketing team, an additional banner is placed within a signature (according to a rule specified in the related conditional placeholder). If an email is sent from any user outside Marketing, the signature will not contain that banner (the default placeholder value is left empty).
Each conditional placeholder can consist of a virtually unlimited number of rules. That way, the same placeholder can be used to add a different banner to emails sent by the Sales, Support, Finance, or any other department in your organization.
There is no limit to the possible applications for conditional placeholders. Learn more in the user's manual