World's best HTML signature template editor
CodeTwo Email Signatures 365 comes with a lightweight and intuitive web-based signature template editor, which eases and speeds up the process of creating professional email signatures and disclaimers. The video below shows how to design your email signature template using the editor.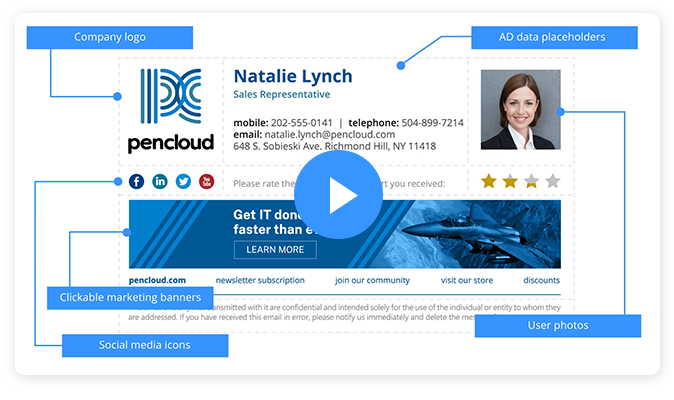 Our editor lets you focus on the layout of your corporate email signature instead of complex HTML coding behind it. You can easily build your email signature from scratch (check out our video on that) or you can speed up signature design by using one of the well-tailored email signature templates prepared for you by our HTML experts.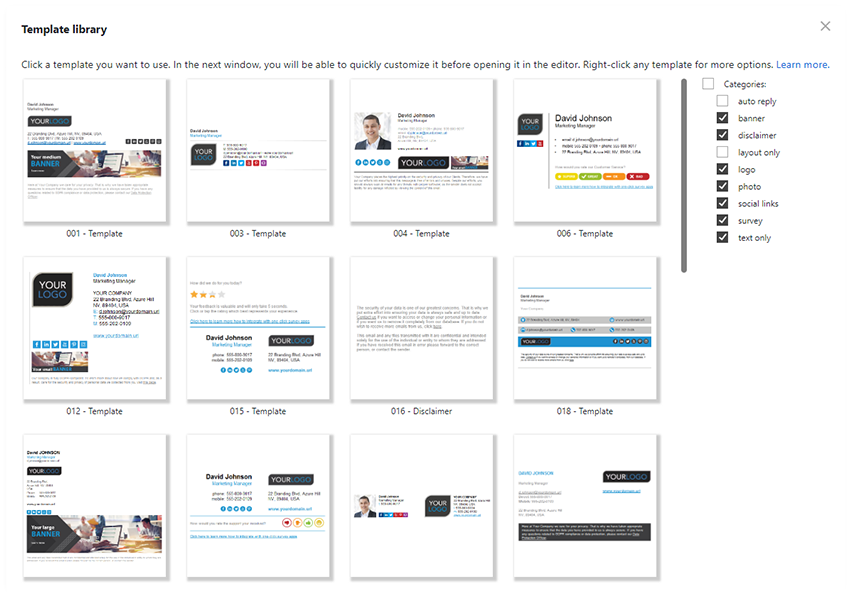 Before opening your template for further editing, you can quickly customize it in the Quick customization pane. Decide which elements of your signature template you want to keep or remove. It is super-easy and involves no HTML skills. Just select or deselect signature sections listed on the left.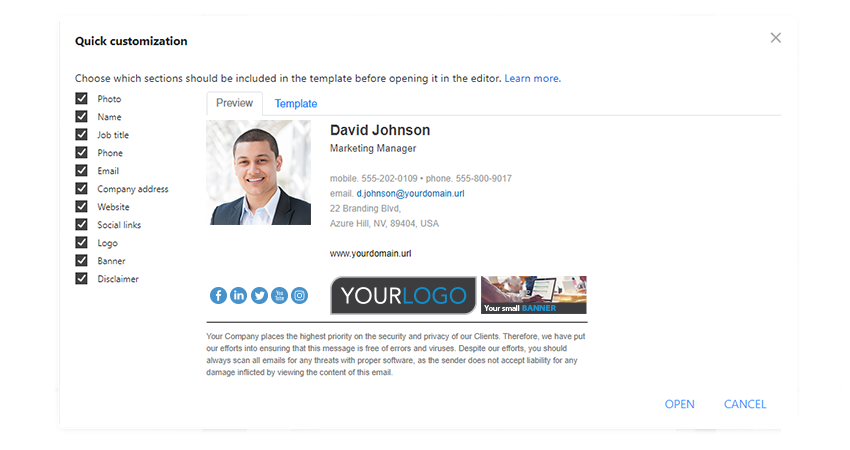 After the initial customization, your template opens in the signature template editor, where you can find a wide range of formatting options that adjust to the content you are currently working on. In the editor, you shape the final look of your signature by adding your images, Office 365 (Microsoft 365) user photos, marketing banners, social media buttons, and more. Feel free to replace, add or remove the contents of the template, modify colors and fonts, or add your own legal disclaimer.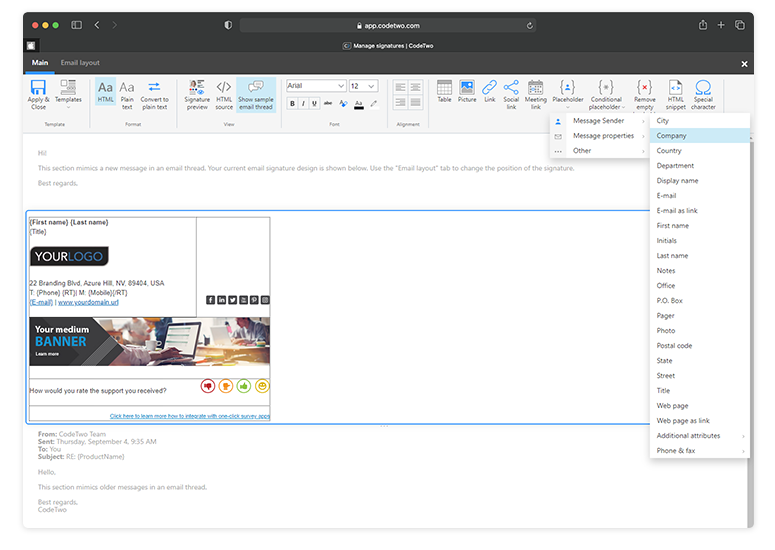 Other features available in the signature template editor include:
Placeholders, which allow you to personalize email signatures with AD data (e.g. sender's attributes);
Conditional placeholders that can be used e.g. to add custom information to signatures added to emails sent by specific users only;
Additional email sections (like left and right banners, header) that you can design and add to your server-side signature templates;
Signature positioning, which lets you choose how your signature appears in an email conversation (under the latest reply or at the very bottom).
With CodeTwo, you can be sure your email signatures are up to date at all times. Once you create or update a signature template and save changes, these changes take effect immediately. And if you need to postpone the changes or plan a new email campaign ahead, you can create a new rule and use the built-in scheduler.
You can also decide who can create email signatures in your organization by configuring access rights. Our software lets you delegate email signature management e.g. to your Marketing team. This, in connection with all the features of the editor and the ability to schedule email campaigns, is what makes CodeTwo Email Signatures 365 the perfect marketing tool.
Learn more: