Centrally managed automatic replies and out of office messages
The Autoresponder feature in CodeTwo Email Signatures for Office 365 allows you to set up auto-reply messages for all users in your Microsoft 365 organization. It lets you:
Create auto-reply email templates for your teams (e.g. Customer Support, Sales, IT, etc.).
Set up OOF messages for other employees.
Forward or redirect specific incoming emails to another email address.
Send auto replies from inactive or permanently deleted mailboxes.
Inform customers about changes in your company's email addresses.
Keep the original email in an email thread, include it as an attachment to the auto-reply message, or remove the original email from the thread completely.
And create automatic replies that can be used in many different business scenarios.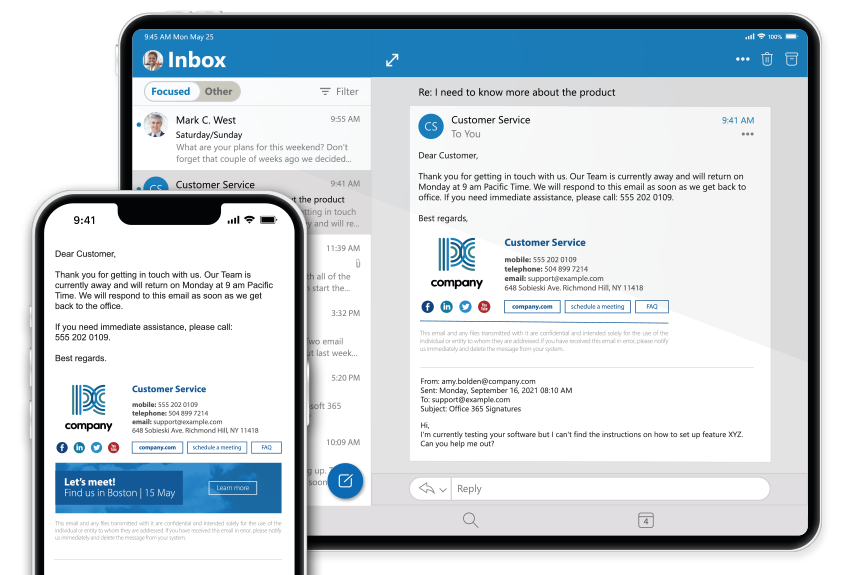 By creating autoresponder rules, you can configure automatic replies to be sent when emails:
reach specific users or email addresses in your organization,
come from specific senders (email addresses) inside and outside your organization,
reach your organization only at a specific time or date,
contain specific keywords or phrases,
and more.
Design professional, fully branded auto replies and out of office messages. Enrich them with links, graphics (such as a company logo, user photo and marketing banner) and personalized email signatures. Customize the email header of your automatic replies to change the sender, add additional recipients (To, Cc & Bcc), and modify the subject line.
The built-in Scheduler and Limiter allow you to configure recurring and one-off auto replies. Schedule sending automatic replies in advance or configure the autoresponder rule to send them during specific time periods only.
Learn more: