CodeTwo Email Signatures for Office 365
Centrally managed email signatures for Exchange Online
Customers from 150 countries love us for:

24-hour Tech Support
Signatures visible while typing emails
Super-fast deployment
View signatures while composing an email
When CodeTwo Email Signatures for Office 365 works in the client-side mode, users can see their signatures directly in Outlook when they type emails. But what about signatures that are added server-side, after an email is sent? No problem – our email signature management solution for Office 365 (Microsoft 365) uses modern Outlook Web Add-in technology from Microsoft to let end-users preview server-side signatures while composing emails in Outlook, Outlook for Mac and OWA.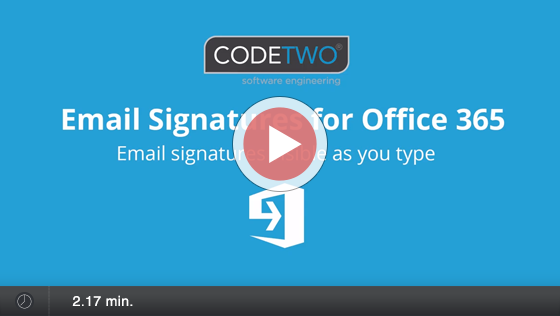 This breakthrough technology makes CodeTwo Email Signatures for Office 365 superior to competitive solutions, including the native Office 365 mail flow rules and other 3rd party apps. Based on this technology, we developed an agentless solution (there's nothing to install) called CodeTwo Email Signatures for Office 365 Add-in. This approach goes beyond limitations imposed by traditional solutions, giving both end users and admins new possibilities.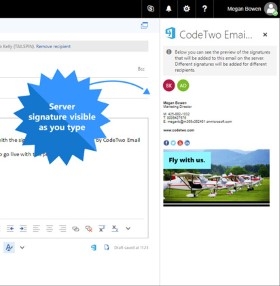 The add-in not only allows the end-user to see a preview of server-side signatures while writing emails but also:
lets an admin enable the signature preview feature centrally for all users via Microsoft 365 (Office 365) admin center or individually via Outlook on the web (OWA);
makes it possible for users to see their server-side signatures in Outlook/Outlook for Mac/OWA regardless of the devices they use (mobile clients will be supported soon);
allows users to view all changes updated in real time in the preview pane in Outlook, Outlook for Mac and OWA while composing emails. For example, if the users add or remove recipients or add a keyword that is used in one of your organization's signature rules, the application will immediately show corresponding signatures.
See what the signature preview feature looks like:
To enable a live preview of signatures, you need to add CodeTwo Email Signatures for Office 365 Add-in to the list of add-ins in Office 365. You can add it from a URL.
Note: This feature works without installing any local modules or COM add-ins on users' workstations as it is entirely based on the new and secure agentless technology powered by Microsoft. As a result, CodeTwo Email Signatures for Office 365 allows your end users to see server-side signatures with no risk of modifying or removing them from emails (which might always happen when using client-side solutions).
Want to see how this and other features of CodeTwo Email Signatures for Office 365 (like the built-in signature template editor) work with your Office 365 tenant? Start your 14-day trial!