CodeTwo Email Signatures for Office 365
Centrally managed, server-sided email signatures for Exchange Online
Microsoft AppSource trusted app
MSExchange.org Gold Award
World's only email signature solution with:
Server-sided signatures visible while composing emails,
Office 365 users' photos in signatures &
24-hour support
Buy
See subscription pricing
Email signatures for marketing purposes
Email signatures can be used not just to inform a recipient about the sender's contact details, but also to communicate information important from the business promotional perspective. This means that email signatures can serve as a powerful, easy to use and cost-effective medium of marketing communication with both prospects and existing customers.
If, for some reason, you have never considered email signatures as a marketing instrument, use the calculator below to calculate marketing opportunities your company misses every year. Ignoring this marketing medium seems to be unreasonable once you realize how many options it offers for your business promotion.
Calculate your marketing opportunities
Each week a single user sends over 200 emails. This number grows up to 10,000 emails per year. On average, each email message will be opened 2 times. These numbers prove emails to be a great promotion channel.
Use this calculator to find out how many marketing opportunities you lose without standardized and branded email signatures in place.

Number of employees in your company:

Missed marketing opportunities (yearly): 8,760
Each year your 100-employee organization sends 1,095,000 emails, which are opened 2,190,000 times. This gives you a great chance to increase your brand awareness and boost your marketing campaigns. Assuming that an average click rate is 0.4%, it gives 8,760 conversion chances to press into service.
CodeTwo Email Signatures for Office 365 will allow your company to better exploit email signatures' potential by running email signature marketing campaigns. Thanks to the built-in signature template editor, it is easy to add proportional banners, company logos or other marketing graphics and texts. This way your email signatures will attract the attention of potential and current customers and help you increase brand awareness as well as easily spread marketing information.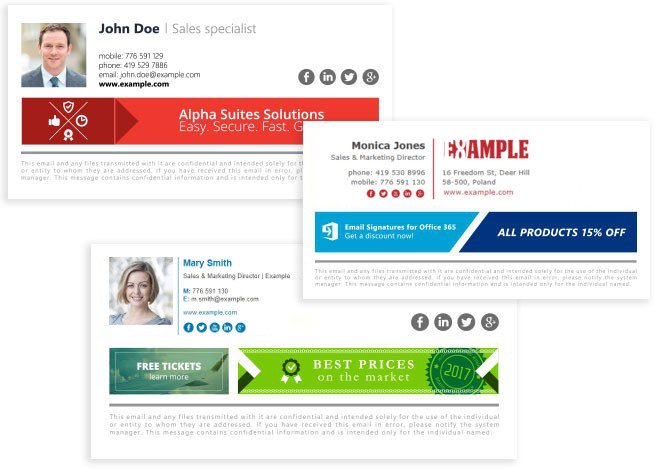 As all graphics can be clickable (meaning they can link to web sources), it gives a great possibility to track your email marketing campaigns to gather web analytics data on how they perform. This statistical data can help your Marketing Department analyze and better plan future marketing campaigns.