Use email signatures for marketing and track the results
Email signatures can be used not just to inform a recipient about the sender's contact details, but also to communicate information important from the business promotion perspective. This means that email signatures can serve as a powerful, easy to use and cost-effective medium of marketing communication with both prospects and existing customers.
If, for some reason, you have never considered email signatures as a marketing instrument, use the calculator below to calculate the marketing opportunities your company misses every year. Ignoring this marketing medium seems to be unreasonable once you realize how many options it offers for your business promotion.
Calculate your marketing opportunities
Each week a single user sends over 200 emails. This number grows up to 10,000 emails per year. On average, each email message will be opened 2 times. These numbers prove emails to be a great promotion channel.
Use this calculator to find out how many marketing opportunities you lose without standardized and branded email signatures in place.

Number of employees in your company:

Missed marketing opportunities (yearly):
Each year your 100-employee organization sends 1,095,000 emails, which are opened 2,190,000 times. This gives you a great chance to increase your brand awareness and boost your marketing campaigns. Assuming that an average click rate is 0.4%, it gives 8,760 conversion chances to press into service.
CodeTwo Email Signatures 365 won the 2021 Stevie Awards (International Business Awards) as the best Marketing/Public Relations Solution. That's because the service can perfectly handle automated email signature marketing campaigns. Thanks to the built-in signature template editor, it is easy to add promotional banners, company logos or other marketing graphics and texts to increase brand awareness and spread marketing information.
With CodeTwo, creating and running targeted marketing campaigns is easy. Simply design various signature templates for all your marketing audiences and create rules in the program that automatically add appropriate email signatures to selected recipients. Or take advantage of Outlook (client-side) signature mode and let your users choose appropriate template every time they compose an email in Outlook. You can also easily track your email campaign results and implement customer satisfaction surveys.
Thanks to the ability to allow non-admin users to access and manage signature rules, the Marketing Team can take full control over email signatures in the company. Once the admin assigns the necessary permissions, chosen teams or users can freely design email signatures and schedule marketing campaigns. There is no need to contact IT to make any changes in the design.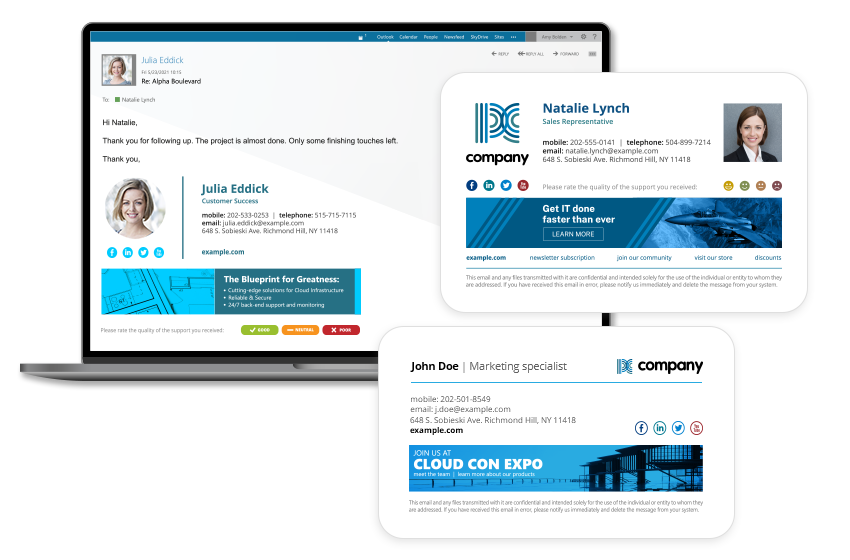 Tag links and track marketing campaign results
As all graphics can be clickable (meaning they can link to web sources), it gives you a great possibility to track your email marketing campaigns to gather web analytics data on how they perform: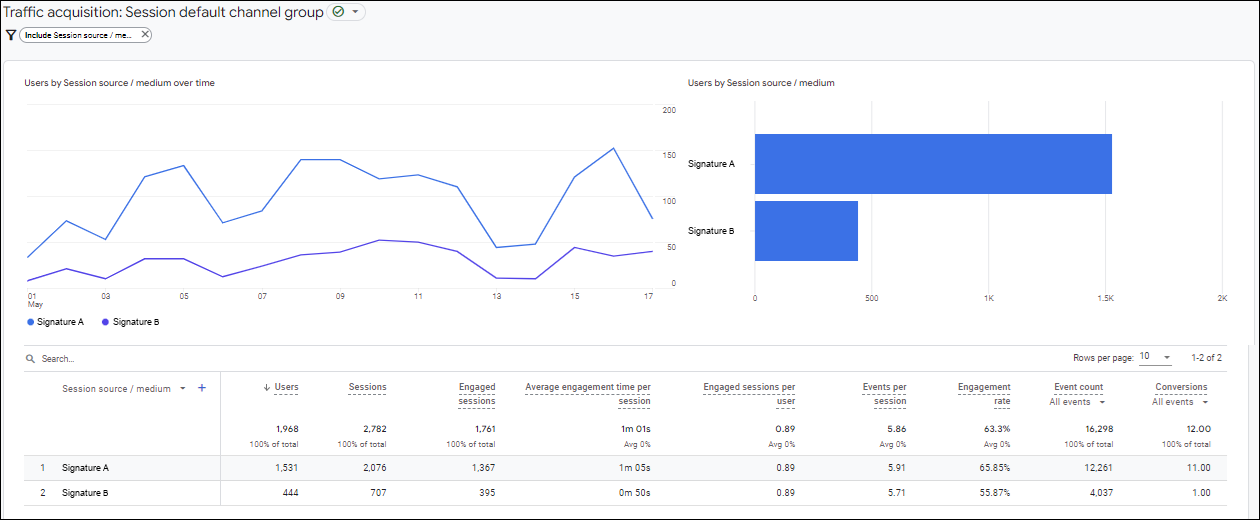 CodeTwo Email Signatures 365 features an option to automatically add tracking parameters to your links. The program can tag URLs with the parameters used by the most popular web analytics tools like Google Analytics, Woopra, or Matomo (Piwik). By tagging your URLs, you know exactly how much of your web traffic comes from emails. Furthermore, you can monitor the performance of your banners. The statistical data can also help your Marketing Department analyze marketing campaigns and better plan future movements.