15 years of experience
Back in 2007, our first program, CodeTwo Exchange Rules 1.0, was like a stone thrown into the water that created ripples on its surface. Over the years, these ripples have become waves that keep carrying our company to this day. This program became an award-winning and Microsoft certified central email signature management tool for Exchange environment. The very same developers who wrote the first lines of code back in 2007 were (and still are) actively involved in the development of its cloud counterpart – CodeTwo Email Signatures for Office 365.
Although the fundaments remain unchanged, the program underwent a complete overhaul. Not only was it adapted to Office 365 (Microsoft 365) environment and Microsoft Azure infrastructure services, but also CodeTwo Email Signatures for Office 365 stays abreast of the latest technology trends.
Our high expertise in developing solutions based on Microsoft technologies (not only email signature management software, but also backup and migration tools) as well as the experience gained through all these years, together with feedback, suggestions, and requests from over 100,000 of our clients, powered the whole development process and still allows us to further improve the program.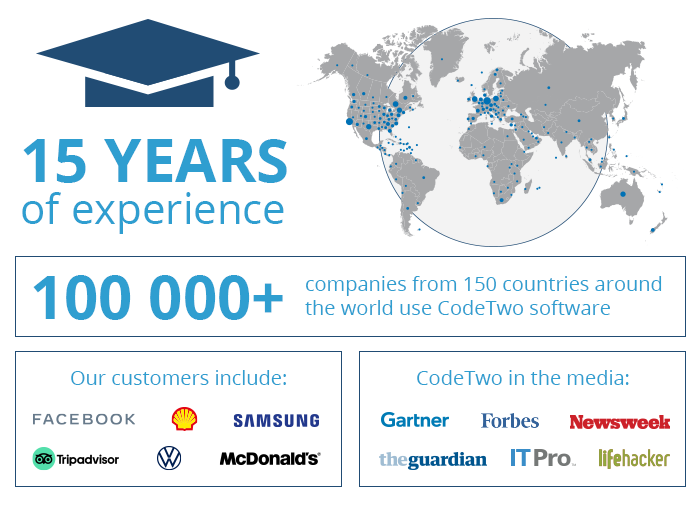 In response to the demands of our clients and understanding the needs of the market, CodeTwo Email Signatures for Office 365:
can add email signatures server-side and directly in email clients (Outlook)
has an exceptionally user-friendly, all-web interface
works on any platform and device (including Windows, Mac, Linux, tablets and phones)
features a built-in signature template editor that makes it possible to design professional email signatures without having HTML knowledge
supports all existing email clients
allows you to preview server-side signatures while composing emails (and it is the first software in the world that offered such a feature)
lets you configure remote access to rules for Marketing
makes use of Office 365 user photos
lets you create email signatures in all languages
integrates with web analytics tools and customer satisfaction surveys (CSAT)
is developed and supplied under ISO/IEC 27001 and ISO/IEC 27018 management system
processes emails on Microsoft Azure servers and incorporates security such as OAuth 2.0 protocol, TLS encryption, MFA, etc.
comes with the best Customer Support, as proven by numerous awards and the highest customer satisfaction ratings.