CodeTwo Email Signatures for Office 365

Centrally managed, server-side email signatures for Exchange Online

Customers from 150 countries love us for:
24-hour Tech Support
Signatures visible while typing emails
Super-fast deployment
Buy
See subscription pricing
Centrally managed email signatures
CodeTwo Email Signatures for Office 365 allows admins to centrally manage, edit and automatically insert email signatures and disclaimers to emails in their organization. In the video below, you can see how difficult this task can be if it is not centralized.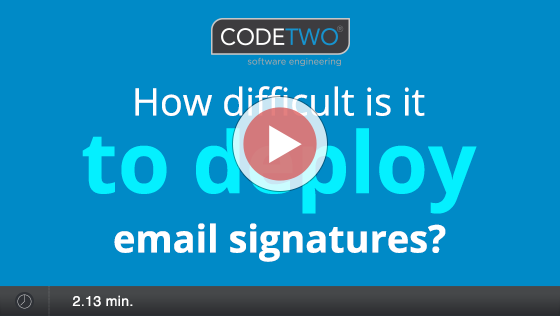 The application operates on the server's side, stamping emails with predefined signatures and disclaimers that can be easily set via the program's management console. This allows Office 365 administrators and users with the right permissions to create unified signature templates for groups of users without engaging them in the process.
CodeTwo Email Signatures for Office 365 uses a service hosted on Microsoft Azure servers to deploy email signatures and disclaimers. A signature is added to every email that meets the conditions defined by the administrator. Running the application's engine (CodeTwo Email Azure Service) in the cloud gives the application two major benefits:
there are no limits when it comes to senders' email clients
no setup on the client's side is required.
CodeTwo Email Signatures for Office 365 is an email signature management system that comes with advanced personalization features. The signature rules you create in the program can be based on various conditions and exceptions and applied to selected senders or recipients. If you need to create a rule similar to an already existing one, you can clone it and make some quick tweaks here and there. Your email signature templates can contain dynamic fields that are automatically replaced with users' Azure AD attributes when emails are sent.
Other key features include:
support for all mail clients and mobile devices
full control over the layout of the signature (including the capability to add side banners, headers, etc.)
delegate email signature and banner management to specific users or teams (for example, the Marketing team)
built-in signature template editor with predefined signature layouts
option to add Office 365 users' photos to email signatures
placeholders based on sender's and organization's properties
fast and easy deployment.
Learn more: