Centrally managed email signatures
CodeTwo Email Signatures 365 allows a single person to centrally create, deploy and manage email signatures and disclaimers for all users in a Microsoft 365 organization. Manual signature handling consumes a lot of time and resources from an IT department. Watch the video below to see the benefits you get if you switch to automated signatures from CodeTwo.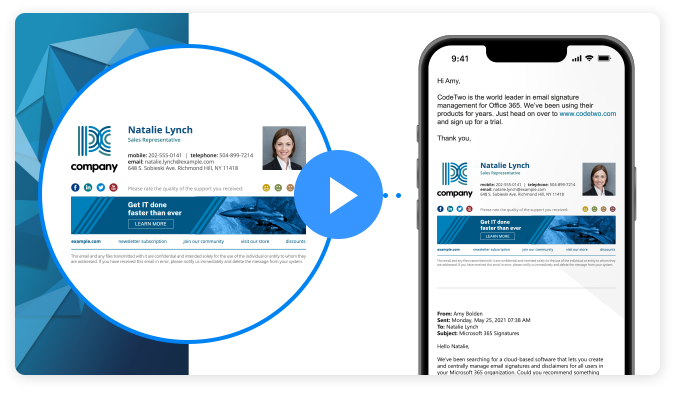 Our cloud-based email signature management service can add signatures:
to emails sent from any email app and device – signatures are added in the cloud after a message is sent,
directly in Outlook & OWA as users type an email, through a modern Web Add-in, co-engineered with Microsoft.
Find out more about how this works
CodeTwo Email Signatures 365 comes with advanced personalization features. Microsoft 365 administrators and users with the right permissions can set up unified signature templates for other users and groups without engaging them in the process. By creating signature rules, you can specify when these templates should be added to emails, which users should have access to a given signature template in Outlook, and so on. These rules can be based on various conditions and exceptions and allow you to create virtually any type of automation. For example, signatures can be added to specific senders, they can change based on the nationality of the recipients or keywords included in the email body, and more. Email signature templates can contain dynamic fields that are automatically replaced with users' Azure AD attributes when emails are sent. See more examples of use
Other key features include:
all-web experience – create and manage email signatures via a web browser, from any platform (Windows, Mac, Android, iOS, etc.)
full control over the layout of the signature and email (you can also add side banners, headers, etc. to your message)
delegate email signature and banner management to specific users or teams (for example, the Marketing team)
built-in HTML signature template editor with predefined signature layouts
Microsoft 365 users' photos in email signatures
placeholders based on sender's and organization's properties
schedule automatic email signature marketing campaigns & track the results
fast and easy deployment & automatic migration of on-premises email signature rules
instant organization-wide updating of email signatures
tech support loved by the customers, available 24/5 via phone and email.
Learn more: