Different signatures in new and subsequent emails
When sending a new email message, you add an email signature that consists of full contact details, graphics, and links. However, when exchanging emails within a conversation thread, you might want to add a simpler signature to later emails. That is why CodeTwo Email Signatures 365 allows you to add different signatures to first emails and different to subsequent messages.
When operating in cloud (server-side) signature mode, the program recognizes when you send a new message (even if you are joining an ongoing conversation and not just sending a new email) and automatically add a full-blown signature. And when you continue to exchange emails in the same thread, the application detects that and can insert a different email signature, e.g. containing only basic information - like name, last name, job title, and phone number.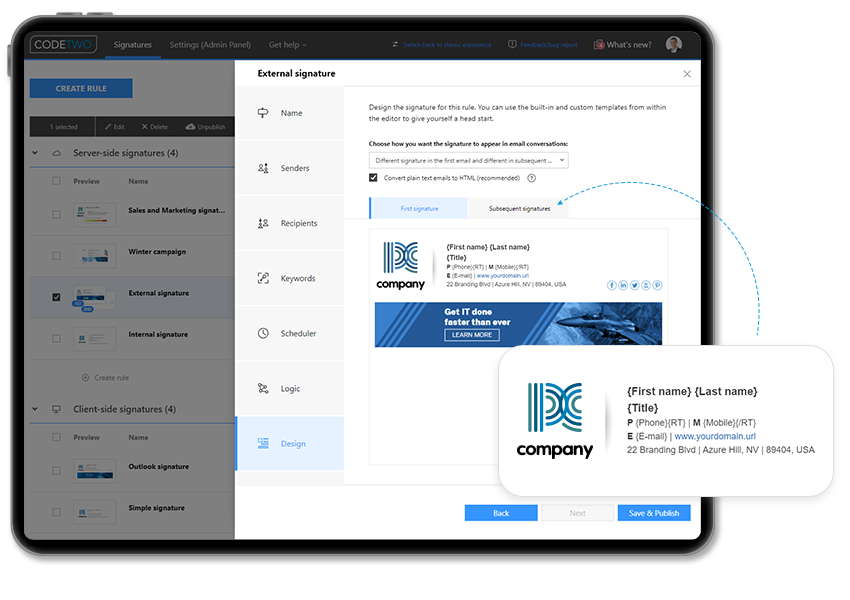 There are also other options you can choose from when setting up the way cloud (server-side) signatures should appear in the conversation:
The same signature in every email: this option allows you to have only one email signature template for all emails sent by users.
Signature in the first email only: the program will add your signature only to the first email in a given conversation. All subsequent emails will have no signature.
Custom setup: this option offers some advanced settings you can use if none of the standard options suits your needs.
Thanks to these functionalities, you can flexibly compose your Microsoft 365 (Office 365) email signatures.