CodeTwo Email Signatures for Office 365
Customers from 150 countries love us for:

24-hour Tech Support
Signatures visible while typing emails
Super-fast deployment
Azure AD support
CodeTwo Email Signatures for Office 365 can automatically add signatures and update them with Azure AD properties on the fly. Here is how it works:
In the program's built-in signature template editor, you design an email signature template in which you use dynamic fields (placeholders) in place of users' contact information. When a user sends an email or when their Outlook signatures are synchronized with CodeTwo's services, the placeholders are updated with the user's information pulled from Azure Active Directory.
CodeTwo Email Signatures for Office 365 syncs with Azure AD automatically every 20 minutes, making sure that the data in your signatures always stays up to date. It's the only signature solution with such sync frequency, which is even 36x more often than what competitive solutions offer. You can also perform manual sync at any time – there are no limitations here.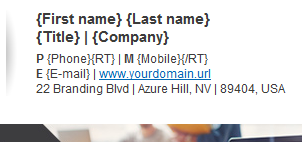 Thanks to this functionality, it is possible to personalize signatures without having to create separate templates for every user. The dynamic fields can include details such as names, job titles, departments, physical addresses, phone numbers, email and website address, Office 365 (Microsoft 365) users' photos, banners, and more. Custom attributes, such as CustomAttribute1-15, Initials, HomePhone and more, are also supported.
If certain AD attributes are not filled out for some users, CodeTwo Email Signatures for Office 365 can either insert a generic information into a signature (such as company's general phone number) by using the conditional placeholders functionality or remove that information from the signature entirely with the use of the Remove Text tags. Learn more...
The program also takes advantage of Office 365 user data stored in Azure AD to create attribute-based signature rules. That way, you can specify users who get a specific signature based on their Azure AD properties. Learn more…