CodeTwo Email Signatures for Office 365
Centrally managed email signatures for Exchange Online
Customers from 150 countries love us for:

24-hour Tech Support
Signatures visible while typing emails
Super-fast deployment
Buy
See subscription pricing
Azure AD support
CodeTwo Email Signatures for Office 365 can automatically add signatures and update them with Azure AD properties on the fly. Here is how it works:
In the program's built-in signature template editor, you design an email signature template in which you use dynamic fields (placeholders) in place of users' contact information. When a user sends an email or when their Outlook signatures are synchronized with CodeTwo's services, the placeholders are updated with the user's information pulled from Azure Active Directory.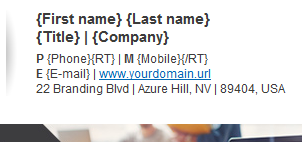 Thanks to this functionality, it is possible to personalize signatures without having to create separate templates for every user. The dynamic fields can include details such as names, job titles, departments, physical addresses, phone numbers, email and website address, Office 365 users' photos, banners, and more. Custom attributes, such as CustomAttribute1-15, Initials, HomePhone and more, are also supported.
The program also takes advantage of Office 365 user data stored in Azure AD to create attribute-based signature rules. That way, you can specify users who get a specific signature based on their Azure AD properties. Learn more…