Automate email marketing campaigns
If you already use email signatures for marketing purposes, CodeTwo Email Signatures 365 lets you plan email marketing campaigns in advance and be sure that they run and stop automatically right at the scheduled time. This is possible thanks to the built-in Scheduler, which allows defining time when a specific rule should be active.
Having this in mind, the Scheduler opens a new range of possibilities for Office 365 (Microsoft 365) email signature management, letting you:
define exact hours and minutes at which a specific rule starts and stops adding your promotional email signatures (you can also let the rule run all day);
customize activity time ranges separately for each rule, depending on your current and future email marketing campaign plans, e.g. you can set up a two-week campaign that will run during Christmas days to let existing customers know about your current discounts;
prepare regular email marketing campaigns that run automatically based on a daily, weekly, or monthly recurrence pattern.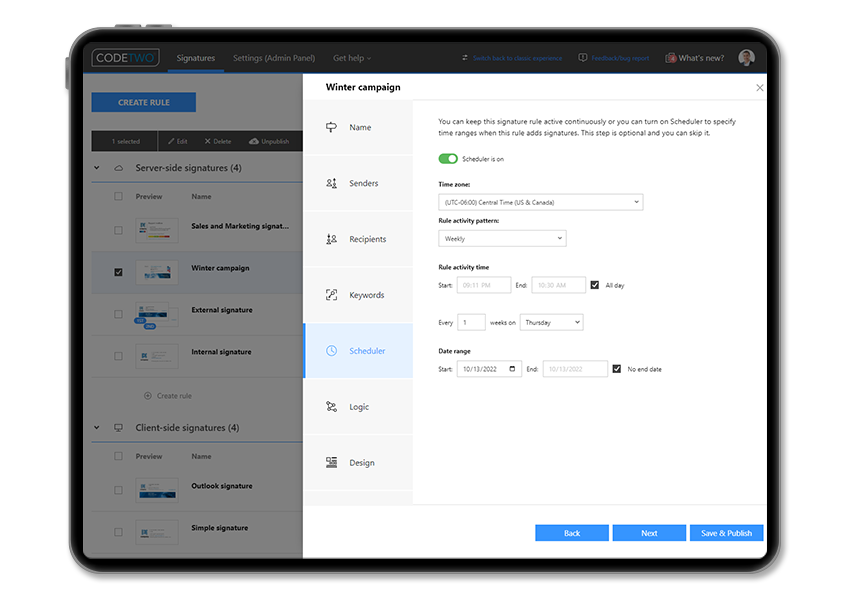 What's more, professional email signatures, containing eye-catching promotional banners, can be easily created in the WYSIWYG signature template editor that you can access in the Design step when configuring signature rules in CodeTwo Email Signatures 365. The program also lets you delegate all email-signatures-related assignments to the appropriate team, relieving the IT department of marketing-related tasks.
Rules that have Scheduler turned off run continuously, without any time limits.