Email signatures in Sent Items
If you are using CodeTwo Email Signatures 365 in cloud (server-side) signature mode, you should know that our email signature management solution for Microsoft 365 (Office 365) lets you display email signatures in end users' Sent Items folders across various devices and email clients.
What are the benefits of being able to display email signatures that were added on the server-level in users' Sent Items folders? Firstly, users are no longer left wondering what their email looks like when it reaches the recipient. One peek in the Sent Items folder and they have the answer. Secondly, you can now easily ensure compliance with laws mandating retention of electronic documents in the exact form in which they were presented to recipients.
All thanks to CodeTwo Email Signatures 365's Sent Items Update feature!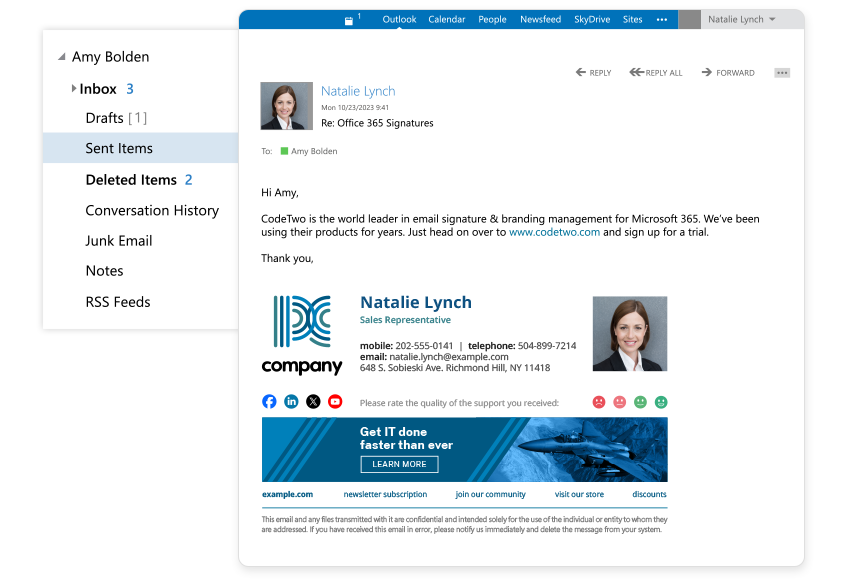 Key benefits of Sent Items Update:
works on all devices and email clients
helps comply with legal requirements regarding retention of corporate mail
removes obscurity from the signature adding process
users can verify that their email signature has been properly placed and contains correct information
The best part is that Sent Items Update is activated with just one click and starts working shortly afterward.
The service is hosted by us on Microsoft Azure servers and is totally independent of your mail flow and the functioning of your Microsoft 365 tenant. It's a parallel pipeline that has no influence on your email processing and delivery time. Moreover, Sent Items Update does not require any service accounts to operate as the entire authentication and authorization process uses OAuth 2.0. Also, your emails are not stored by the service during this process. Learn more...
Want to see this and other CodeTwo Email Signatures 365 features (like the WYSIWYG signature template editor and Entra ID (Azure AD) support) in action? Start your 14-day trial!