Stay compliant with legal regulations
Running a business usually involves sending tons of emails to your new and prospective clients daily. However, by doing so, you need to make sure you are not breaking any laws. There are many legal regulations concerning electronic advertising and marketing, spam, or data security that you must comply with.
When it comes to sending offers, in most cases all you need to do is insert a specially crafted disclaimer to your outgoing emails. Just make sure (if applicable) you were given permission to send these offers in the first place. On the other hand, to stay compliant with data protection acts and not end up being penalized (and we are talking about fines of up to tens of millions of euro!), you also need to take other factors into consideration.
CodeTwo Email Signatures 365 provides solutions that will make it easier for you to stay compliant with some of these legal requirements. By using the software to add server-side disclaimers, you can rest assured that they are always added to all your emails, sent by all employees, from all devices. Keep in mind that properly crafted disclaimers might save you from costly compliance violations.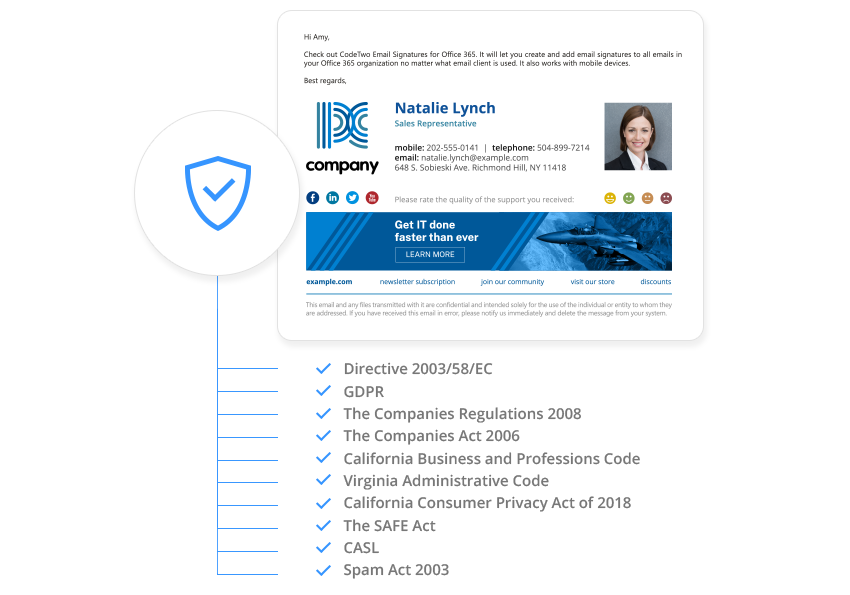 Below are several regulations that our program helps you stay compliant with.
UE
Directive 2003/58/EC
Directive 2003/58/EC of the European Parliament and of the Council applies to all corporate correspondence. It makes it mandatory for the companies to use disclaimers that contain information about their legal form, the physical address of their registered office, as well as all the necessary information that will allow identifying them (i.e. the registration number and place where the register is kept). If you plan to end all your business affairs or your company is going into liquidation, this fact needs to be included in your emails. This is where the key features of CodeTwo Email Signatures 365 come into play – you can add appropriate disclaimers to all your outgoing emails and rest assured that no one will delete or change them without your knowledge.
GDPR
General Data Protection Regulation sets forth rules and principles related to, as its name implies, data security. Companies that use cloud services are especially concerned about complying with all these regulations in order not to be punished with extremely high fines. Adding an automated email disclaimer to your outgoing email communication, which includes a link to your Privacy Policy or organization's processing information, is a very important step in helping you achieve a lot of your GDPR goals.
Furthermore, with CodeTwo Email Signatures 365, you do not need to worry where your data is stored and processed, because not only you know exactly in which part of the world our services are running, but you can also choose these regions yourself.
Learn more about how we can help you with GDPR and how we ensure CodeTwo is GDPR compliant
UK
The Companies (Trading Disclosures) Regulations 2008 and Companies Act 2006
Under both these regulations, every company must disclose its registered name, address, number, etc. (full list available here) in its business letters, official publications, and other forms of business correspondence and documentation. This, of course, applies to electronic communication as well. Breach of these regulations ends with fines. CodeTwo Email Signatures 365 not only allows you to deploy appropriate disclaimers but also exclude them if they are not necessary (e.g. in emails sent inside of your company).
USA
California Business and Professions Code
Section 10140.6 of this Code, effective within the State of California, applies to all the real estate-related advertisements. It requires the companies operating in real estate sector to include certain phrases and license numbers in first point-of-contact materials (such as emails). CodeTwo Email Signatures 365 can be used to keep uniform email signatures and disclaimers for all your agents and, at the same time, personalize them, so that correct licenses and phrases are provided.
Virginia Administrative Code
Regulation 18VAC135-20-190 concerning Advertising by Licensees imposes on real estate firms the obligation to disclose their licensed name as well as the city in which they are located. By using our program to centrally manage email signatures, you can add relevant information to the disclaimer and be sure that it will not be omitted in any of the sent emails.
California Consumer Privacy Act of 2018
Section 1798.135 of California Consumer Privacy Act of 2018 imposes a duty on businesses to guarantee the right for consumers to opt out of a sale of the consumer's personal information. A company that is bound by this act must provide an easy-to-find link on their website that allows a customer to opt out of the sale of the customer's personal information. Although not explicitly stated, your company may also put such an opt-out link in email signatures using CodeTwo Email Signatures 365.
The SAFE Act (The Secure and Fair Enforcement for Mortgage Licensing Act of 2008)
The SAFE Act imposes on mortgage loan originators (MLO) a duty to clearly show their unique identifiers (NMLS ID) in business communication so that their potential customers (borrowers) can verify the registration and licencing of the given mortgage loan originator before making any commitments. By adding your NMLS ID to email signatures, you ensure that a borrower is immediately informed about your unique identifier.
Additionally, under Section __.105—Use of Unique Identifier of Federal Banking Agency Requirements, an Agency-regulated institution can comply with the law by, e.g. providing a link to a website where a prospect can find a listing of registered MLOs and their unique identifiers. CodeTwo Email Signatures 365 can help you implement both solutions. The easiest way to add the NMLS number to email signatures is by using Custom Attributes, which are available in the program. You can also use a disclaimer part of your email signature to provide an URL to your website with information customers may request according to the SAFE Act.
Canada
Canada's Anti-Spam Legislation (CASL)
CodeTwo Email Signatures 365 allows you to stay compliant with some of the CASL's provisions. For example, the legislation requires you to provide in each outgoing email information that allows the recipient to easily identify you (the sender) and your company, i.e. name, company name, phone number, email address, etc. You can provide such information in a disclaimer, and let our program add it to every email that is sent from your organization. Another important obligation requires you to allow your recipients to unsubscribe in an easy way from your mailing list. You can use our program to write a disclaimer with a step-by-step guide to do so, or simply insert a link into your disclaimer that points to your website where such steps are provided. This disclaimer will be added to all emails sent from your organization.
Australia
Spam Act 2003
Spam Act 2003 contains rules that compel you to include relevant information about your company in every outgoing email, i.e. name, address, and other necessary details that allow identifying your company, as well as contact details. You also need to provide a link to a functional unsubscribe mechanism (e.g. an email address to which the recipient can send an unsubscribe message), together with a statement that defines its purpose. With CodeTwo Email Signatures 365, you can provide both elements as part of a single disclaimer. That way, you comply with both provisions at once, and you are sure this disclaimer is always added to each email, in an unchanged form.
Of course, there are many other laws, not necessarily applicable to electronic communications, that centrally managed automatic signatures can help you abide by. With our program in place, you do not have to worry that some disclaimers will not be added to your outgoing emails or will be removed by third parties. Just make sure that all the necessary information is included in them.
Although CodeTwo Email Signatures 365 can help you stay compliant with the mentioned provisions, bear in mind that all these norms and regulations may contain other obligations that you need to follow. And these obligations may differ from one country to another. It is up to you to know which ones affect you directly.