Complete control of Microsoft 365 (Office 365) email signatures
When CodeTwo Email Signatures 365 works in server-side mode, signatures and disclaimers are added in the cloud to outgoing messages based on the rules you define. Each signature rule contains conditions and exceptions that trigger it, which gives you practically endless options for adding both organization-wide Office 365 (Microsoft 365) signatures as well as email signatures tailored to individual users or groups. And the best part is that you don't have to be an Office 365 admin to handle email signature management in your organization.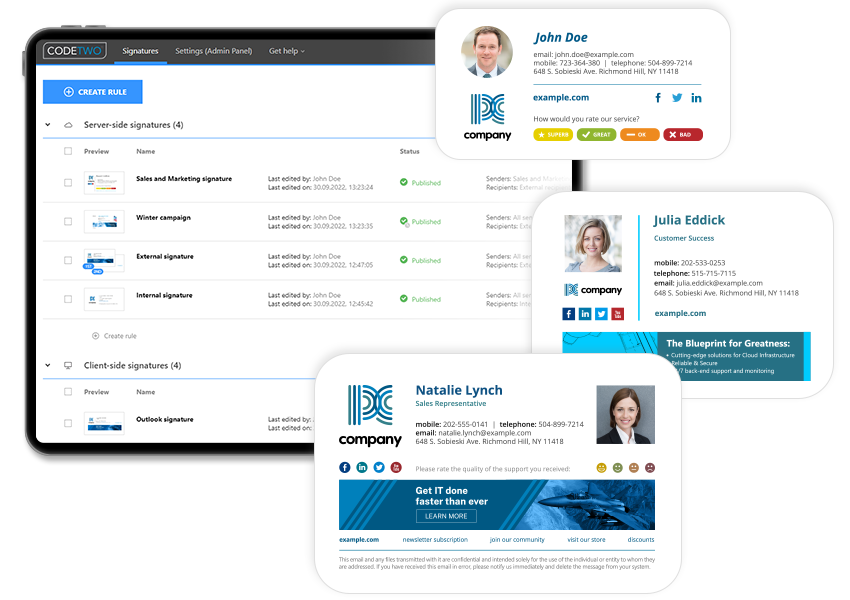 Our email signature software allows you to add cloud (server-side) signatures depending on:
the sender of an email – specify which users or groups of users within your Microsoft 365 tenant will receive the signature. Signatures can be also added based on senders' Azure AD properties (e.g. you can add different signatures to emails sent by users from a specific office or country, with a particular job title, etc.).
email recipients – add or exclude signatures from emails sent to individual email addresses, Microsoft 365 groups, distribution lists and security groups, or even entire domains (*gmail.com, *.co.uk). You can also set up different email signatures for internal messages and messages sent outside your organization or use the same signature template for messages sent in both directions.
keywords – define words or phrases (such as "add_signature") that, when found in the subject or body of an email, will trigger or block a specific signature rule. The program can also automatically remove these keywords from sent emails.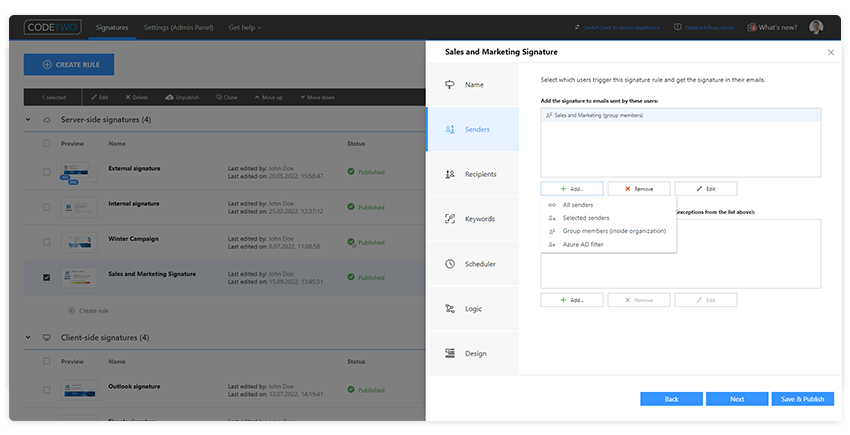 CodeTwo's email signature manager also features a built-in scheduler that lets you configure when a given rule should be active. Prepare time-specific email signatures in advance and the program will add them to your emails when needed – for example, during holidays or when you intend to kick off a new email signature marketing campaign.
If you prefer to give some more freedom to users when it comes to selecting email signatures, you can always use our email signature software in combo mode. That way, users can choose a signature in Outlook when composing an email, whereas cloud signatures will be automatically added to messages sent from other email clients and mobile devices.