CodeTwo Email Signatures for Office 365
Centrally managed email signatures for Exchange Online
Customers from 150 countries love us for:

24-hour Tech Support
Signatures visible while typing emails
Super-fast deployment
Signatures added directly in Outlook when you compose an email
CodeTwo Email Signatures for Office 365 is not only about server-side email signatures. With our signature manager, your users can get automatic and personalized CodeTwo signatures while composing their messages directly in an Outlook desktop app.
Coming soon: CodeTwo teamed up with Microsoft to create a modern Web Add-in that will also work with Outlook on the web (OWA) and Outlook for Mac and bring more exciting features to client-side signatures. Closed beta tests are currently under way. Learn more…
How does this client-side mode work? It's pretty straightforward:
select a signature template (or compose your own) in the program's management console – the Manage Signatures App,
define the scope of users that have access to that template,
deploy a dedicated Outlook add-in to these users to integrate CodeTwo Email Signatures for Office 365 with their Outlooks.
And that's it. Once a user signs in to the add-in with their Office 365 (Microsoft 365) credentials, they have access to CodeTwo email signatures, with their names and contact information already filled in. Unlike in server-side mode, when CodeTwo Email Signatures for Office 365 operates in client-side mode, emails are not routed through CodeTwo services to get signatures – client-side signatures are added directly in Outlook.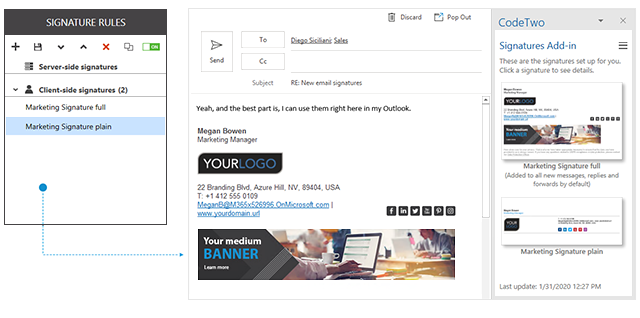 Key capabilities of client-side signature mode:
CodeTwo email signatures can be automatically applied to new messages as well as replies and forwards.
Email signatures can be selected by users while typing an email.
Signatures can be added to encrypted and digitally signed (S/MIME) messages.
Support for messages sent as / on behalf of shared mailboxes and Office 365 groups.
Any changes made to signature templates in the Manage Signatures App are immediately synchronized with the signatures available in Outlook.
Users always see their Office 365 email signatures.
Client-side signatures work with Outlook, so if you want to deploy automatic email signatures for Office 365 email sent from any other email client and mobile device, you may consider switching to combo signature mode. Combo mode integrates the key functionalities of both server-side and client-side modes and it works great in a scenario where you want to have complete control of email signatures in your Office 365 organization but, at the same time, let managers or members of a specific team to choose their signatures as they see fit.
Learn more: