[Update]: This blog post was updated on June 17, 2021 to include information on Web Add-in's availability in Monthly Enterprise Channel.
Today, as part of Microsoft Build 2021, we make our modern Signatures Web Add-in (co-engineered with Microsoft) generally available for Outlook for Windows and Outlook on the web / OWA (and soon also for Outlook for Mac). We were the first to introduce the new add-in back at Microsoft Ignite 2020, where our CEO co-hosted a session with the Microsoft Outlook Add-in Team, and world's first to release the add-in in Beta Channel (Office Insider program). Now, CodeTwo continues to stay ahead of the curve by being the first email signature software vendor in the world to announce the general availability of the modern email signature Web Add-in!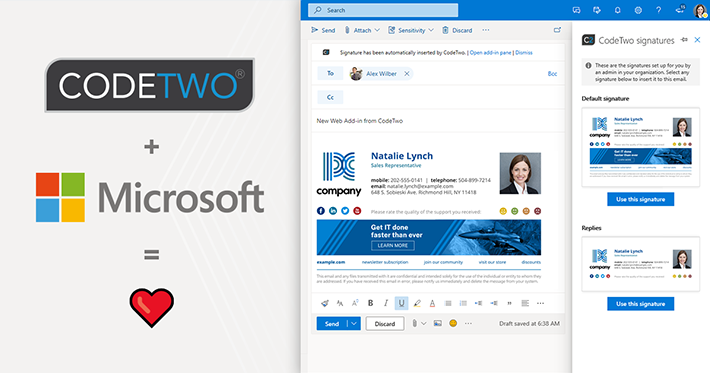 Working closely with CodeTwo enabled us to learn from one of the leading organizations on the online signature business and ultimately helped us design and release key features in our platform.

Juan Balmori Labra
Principal Program Manager at Microsoft
(Office Extensibility & Outlook Add-ins)
As a reminder, the modern Signatures Web Add-in integrates seamlessly with user accounts in Outlook and adds signatures as they type an email. It can be deployed directly from Microsoft 365 admin center for all or selected users – there is nothing to install locally and no need to sign in to the add-in. See this article in the user's manual to learn how to deploy the new Web Add-in in your Microsoft 365 organization.
At the moment, the add-in works with Outlook for Windows starting Version 2106 Build 14131.20360, available in Current Channel and Monthly Enterprise Channel. It will be also available in Semi-Annual Enterprise Channel shortly. Learn more about the supported versions of Outlook
How to use the modern signatures Web Add-in for Outlook and OWA
The Web Add-in requires CodeTwo Email Signatures for Office 365 to work in client-side or combo mode to add signatures in Outlook. You also need to configure client-side signature rules for your Outlook users in the signature management app first.
Once a user starts typing a message in Outlook, the signature is automatically inserted into the email body, according to the configured rules. To insert a different signature, a user simply needs to open the CodeTwo Signatures pane and click Use this signature below that signature.
Learn more about using the add-in in the user's manual
Modern Web Add-in vs classic COM add-in
If you are using the classic CodeTwo Signatures Add-in for Outlook (COM Add-in) and intend to use the modern Web Add-in, uninstall the COM Add-in first. You can only use either of them.
Learn more about the differences between the modern Web Add-in and classing COM add-in
#1 email signature software
If you're just looking for a way to centrally manage email signatures in your Microsoft 365 organization from any device or platform (Windows, Mac, mobiles, and more), get a free trial of CodeTwo Email Signatures for Office 365 and stay ahead of the game with CodeTwo.