[Update]: This blog post was updated on May 13, 2022. The Web Add-in is now generally available for Outlook for Windows, Outlook for Mac and OWA.
As mentioned earlier, CodeTwo's CEO, Szymon Szczesniak, is showcasing our major upcoming feature for CodeTwo Email Signatures for Office 365 at Microsoft Ignite 2020.
It's a new Web Add-in, developed together with Microsoft, that will work with Outlook for Windows, OWA and Outlook for Mac, and add client-side signatures to the email body in real time. This add-in can be deployed from within the Microsoft 365 admin center company-wide, without any user interaction. What's important, the deployment is per Microsoft 365 account, so your users aren't tied to a single device when using our automated signatures in Outlook.
See our CEO's session hosted by the Microsoft Outlook Add-in Team at Ignite: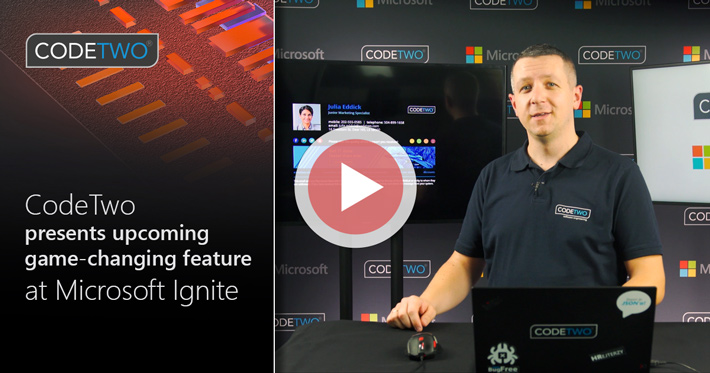 The Web Add-in has been released to general availability in May 2021. CodeTwo was the first email signature software vendor to release a modern signatures Web Add-in that integrates with both Outlook desktop and OWA. Learn more
Here's how Juan Balmori Labra from the Microsoft Outlook Add-in Team felt about developing the Web Add-in together with CodeTwo:
"It's part of Microsoft's DNA to be obsessive about our customers and helping them reach their full potential. This principle is deeply embedded in our product lifecycle every time we add new capabilities to the Office Platform. Working closely with CodeTwo enabled us to learn from one of the leading organizations on the online signature business and ultimately helped us design and release key features in our platform to empower the creation of new game-changing online signature web add-ins for Outlook our Microsoft 365 customer base."

Juan Balmori Labra
Principal Program Manager at Microsoft
(Office Extensibility & Outlook Add-ins)