[Update]: This blog post was updated on May 26, 2021 to include information on Web Add-in's general availability.
CodeTwo is the first email signature software vendor to release a modern signature Web Add-in that integrates with both Outlook for Windows and Outlook on the web (OWA)! We've once again worked closely with the Microsoft Outlook Add-in Team and implemented their latest API into our signature service to provide seamless multi-platform integration (support for Outlook for Mac coming next!).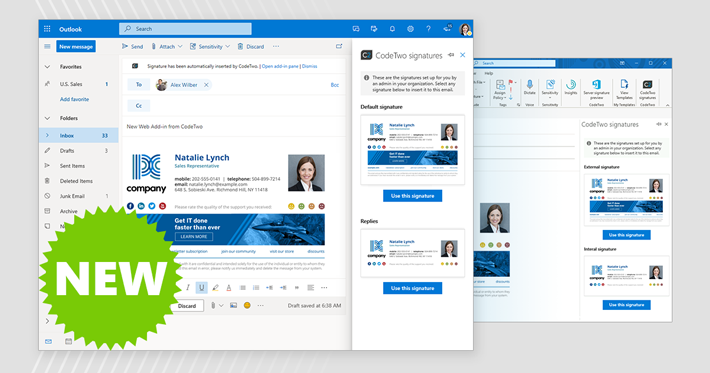 As a quick reminder, we first announced the new add-in for CodeTwo Email Signatures for Office 365 together with Microsoft back at Ignite 2020. The add-in lets you add email signatures in real time as you compose a message in OWA and, starting today, also in the Outlook desktop client for Windows. It can be deployed organization-wide directly from the Microsoft 365 admin center and is available to end users automatically, without any interaction from them. To be able to use the add-in, our email signature management software needs to work in client-side or combo mode (learn more about signature modes).
The add-in is now generally available for Outlook for Windows and Outlook on the web / OWA (and soon also for Outlook for Mac). Learn more
If you haven't used our service yet and want to start centrally managing email signatures in your organization, get a free trial of CodeTwo Email Signatures for Office 365.
More exciting features coming soon. Stay tuned!