CodeTwo Email Signatures for Office 365 now offers an easy way to schedule meetings directly from an email signature. The new meeting links feature lets you insert a link to a planned meeting in Microsoft Teams or a meeting scheduling service (such as Calendly and Cogsworth) into signatures of all or selected users in your Microsoft 365 organization. Learn why you should use meeting links in email signatures, how to add such links to your signature templates in CodeTwo Email Signatures for Office 365, and how to integrate our email signature software with some of the most popular meeting scheduling tools.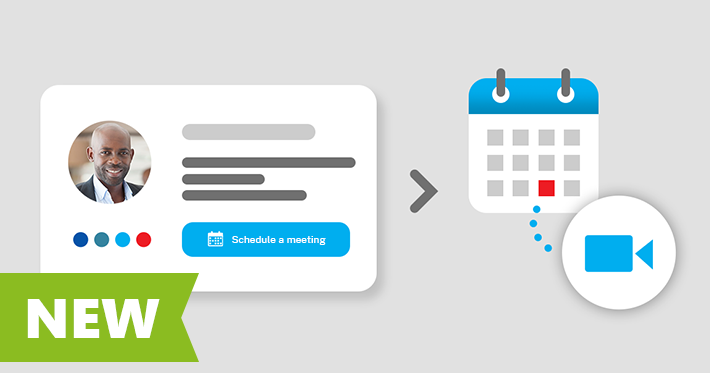 Why you should use meeting links in email signatures
Each external email to your customers or leads can include a personalized meeting link that can encourage your recipients to book a demo or plan a session with your technical support by simply clicking the link and choosing one of the available time frames. The scheduling service integrates with the Microsoft 365 calendar of your organization and takes care of sending an invitation to everyone involved. This saves a lot of time by removing the need to exchange emails back-and-forth to find the optimal time for the meeting.
Providing a link to join a Teams meeting or to a meeting scheduling service in an email signature is also especially useful when setting up meetings with your teammates, as digital communication has become much more popular, especially since the last year, when the option to meet in person has been severely limited.
How to add a meeting link to a signature template
The meeting links feature is available in the web-based signature template editor. To access the editor, log in to the signature management app, select (or create) a signature rule, go to the Design tab, and click Edit signature.
Place the cursor at the position in your template where you want to add the meeting link. Next, click the Meeting link button on the Main tab of the editor's ribbon. You can add a link to a direct meeting or a meeting scheduling service. Select your service from the Type drop-down list and customize the URL by replacing user_id_here with the ID or name set up for your organization in your meeting scheduling service (there is also the meeting_type_here phrase, which is optional, but lets you specify a meeting type, e.g. phone). You can also use a placeholder that inserts the sender's ID or name. That way you can create personal meeting links that automatically change based on the sender of an email.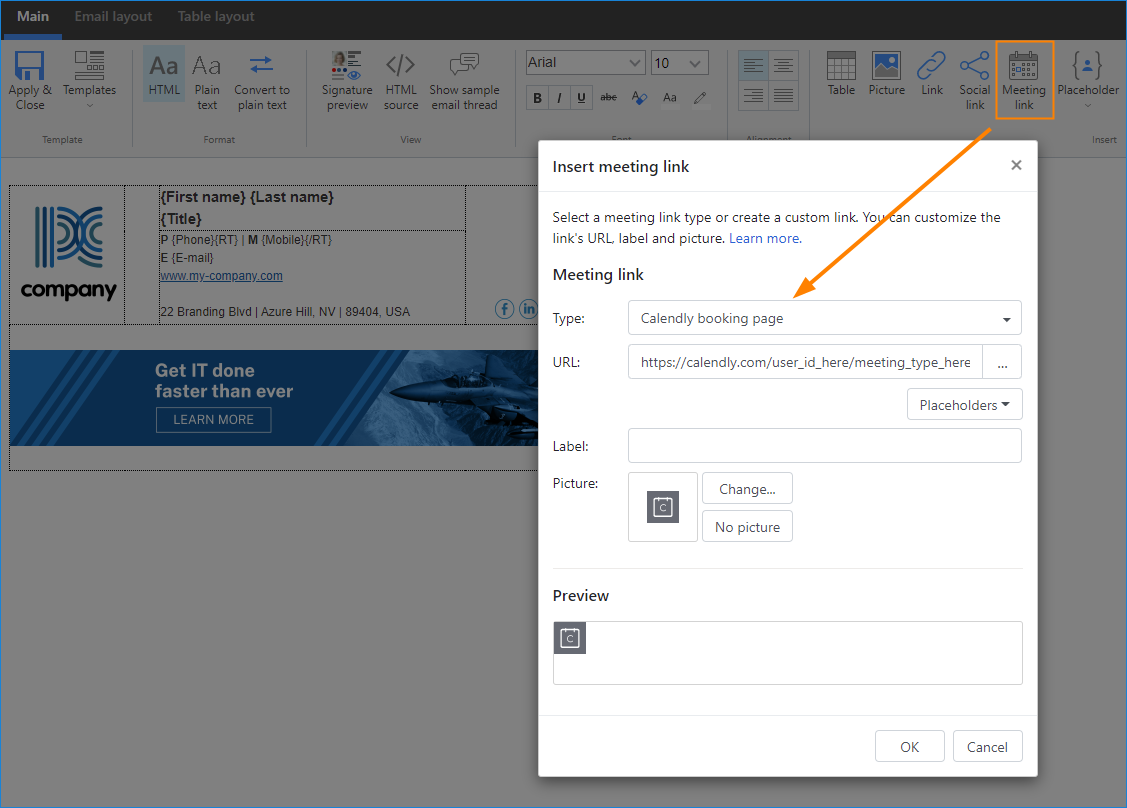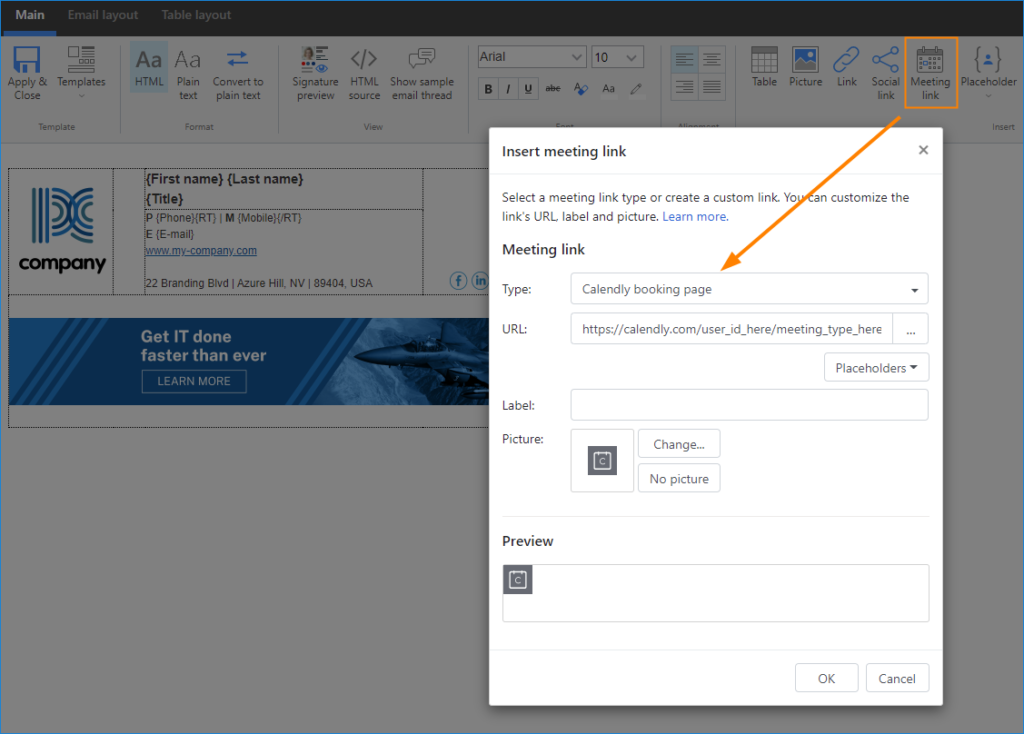 If your meeting scheduling service is not listed in the Insert meeting link window, select Custom link and provide the necessary URL. You can also define URL's label and/or picture. Find out more about adding custom meeting links in the user's manual.
Right now, you can use the meeting links feature to quickly insert links to the following services:
There will be more integrations with other scheduling tools added in CodeTwo Email Signatures for Office 365 in the future.
Scheduling meetings over email using Calendly
Calendly is a productivity tool which makes scheduling meetings a breeze. It provides you with an effortless way to find the compatible time for your teammates and their recipients. Integrating the tool with CodeTwo Email Signatures for Office 365 allows you to quickly add personal meeting links to all or chosen members of your team. One of the other options is adding a Round Robin meeting link, which directs your recipients to a team's calendar and lets them choose from all available times of all the team members.
Each team member you add to Calendly will have their own meeting page, which can be synchronized with their Microsoft 365 calendar. You can define certain meeting types with a set title and length. Thanks to that, your recipients can get a picture on how long a certain meeting type will take.
A sample personal scheduling link looks like this:
https://calendly.com/doe_john/phone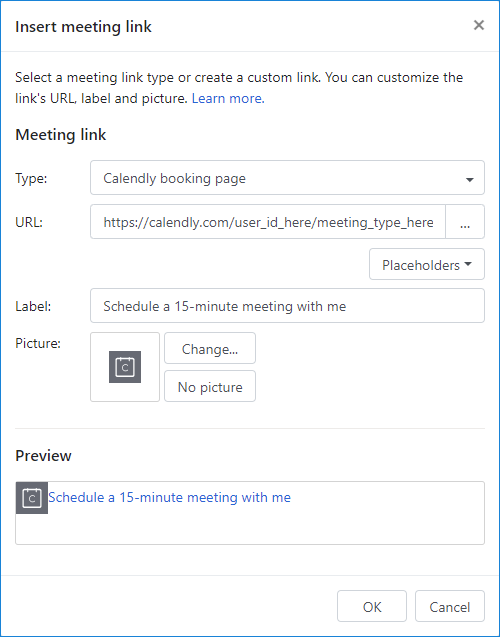 Learn more about integration with Calendly
Centrally managed email signatures
The meeting links feature is just one of many features in our email signature software that let you improve your business emails. However, CodeTwo Email Signatures for Office 365 is primarily #1 signature management software that allows you to easily set up company-wide signatures and disclaimers for all users in your Microsoft 365 organization. Get your free 14-day trial here and start creating your signatures from any platform and device, including Windows, Macs, mobiles and tablets.