Advanced features and options
CodeTwo Exchange Rules Pro offers the variety of advanced features and options that boost the program's functionalities and significantly improve its operation. These features are available in several places of the program: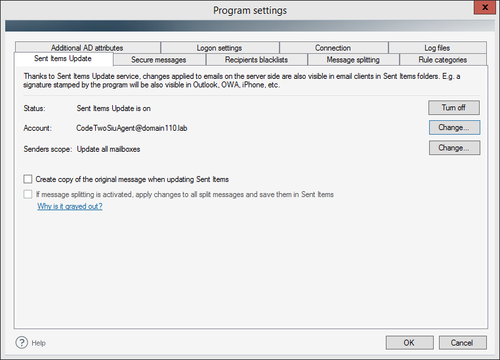 Fig. 1. Program settings.
Directly in the Administration Panel as a part of your configuration:
As standalone applications:

Tenants configurator - enables definition of tenants recognized by the program basing on the existing Active Directory attributes.
Settings importer - which converts rules' configuration from previous version of the program
See next
Message splitting - this Knowledge Base article describes how to configure the program to update emails including signatures / disclaimers in the Sent items folder of the particular mailbox if the given message was sent to various recipients encompassed by different rules.
See also
Custom placeholders - this article describes how to widen the scope of placeholders with the ones that are not supported by the program by default.