CodeTwo Backup for Office 365
Back up Exchange Online, SharePoint Online, OneDrive for Business and Microsoft Teams data
Perform point-in-time restoration of individual items
Download
30-day free trial with support;
no credit card required
Support for online and on-premises Exchange and SharePoint
CodeTwo Backup for Office 365 lets you secure your Exchange Server and SharePoint data no matter where your mailboxes or sites reside: Office 365 (Microsoft 365), on-premises, or both. The program supports not only Exchange Online and SharePoint Online, but also their on-premises counterparts: Exchange Server 2019, 2016, 2013 and 2010 as well as SharePoint Server 2016 and 2013. You can select on-premises servers as the source environments that you want to back up and as the target locations to which you want to restore the backed-up data.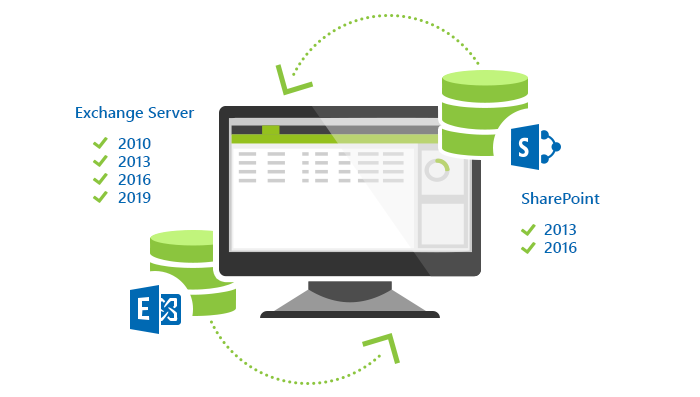 Installing the program on a single computer allows you to automate the entire backup process in your organization. Manage and schedule all backup tasks independently by creating separate backup jobs for each environment: Exchange Online (Office 365), on-premises Exchange Server, SharePoint Online and on-premises SharePoint Server. If necessary, the granular backup feature lets you further filter the data you want to back up in each job.
The backed-up data can be easily restored in case of an unexpected data loss or simply if you need to move that data to another Exchange or SharePoint environment. In other words, Office 365 data can be migrated cross-premises (to your on-premises organization) and vice-versa. You can, for example, restore an entire Office 365 mailbox, as well as selected mailbox folders and individual items (emails, calendars, contacts, etc.), to another mailbox in Exchange Server 2019.
Find out how easy it is to keep your cloud and on-premises data safe by deploying and using CodeTwo Backup for Office 365. Download a free 30-day trial of the program here.
See also: