CodeTwo Backup for Office 365
Back up Exchange Online, SharePoint Online, OneDrive for Business and Microsoft Teams data
Perform point-in-time restoration of individual items
Download
30-day free trial with support;
no credit card required
Back up SharePoint Online and OneDrive for Business
Create backup copies of SharePoint Online and OneDrive for Business data in your Office 365 (Microsoft 365) organization and restore it whenever you need it.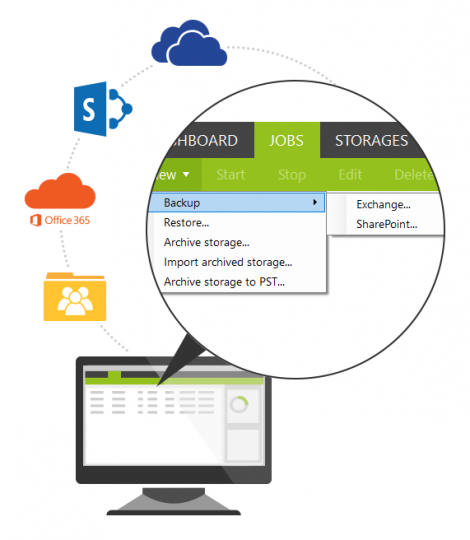 Back up most common SharePoint Online content types
Back up both classic and modern SharePoint sites, including team sites, communication sites, site collections, as well as OneDrive for Business personal Office 365 user sites. You can either back up all sites residing in the same tenant or only selected ones.
Since CodeTwo Backup for Office 365 allows you to create local copies of your Exchange Online data as well, you can also use the program to back up mailboxes of Office 365 groups connected to your SharePoint team sites.
Granular recovery of SharePoint data
You can easily browse through the entire backed-up SharePoint Online data and select to restore individual sites or site contents (such as lists, libraries, folders or even files and OneNote notebooks) from any point in time. The restore job allows you to restore SharePoint data to the same or a different Office 365 tenant.
Create SharePoint sites and site contents
When restoring SharePoint data with CodeTwo Backup for Office 365, you can easily create new site collections, subsites, lists, libraries and folders on the target server directly in the program. This allows you to recover your data anywhere you want within a SharePoint environment.
Back up and recover different versions of documents
CodeTwo Backup for Office 365 creates new versions of documents in a backup storage every time they are modified on the target server. This allows you to view different server versions of these documents in the program or restore particular versions of documents that were backed-up at a specific point in time. You can also restore SharePoint files that have been deleted on the server.
Map permissions to Office 365 users and groups
With this neat feature, you can copy permissions between Office 365 users and groups. This lets you preserve access rights and permission levels for sites or site contents when restoring SharePoint data to another Office 365 tenant. You can also transfer permissions originally assigned to inactive or deleted users to new users.
Watch a short video to see why it is important to secure SharePoint Online data.
CodeTwo Backup for Office 365 is a comprehensive SharePoint Online backup solution that is both reliable and easy to use. Additionally, the option to back up OneDrive for Business sites adds another layer of protection to your Office 365 data. Start your free 30-day trial of CodeTwo Backup for Office 365 now.