CodeTwo Backup for Office 365
Back up Exchange Online, SharePoint Online, OneDrive for Business and Microsoft Teams data
Perform point-in-time restoration of individual items
Download
30-day free trial with support;
no credit card required
Back up Office 365 (Microsoft 365) mailboxes
CodeTwo Backup for Office 365 is a comprehensive solution for backing up Office 365 mailboxes as well as SharePoint Online and OneDrive for Business data. Apart from serving as an excellent data loss prevention tool that automatically backs up selected data, the program offers many other features that may significantly enhance your Office 365 experience and help you meet your organization's needs.
Back up all existing mailboxes hosted in Exchange Online or only the chosen ones. With a continuous backup job in place, even the mailboxes of newly created Office 365 users will be automatically backed up – without any user interaction.
Create backup copies of user mailboxes, Microsoft 365 group mailboxes, archive (in-place archive) mailboxes, shared mailboxes, resource mailboxes, and more.
Automate the backup process entirely by implementing a built-in scheduling mechanism and let the program take care of everything by running backup jobs in cycles. Subsequent incremental backup cycles will back up only new or modified Exchange mailbox items, keeping your data copies always up to date.
Perform full backups or take advantage of built-in filters to exclude certain special folders, like Deleted items or Junk Email, or items that don't meet specified age criteria – if you want, you can back up only emails that are not older than a year.
Restore backed-up data when necessary – either entire mailboxes, or only specific folders or emails. It is also possible to restore users' data to another mailbox, located in the same or a different Office 365 tenant, or even in an on-premises Exchange environment. Point in time restoration is also possible.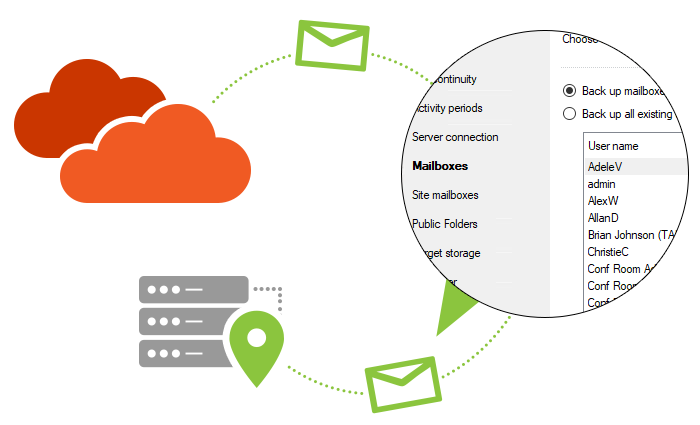 Additionally, CodeTwo Backup for Office 365 serves as an excellent supplement for Office 365 organizations, allowing admins to:
browse and search through emails, attachments, and other backed-up data from all users' mailboxes;
apply retention policies and archive older Exchange data;
comply with various legal requirements by storing backup data locally and providing instant access to emails, if necessary;
archive data of inactive Office 365 users.
CodeTwo Backup for Office 365 keeps your data safe without any impact on Office 365 users or their mailboxes. The program also supports modern authentication (OAuth 2.0) and MFA to securely access your mailbox data.
Download a free trial now and find out for yourself.
See also: