CodeTwo Office 365 Migration
Easily migrate to Microsoft 365
and between Microsoft 365 tenants
Used by 20k+ organizations in 150 countries
Exchange to Office 365 (Microsoft 365) migration
CodeTwo Office 365 Migration allows you to easily migrate on-premises Exchange Server data to Office 365 (Microsoft 365). No matter if you have a legacy Exchange environment, like Exchange 2010 or Small Business Server (SBS) 2011, or use the most recent Exchange version, like Exchange 2019 – our migration tool lets you migrate all mailbox data to the cloud.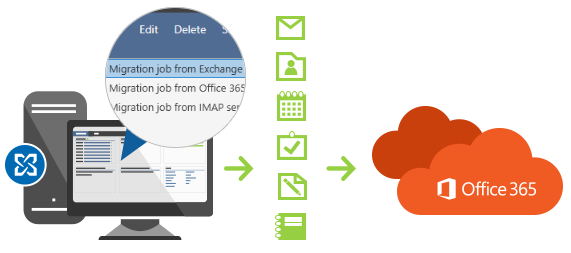 The most important advantage over the native migration methods is that with CodeTwo Office 365 Migration you do not need any PowerShell skills or CSV files. Our migration tool handles everything for you automatically. Thanks to this innovative solution, your users will not experience any downtime. As the process is invisible to end users, they will be able to start working in Office 365 right away, making the transition process much easier for them.
Take a look at the comparison between CodeTwo Office 365 Migration and the migration tools available natively: Why do I need CodeTwo Office 365 Migration?
If you manage multiple migration projects, CodeTwo Office 365 Migration will let you experience the same easy migration process regardless of a migration scenario. You simply set what and where to migrate, and schedule the time and date when the tool should perform the migration. The software will do all the heavy lifting and notify you of the migration progress.
Data migration between Exchange Servers and Office 365 is only one of several supported migration scenarios. To learn more about how the software works in different migration paths, take a look at the links below: