CodeTwo Office 365 Migration
Easily migrate to Microsoft 365
and between Microsoft 365 tenants
Used by 20k+ organizations in 150 countries
Migration reports
No matter how well you prepare your server environments, there is always a chance that something will go wrong during data migration. The good question is whether you know what that "something" is. With CodeTwo Office 365 Migration, you can be sure that you will get all the data you need to solve any problem, thanks to comprehensive reports.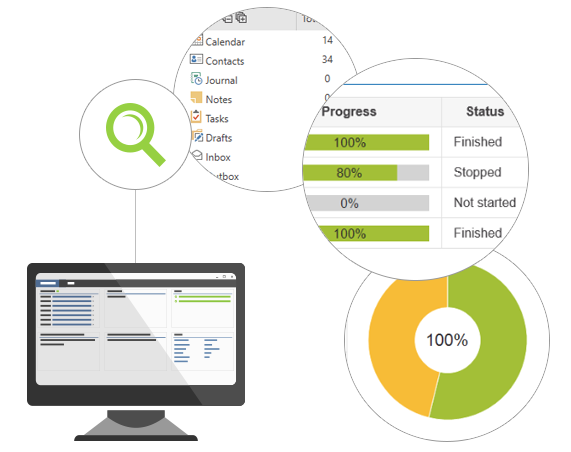 There is no need to manually check whether the migration was successful or not. Instead of comparing the source mailbox with the target one, you can use different types of reports to learn all there is to know about the migration process. There are three types of reports available:
Overall report – which summarizes the progress of all migration jobs you have defined.
Job report – which provides detailed information about a single migration job, specifying details regarding the progress of all migrated mailboxes.
Detailed mailbox report, which is the most detailed report that summarizes all folders and items migrated between specific mailboxes.
Those reports allow you to be up to date on the migration progress and troubleshoot any issues efficiently. What is more, you can set the program to automatically send those reports to you. Reports can be sent periodically or when a particular action triggers them (for example, when a migration job starts or finishes). You can rest at ease knowing that whenever something happens, you will be notified. And if you need to see how the migration goes, you can generate an overall report at any time. The report comes with a clear pie chart which lets anyone learn about the migration progress at a glance.
Useful links: