CodeTwo Office 365 Migration
Easily migrate to Microsoft 365
and between Microsoft 365 tenants
Used by 20k+ organizations in 150 countries
How does the program work?
CodeTwo Office 365 Migration is a solid, secure and highly scalable migration tool that you can use to move company's mailboxes and public folders to Office 365 (Microsoft 365) in just one hop. The program lets you migrate data to Office 365 from on-premises Exchange environments, hosted Exchange servers, IMAP servers or other Office 365 tenants (tenant-to-tenant migration). The migration process can be easily navigated by one administrator from a workstation via graphical user interface (the Administration Panel).
Below you can see three diagrams showing how the data migration is handled depending on where your source data resides.
Migration from Exchange to Office 365
CodeTwo Office 365 Migration simplifies migration from on-premises Exchange (including legacy Exchange Server versions) to Exchange Online. The program does not delete or modify your source server contents or impose any limitations. The structure of migrated data is preserved which means that after migration the folder structure on the source and target servers is exactly the same.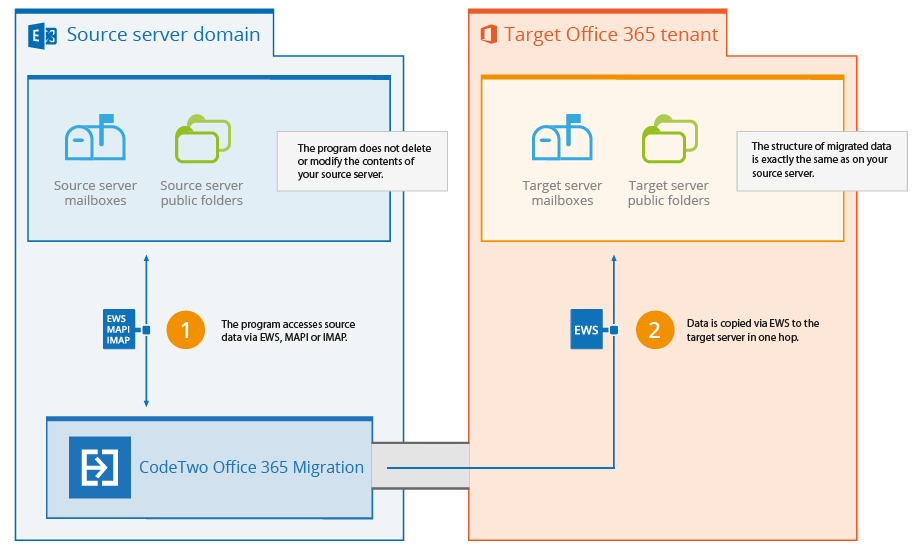 In this scenario, you should install the program in the source server domain*. The installation in your on-premises environment ensures that no third-party organization has access to your company data during the move. Depending on the version of your source Exchange Server, you can use either Exchange Web Services (EWS) or Messaging Application Program Interface (MAPI) to connect the program to your organization. Using the Internet Message Access Protocol (IMAP) to connect to a source Exchange server is also possible but recommended only if you don't have the necessary permissions to migrate using EWS or MAPI. The connection to the target Office 365 tenant is authorized by using OAuth 2.0 tokens and mailboxes data is always migrated via EWS.
* If you are migrating mailboxes from a hosted Exchange service (e.g. Intermedia or Rackspace), you can install the program on any machine within your organization that can access both the source and target environments. The program connects to hosted Exchange via EWS only.
See more details on how to connect the program to a source Exchange server
Migration from Office 365 to Office 365
The application supports direct migration of user mailboxes and public folders between Office 365 tenants. Below you can see how CodeTwo Office 365 Migration transfers data from one Exchange Online organization to another. All mailbox items and folders are supported for migration (emails, calendars, contacts, tasks, etc.). The program accesses Office 365 data passively, which means that nothing is modified or removed from your tenants. The program copies data to the target Exchange Online server, recreating the structure of source folders.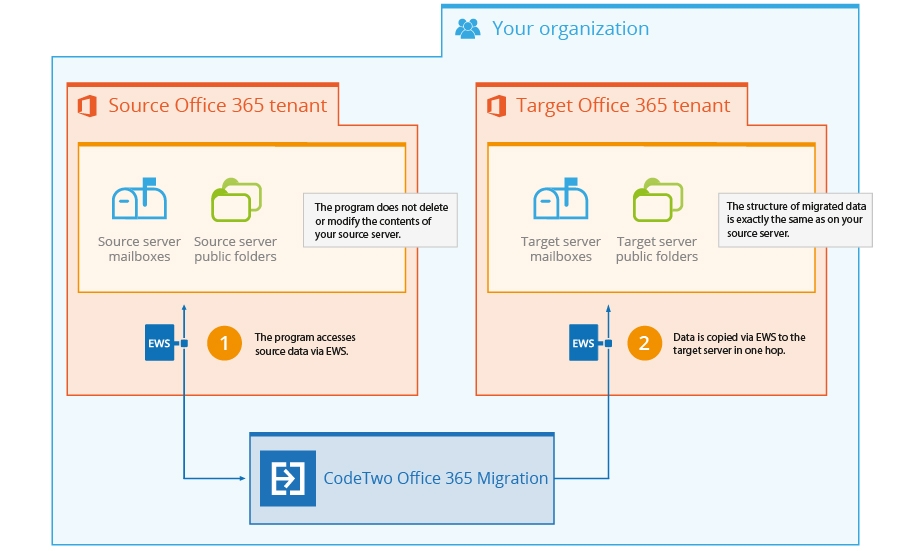 In tenant-to-tenant migrations, you can install the program on any workstation in your organization that can connect to both source and target Office 365 environments. The data transfer on both ends is managed via EWS and is always encrypted. Your data is not stored outside of your organization or accessed by third parties at any stage of the migration process, and the communication between the program and an Office 365 is secured using the OAuth 2.0 protocol, which makes the program highly secure. CodeTwo Office 365 Migration does not enable any remote connections to keep your network safe.
Get more information on how to connect to source Office 365
Migration from IMAP to Office 365
Email servers with limited administration privileges are also supported by the program. For this migration type, CodeTwo Office 365 Migration uses Internet Message Access Protocol (IMAP) to migrate source email folders to target Office 365 mailboxes. Due to IMAP limitations, only email folders are supported for migration. Other folder types, like contacts or calendars, are excluded from the migration process.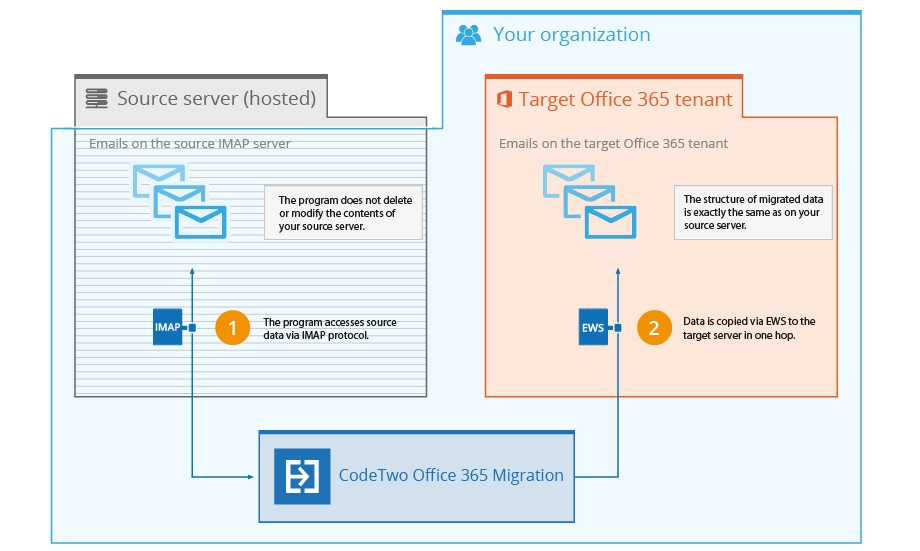 When you want to switch from Google Workspace (formerly G Suite), Zimbra, HCL Notes (formerly IBM Notes or Lotus Notes), or any other mail service supporting IMAP to Office 365, CodeTwo Office 365 Migration is there to simplify the transition. The program can be installed on a workstation from which you will be able to connect to the source IMAP server and to the target Office 365 tenant. Migration via IMAP requires you to prepare a CSV file with users' credentials to access source mailboxes.
For data safety, we recommend using only SSL connection (encrypted) when establishing a connection to public IMAP servers. The data is transferred to the target Office 365 tenant via secure EWS (Exchange Web Services) and is fully encrypted. Since CodeTwo Office 365 Migration uses OAuth 2.0 authorization protocol to access target mailboxes, your Office 365 credentials are not used or stored by the program at any point.
Find out how to connect CodeTwo Office 365 Migration to a source IMAP server