CodeTwo Office 365 Migration
Easily migrate to Microsoft 365
and between Microsoft 365 tenants
Used by 20k+ organizations in 150 countries
Migrate primary and archive mailboxes
Mailbox archiving (or In-Place Archiving) lets you provide additional storage space for Exchange mailboxes. If you enabled this feature in your organization, some of your data might reside in archive mailboxes. That's why, when planning your migration to Microsoft 365, be sure to find the right solution that will let you migrate both primary and archive mailboxes: CodeTwo Office 365 Migration.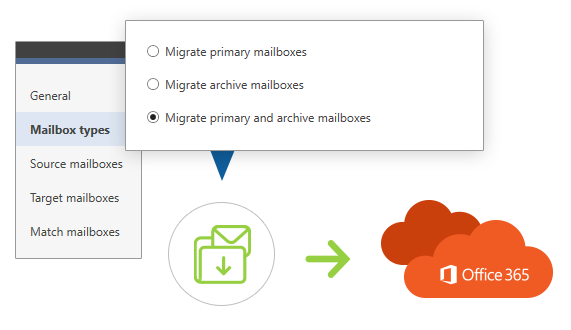 Our migration tool allows you to migrate archive mailboxes from Exchange Online and on-premises Exchange to selected mailboxes (primary or archive) in your target Microsoft 365 tenant. The program also comes with many features that will ease your migration process:
Automatic matching of source and target mailboxes.
Migration of primary and archive mailboxes within the same task or as separate migration tasks.
Time and folder filters that let you limit the scope of migrated data (by excluding items from the migration process based on their type or age).
Automatic delta migrations, used to copy any new data that appeared in the source primary and archive mailboxes during the initial migration or after transferring the domain name to the target server.
Detailed reports for monitoring the progress of migration for all your mailboxes.
No PowerShell scripting required and no impact on end users during the migration.
During the migration, whenever you require technical support, you can contact CodeTwo migration experts, who have been working with this product for years, 24 hours a day, 5 days a week.
Useful links: