CodeTwo Exchange Migration
Seamless migration to Exchange
2010, 2013, 2016 and 2019
Used by 10k+ organizations from 150 countries
Office 365 (Microsoft 365) to Exchange migration
CodeTwo Exchange Migration is a perfect tool to migrate mailbox and public folders data from Exchange Online to on-premises Exchange Server. It eliminates the need for a hybrid setup or PST import/export.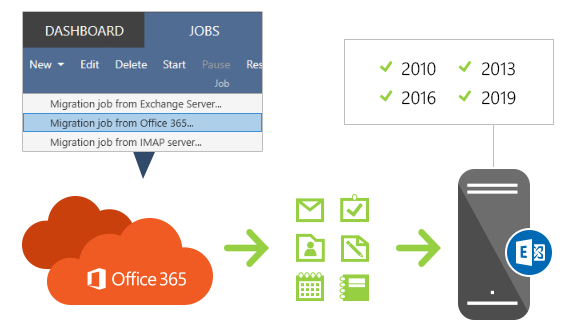 CodeTwo Exchange Migration supports direct migrations from Office 365 (Microsoft 365) to Exchange 2010 and newer, including the latest flavor of Exchange – Exchange 2019. You do not have to play with time-consuming PST export/import job or to set up a demanding hybrid environment to move your organization away from an Office 365 tenant. If your source mailboxes have mailbox archiving enabled, you can easily migrate both the primary and archive mailboxes to your on-premises Exchange server.
When using CodeTwo program for your migration project, you will find that the source mailboxes are left untouched as the program only copies their contents without changing anything. The target mailbox folder structure will match exactly the folder hierarchy of a source mailbox.
Thanks to the intuitive and user-friendly GUI, the migration task will bring more pleasure than stress, with no PowerShell scripting, no downtime and no headaches.
See also: