CodeTwo Exchange Migration
Seamless migration to Exchange
2010, 2013, 2016 and 2019
Used by 10k+ organizations from 150 countries
Migrate from Zimbra, Google Workspace (G Suite) and other IMAP servers
If you plan on migrating user emails from a hosted Exchange Server like Rackspace, or from other servers supporting IMAP like Google Workspace, Zimbra, IBM Notes, Zarafa or Kerio Connect, CodeTwo Exchange Migration comes in handy. Transferring emails to on-premises Exchange Server can be achieved with less effort and time when performed via CodeTwo migration tool.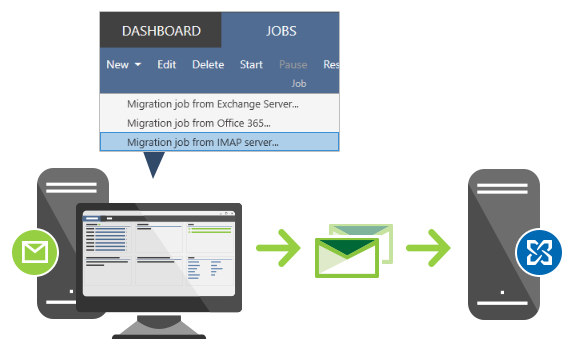 No matter what IMAP email platform you are currently on, you can use CodeTwo Exchange Migration to manage and complete the entire migration process. Take the burden off your shoulders by using the program to organize migration of emails in separate jobs (batches), connect to source and target servers via easy-to-follow wizards, or even schedule the migration ahead.
When migrating via IMAP, just make sure to prepare a CSV file with user credentials allowing to access their mailboxes, and the rest of the migration is a breeze.
Learn more: