CodeTwo Exchange Migration
Seamless migration to Exchange
2010, 2013, 2016 and 2019
Used by 10k+ organizations from 150 countries
How does the program work?
CodeTwo Exchange Migration eases the migration of user mailboxes and public folders to an on-premises Exchange Server. Wizard-based experience allows you to quickly configure the program and set up a migration job. Highly scalable, reliable and secure, the program is a must-have, especially when performing large-scale migrations from Office 365 (Microsoft 365), IMAP or another on-premises Exchange environment.
To check how your company data flows during the migration process when using CodeTwo Exchange Migration, see the diagrams below.
Migration from Exchange to Exchange
The program perfectly suits for cross-forest and cross-domain migrations, allowing you to smoothly transfer mailbox and public folders data between on-premises Exchange environments.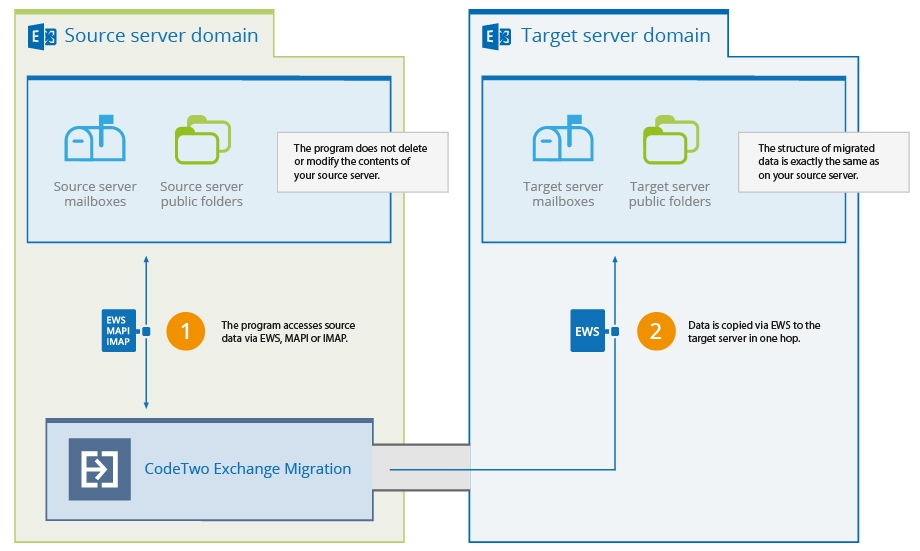 In the Exchange-to-Exchange migration scenario, you should install the program in the source server domain*. The program gives you three options to connect to the source Exchange Server:
Exchange Web Services (EWS)
Messaging Application Program Interface (MAPI)
Internet Message Access Protocol (IMAP)
Note that you should use IMAP only if you cannot use any of the other two protocols.
The connection to the destination server is always established via EWS. The migration of user mailboxes and public folders is performed in the background and does not affect their performance or availability in any way. After the migration, you will have two identical sets of data on both source and target Exchange servers.
As the program is installed locally, there is no third party involved in the migration process and your company is the only organization that has access to migrated data. Having this in mind, CodeTwo Exchange Migration is best-suited for customers who especially value data security.
* For hosted Exchange migrations (e.g. from third-party service providers such as Intermedia or Rackspace), the program should be installed in the target Exchange server as this will speed up the migration process. In such scenarios, the program connects to the source server through EWS.
Get more details on how to connect the program to a source Exchange environment
Migration from Office 365 to Exchange
CodeTwo Exchange Migration easily transfers mailboxes and public folders from Office 365 to an on-premises Exchange organization. The program uses encrypted connections so that your data is secured against an unauthorized access during the migration process. Your Office 365 credentials are safeguarded as well, since the program does not use them to access your tenant. Instead, CodeTwo Exchange Migration's connection to Exchange Online is authenticated with OAuth 2.0 access tokens.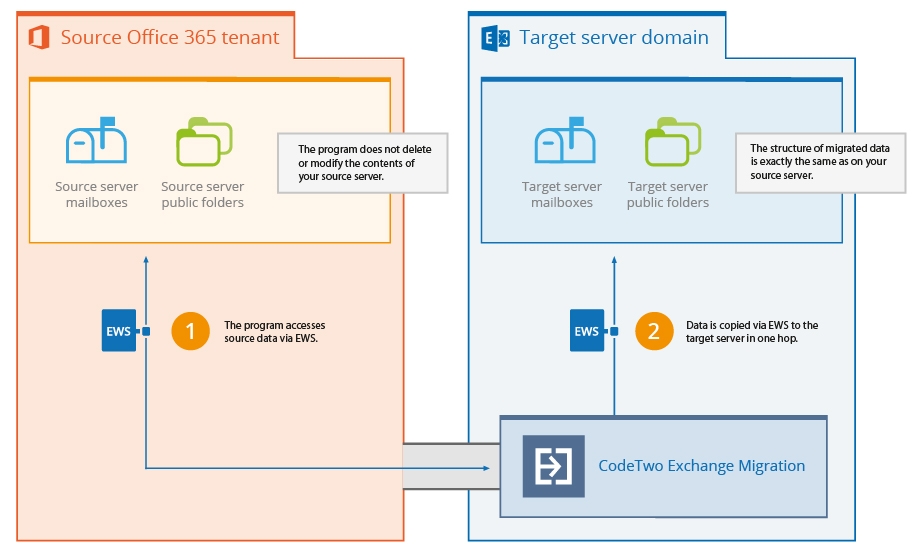 Migration from an Office 365 tenant to an on-premises Exchange server is managed through EWS on both ends. In a typical Exchange-to-Exchange scenario, it is recommended to install the program in the source domain. However, in this case, where the source server is a cloud server, the program needs to be installed in the target server domain, which is on-premises Exchange. You do not have to set up any intermediary servers as the migration process is performed "door-to-door", in one direct hop.
See how to connect the program to source Office 365
Migration from IMAP to Exchange
When you migrate data from IBM Notes, Zimbra, Google Workspace (formerly G Suite) or any other IMAP-supporting services, CodeTwo Exchange Migration accesses source server via Internet Message Access Protocol (IMAP) to migrate emails to Exchange. Migration via IMAP supports only email folders, which means that other types of folders like contacts, calendars or tasks are not migrated in this scenario.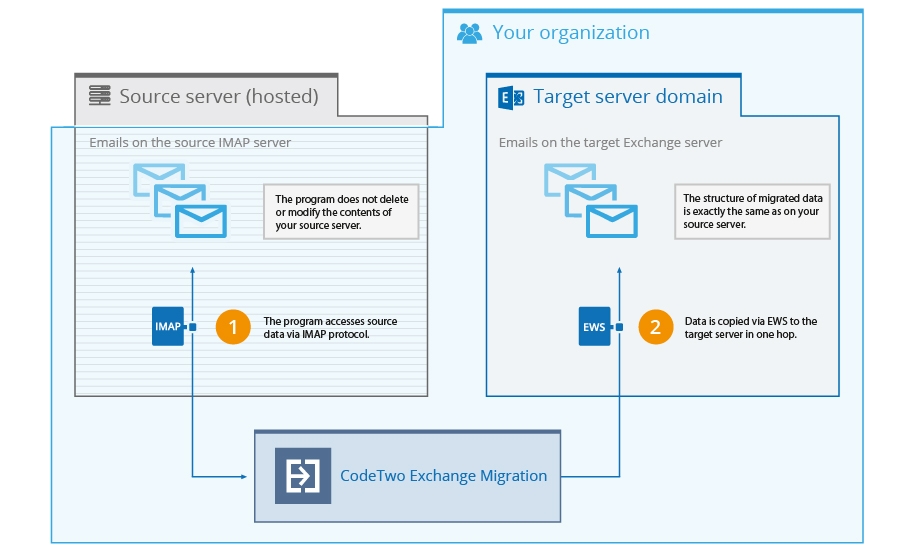 In the IMAP migration scenario, CodeTwo Exchange Migration can be installed on any workstation which has access to both your source IMAP server and the target Exchange server. For target server connection, the program uses Exchange Web Services (EWS).
Unlike when using EWS or MAPI, IMAP makes it impossible for administrators to provide only their credentials to migrate other users' mailboxes. This is why during the configuration the program will ask you to provide a CSV file containing users' credentials that can access source mailboxes.
Using the IMAP connection is recommended only if you need to migrate from a server to which you have limited access or one that does not support EWS or MAPI. If that is not the case and you are migrating from an on-premises Exchange, use EWS or MAPI connections instead.