Easy cross-forest migrations of Exchange Server and Office 365 (Microsoft 365) mailboxes with CodeTwo Exchange Migration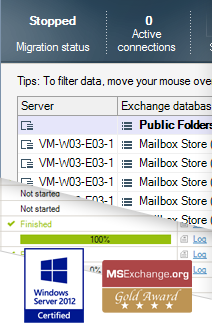 "I love a tool that is advertised as being able to perform a task, and it does just that. It just works."
– J. Peter Bruzzese (Microsoft MVP, Office Servers and Services)
If you were looking for a way to migrate users' mailboxes between two different Active Directory forests, you've probably noticed that using the native migration path can be quite troublesome. Carrying out a native Exchange Server cross-forest migration involves using complicated PowerShell commands and establishing a trust relationship between source and destination servers. What's more, if you would like to migrate mailboxes from Exchange 2010 or Office 365 (Microsoft 365) directly to Exchange 2019, you're probably going to come to a dead end, unless you use CodeTwo Exchange Migration.
CodeTwo Exchange Migration is an easy-to-use and cost-effective Exchange migration tool that simplifies the process of migrating users' mailboxes and public folders between Exchange Server domains and forests as well as between Exchange Online (Office 365) and on-premises Exchange. It comes with a comfortable graphical user interface and various additional administration options that, all together, make the entire migration process a breeze.
Main features of the program:
Simplified cross-forest migration of Exchange Server mailboxes
Easy migration of Office 365 mailboxes to on-premises Exchange
Graphical user interface; no PowerShell skills required
Support for archive mailboxes and public folders migration
Smart auto-matching mechanism for mailboxes
Auto-setup of target user accounts and mailboxes
Migration of all mailbox items: email, contacts, calendars, notes, journals, etc.
Convenient configuration wizards
Migration reports
Free technical support during mailbox migration
---
Read how BDS Solutions successfully migrated 20,000+ mailboxes between two Exchange servers.
BDS Solutions is an IT company that provides migration services for institutional customers, such as NHS, in the United Kingdom. The company was looking for a solution that would allow them to take on a large migration project for a government client. CodeTwo Exchange Migration helped them to make a swift move of mailboxes to a new Exchange server.
---
How does it work?
CodeTwo Exchange Migration is an easy-to-use migration tool that operates on one of the computers within the source Active Directory domain (or within the target domain if you are migrating from Office 365). Using the program doesn't require any 3rd party assistance at any point of the migration process. Since the program is a self-service application, it is you, the administrator, who controls the data transfer in 100%.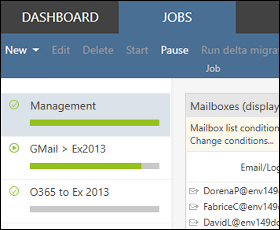 CodeTwo Exchange Migration was designed to give the administrator maximum comfort during the mailbox migration. The configuration of the program is very simple. The migration tool is equipped with a connection wizard which helps establishing connections with source and target servers. Before the migration process actually begins, a short checklist is generated, verifying the environment configuration and suggesting possible improvements.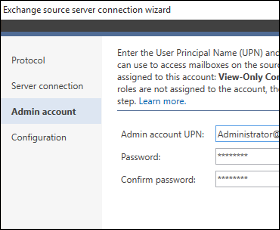 After establishing the server connection, you need to create a migration job (or jobs) that will help you organize the migration process. Thanks to this feature, you can migrate different mailboxes within different jobs, e.g. create a migration job just for the Sales Department.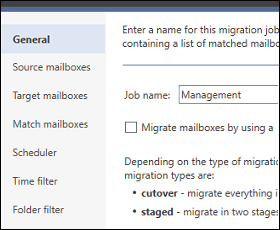 The program can also automatically match the mailboxes on the source and target server's end. The built-in Automatch option uses customizable matching patterns based on user attributes to link source mailboxes with their equivalents in the destination location. However, to be able to use this feature, you need to establish a trust relationship between the two Active Directory forests that will participate in the migration.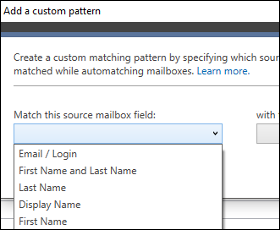 Furthermore, CodeTwo Exchange Migration can prepare the target organization by populating it with mailboxes for the users selected for the migration. The administrator is free to define the pattern based on which the mailboxes will be created.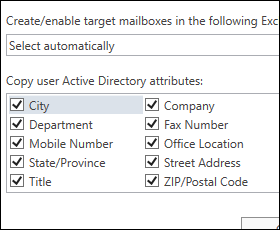 When the destination for all mailboxes has been properly defined, you are free to launch the migration. You can either do it right away or schedule the migration to be automatically triggered later on. The built-in scheduler will help you do that in just a few clicks.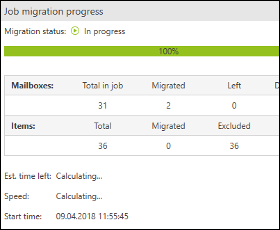 After the migration process finishes, you can verify if all items from a given mailbox have been successfully migrated. A detailed log file for each migrated mailbox is generated right after the data migration finishes. What's important, the program doesn't remove any items from the source location. If anything goes wrong, the problem can be easily found and fixed. You can be sure none of the user data will be lost.