Connecting to Source IMAP Server
Once the installation of CodeTwo Exchange Migration is finished, you have to choose IMAP server that will be used as a source of your migration.
Important
You must be aware that to migrate via IMAP you need to have credentials in hand for all accounts you are about to migrate. In one of the further configuration steps you will be asked to provide them in a form of a CSV file. It is not possible to provide only a whole organization administrator's credentials to access other users' mailboxes via IMAP due to the IMAP protocol limitations.
Configure your IMAP source
All IMAP accounts are supported - especially those hosted by well-known free mail providers such as Google or Yahoo. However, some providers have IMAP protocol disabled by default and you have to enable it manually prior to migration. Other restrictions may also apply, please refer to your mail provider for details on how to allow IMAP access.
Migrate from Exchange
Important
If you are going to migrate from Microsoft Exchange Server, consider using MAPI connection instead, as it is far more efficient way to migrate multiple accounts, unless you are about to migrate just a handful of mailboxes – then you can use IMAP.
Migration from Microsoft Exchange Server via IMAP might be a useful option for clients using hosted (e.g. Rackspace) or otherwise limited access Exchange Server. Before starting CodeTwo software configuration please make sure you have enabled IMAP4 in your Exchange:
One of the most popular free as well as paid email accounts provider is Google with their Gmail and Google Apps (G Suite). Follow the steps below to be able to migrate from Google via IMAP:
Log in to your Google account, whether Gmail or Gapps go to:
https://myaccount.google.com/
Go to your account security settings:
https://myaccount.google.com/security
In Connected apps & sites set Allow less secure apps to ON,
Now, go to your mail account settings, Forwarding and POP/IMAP tab
https://mail.google.com/mail/u/0/#settings/fwdandpop
Under IMAP Access select radio button Enable IMAP and click Save Changes.
Go to Labels tab and check boxes Show in IMAP by the names of labels you want to be migrated.
Warning
If you do not enable Show in IMAP option, items labeled with such labels will not be migrated, unless they happen to be labeled twice or more and those other labels are visible via IMAP.
Info
Google's Labels are visible as folders when accessing via IMAP. Therefore, after migrating via IMAP you will have as many mailbox folders in the target mailbox as you have labels in your Google account. That of course, assuming you enabled IMAP visibility for all of them (see warning above).
Items that are labeled with multiple labels will be migrated to each of the corresponding target folders. For example, if one of your emails is labeled with Important and Starred too, and both of these were enabled Show in IMAP option, after migration you will find a copy of this email in target mailbox Important folder as well as in Starred folder.
Migrate from other IMAP sources
Pretty much any mail server is supported as a source of migration, providing that IMAP access is enabled and you are able to provide a list of credentials to access users' mailboxes. However, see the below notes for a few most popular mail services:
Configure the software
To configure your connection click the gear wheel located on Define source server connections tile. In the Manage source servers connections window, simply click New IMAP connection.... A simple wizard should pop-up.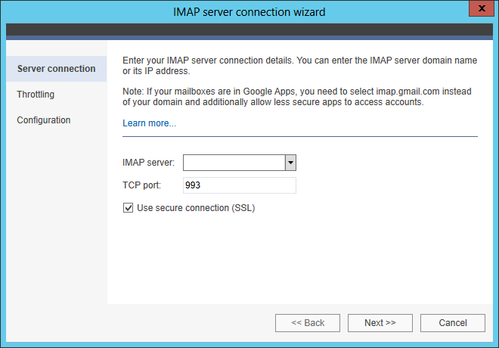 Fig.1. Configuring IMAP connection.
You have to provide the following information to configure IMAP connection:
Server address - you may use either IP address or its network name (e.g.

imap.server.com

). For your convenience we have added the most popular IMAP servers' addresses, including Gmail, Yahoo, Outlook.com and more.
Port - under which the IMAP server is running on the server. Usually it is 993 for encrypted connections (SSL) and 143 for non-encrypted ones.
Secure connection preference - the option that determines whether the connection should be encrypted.
Be advised, for mailboxes hosted in Google Apps with your custom domain you need to choose the same settings as for free Gmail accounts.
Warning
We strongly recommend to use only encrypted (SSL) connections for your data safety. If you are not able to establish SSL connection to public IMAP servers (like Google or Yahoo), please check date and time in your system, as most probably there is an issue with SSL certificate. If still no joy, please contact your mail hosting provider.
Click Next to continue to the Throttling step. Here you can define how the program should limit connections to your IMAP server. Thanks to this feature, program can suspend migration of mailboxes that exceeded server-side defined limits (if there are any) and continue the process for rest of them.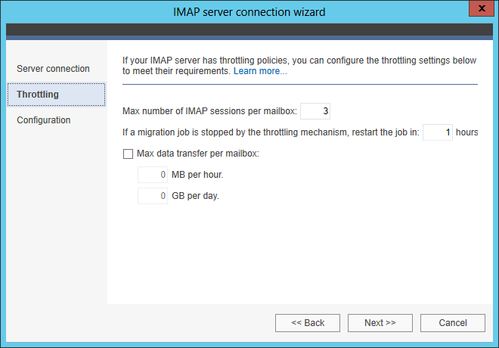 Fig.2. Configuring IMAP throttling.
Proceed clicking Next, and finally hit Configure, so the application will attempt to connect to the desired server. If the steps succeeded, you are good to go to create a new IMAP job.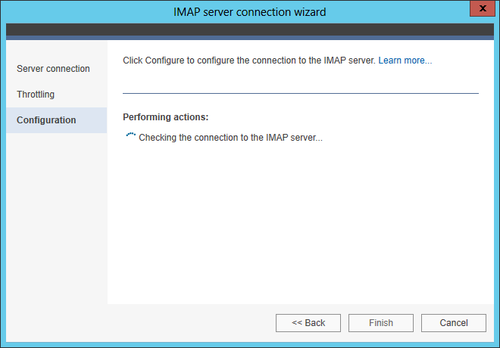 Fig.3. Verification of IMAP connection.