Troubleshooting server connection
No matter if you configure EWS connection to source/target Exchange Server or to source Office 365, the first action (test) performed by the program is always checking connection to your source server (Exchange Server, as shown in Fig. 1., or Office 365). During this operation, the software tries to access the source administrator's mailbox.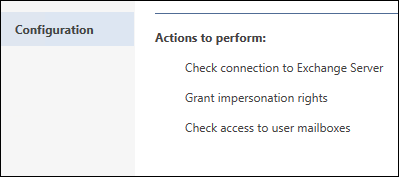 Fig. 1. Actions performed when connecting to a source/target Exchange Server via EWS. The configuration window for source connection to Office 365 looks similar.
If the result is negative (Fig. 2.), click on the Details link on the right to see more information.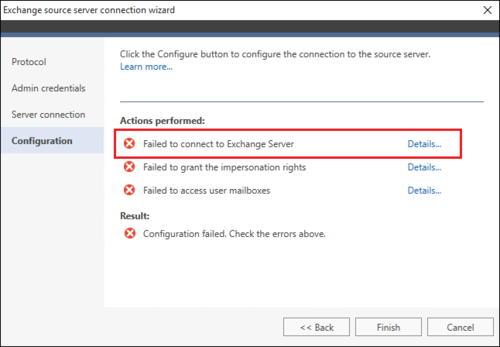 Fig. 2. Failure to connect to source Exchange Server. This error looks similar for target connection to Exchange Server or for source connection to Office 365.
Study the examples below that show the most common server connectivity issues:
The request failed. The remote server returned an error: (401) Unauthorized.
The error message is produced when either the wrong target server administrator account has been chosen or the email address is different than the UPN (User Principal Name). Make sure that the provided credentials are the right ones and that they match the UPN. If you are still using the pre-Windows down level logons (DOMAIN\user) you must create a UPN for the purpose of the migration.
The request failed. Unable to connect to the remote server.
This error occurs if the domain name in the administrator's email address is misspelled or the password is wrong. To fix the problem, go to the previous step of the connection wizard and make sure to enter correct credentials. A similar message is also shown if the EWS URL is wrong. In that case, go to the first step of the wizard and enter a correct EWS URL.
Failed to find in Active Directory an email address for [email address].
Exchange Server doesn't support the requested version.
These errors may appear when you choose a source/target Exchange Server version that is not supported by the program. When using EWS connection, CodeTwo Exchange Migration can be used to migrate mailboxes between the following versions of Exchange Servers: 2016, 2013, 2010 SP1, and SBS 2011.
The request failed. The remote server returned an error: (403) Forbidden.
The error message is produced when there is a problem connecting to the source/target server. Make sure you provided the right name or IP address of the server and the right EWS server address. To check this, you can copy-paste the EWS server address (EWS URL) from the program's settings into your web browser when you are logged in to the source server. If you don't get a credentials request pop-up window, this might mean that you provided wrong EWS server URL or IP.
Error: (407) Proxy Authentication Required.
Read more about this error in this Knowledge Base article.