CodeTwo Exchange Migration
Seamless migration to Exchange
2010, 2013, 2016 and 2019
Used by 10k+ organizations from 150 countries
Hosted Exchange to on-premises Exchange server migration
An in-house Exchange server gives you more flexibility and control in terms of administration than an Exchange server hosted by a third party. If you are looking for a secure solution that will help you migrate mailboxes from services like Intermedia, Rackspace and GoDaddy (and other hosted Exchange 2019, 2016, 2013 and 2010 servers) to Exchange Server 2019 or 2016, CodeTwo Exchange Migration is your best option.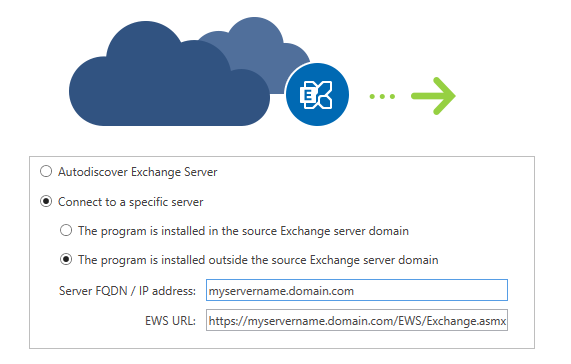 Our tool uses a single admin account to access your source server via Exchange Web Services. This account needs to have impersonation rights to access all mailboxes you want to migrate. Due to limited access to the source environment, the migration is performed using a CSV file that lists all paired mailboxes and includes email addresses and IDs (ExchangeGUIDs) of both source and target mailboxes.
CodeTwo Exchange Migration comes with advanced configuration capabilities that will let you migrate items of certain age only (e.g. emails from the last year or two) and exclude mailbox folders such as Deleted Items or Junk Email. You can also take advantage of the built-in scheduler and set the program to start and stop the migration process automatically during specific time frames.
To maximize the data upload speed, we recommend installing the program on the target Exchange server.
Useful links: