Easily migrate from Exchange Server to Office 365
with CodeTwo Office 365 Migration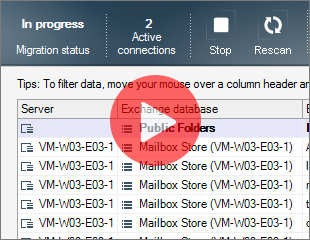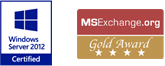 "I love a tool that is advertised as being able to perform a task, and it does just that. It just works."
– J. Peter Bruzzese
(Microsoft Exchange MVP, MSExchange.org)
Migrating on-premises Exchange Server to Office 365 (Exchange Online) can be a challenging task to complete. There is no direct native path for full migration from Exchange 2003 and other scenarios (e.g. migration from Exchange 2007, 2010, or 2013) have an impact on users, include using several PowerShell commands and preparing mailbox mapping CSV files.
CodeTwo Office 365 Migration can help you simplify the entire migration project. Thanks to this GUI-based mailbox migration tool you will be able to easily migrate the contents of all your on-premises mailboxes and public folders to the cloud.
Key features:
​100% GUI based mailbox migration tool
Migrate all item types to Office 365
Easy public folders migration from Exchange Server to Exchange Online
No impact on users
Scheduled mailbox migration option
Intelligent delta scan before making the final switch
Migration pause/resume option
Configuration wizards and migration checklist
Log files and reporting features
---
How it works?
CodeTwo Office 365 Migration is a mailbox content migration tool that is installed within the source server's domain. The program connects to the source Exchange Server mailbox database using the domain admin's account.
After the source mailboxes are listed in the program's main window it's time to connect the program to the destination Office 365 tenant and match the source mailboxes with their target equivalents. The built in connection wizard will help you do that in just a few clicks.
Once the connection has been verified, you are ready to create a migration job that will help you better organize your migration process. Follow the migration job wizard to decide about the target connection for that job, choose users whose mailboxes need to be migrated or what folders should be included or exluded.
When the migration job has been configured and all mailboxes have been matched with their target equivalents, you can start migrating your mailboxes and public folders to Exchange Online right away. You can also use the handy Scheduler feature and set the program to launch the migration when time is most convenient for you, e.g. during the weekend.

Whenever CodeTwo Office 365 Migration finishes copying data to the destination Office 365 organization, you can easily check if it has completed without any problems by checking the log files generated per each mailbox.