[Update] This post was updated on April 26, 2019
SharePoint Online and OneDrive for Business are one of the most common places to store company data. Procedures, various templates, documents in creation, runbooks – those are only a few examples of what kind of documents reside in SharePoint Online and OneDrive for Business. Those documents are often labeled as business-critical, which means that ensuring they are not accidentally (or purposefully) deleted is a big deal. That is where the issue of backup comes in. Read on if you want to know more about how to back up SharePoint Online and OneDrive for Business.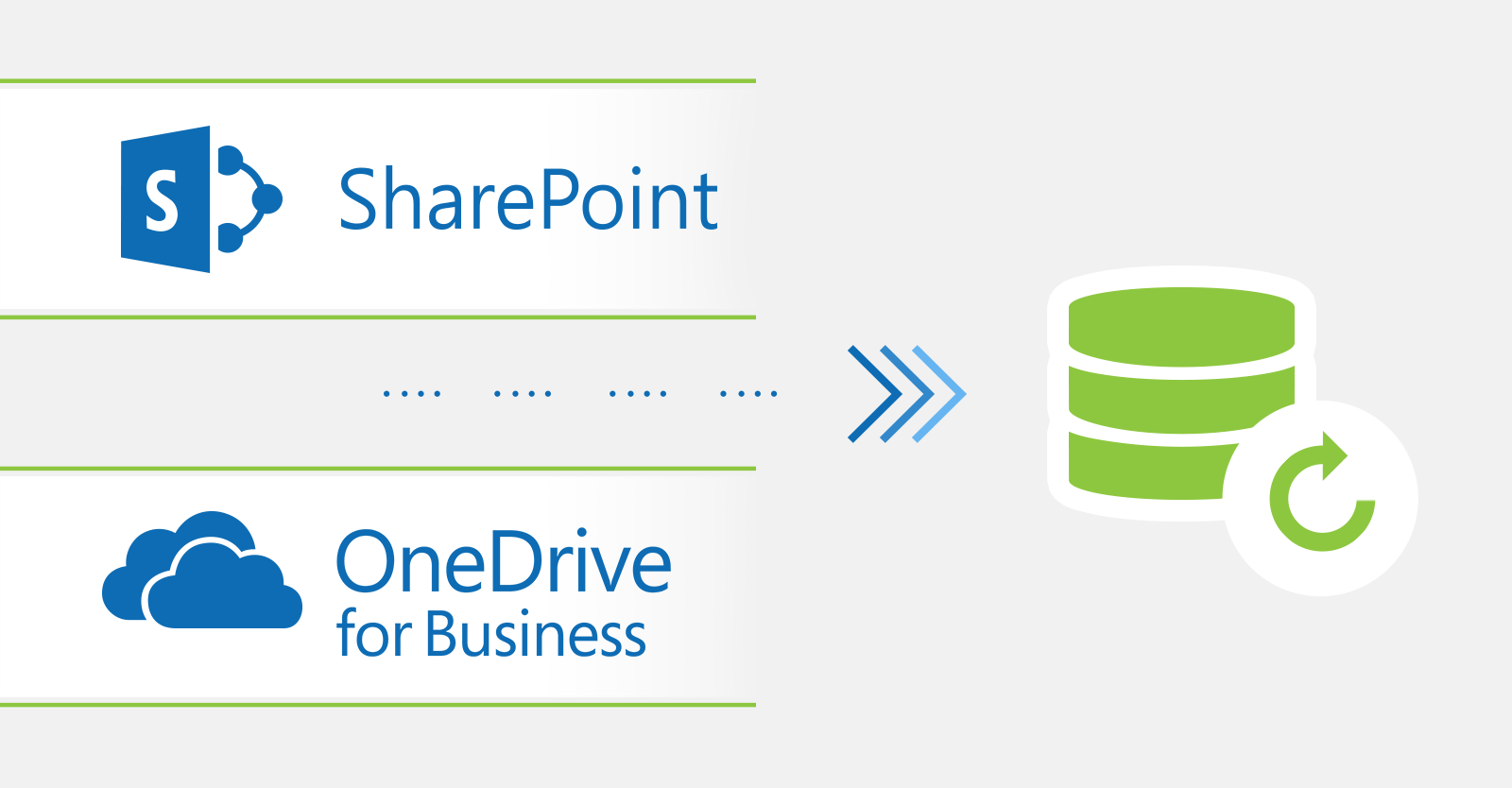 Why is backup needed?
Office 365, together with SharePoint Online and OneDrive for Business, changes the way data is stored. High availability and excellent security of Microsoft's Cloud might make you think that backup is a thing of the past. The truth is, for all companies which value their data, backup is still a must-have.
The article Why back up Office 365 mailboxes? shares some insight into why backup is needed. Although it is mostly about mailbox data, it applies to SharePoint and OneDrive for Business just as well.
When deciding if your company needs data backup, there are two questions which need answering:
In the age of strict data protection regulations, can you afford not to have a rock-solid backup?
Can you entrust all of your data entirely to a third party?
The native option
22 April 2019 Microsoft announced a new SharePoint feature – Files restore for SharePoint. Apart from that, there are two other options – retention policy and litigation hold. They allow you to preserve and secure essential documents against deletion.
Retention policy allows to either retain or automatically delete certain items. It can be applied on a global level – (for example for the whole Exchange Online, SharePoint Online) or for chosen sites. A retention policy creates Preservation Hold Libraries, which hold deleted content for the specified amount of time.
The litigation hold is a part of the native Office 365 eDiscovery tool. Its primary purpose is to hold specific content in case of litigation. Because it prevents items from being deleted indefinitely, it is also used as a backup alternative.
For a detailed comparison between a retention policy and a litigation hold, visit Office 365 litigation hold vs. retention policy – what's the difference.
With the introduction of Files restore for SharePoint, SharePoint gains useful backup and restore capabilities. Site owners gain an option to restore a library to any point in the past 30 days. Although this feature offers granularity on a library level and reliable disaster recovery capabilities, it is not without flaws.
Files restore for SharePoint – limitations
The feature is relatively new, so there is no telling how it will evolve. It allows site owners to restore a whole library to a point in time, as long as this point is in the last 30 days. This recovery feature comes in handy when:
Documents are mass deleted,
files get overwritten,
a lot of data becomes corrupted or infected by malware.
It means that if, say, a disgruntled employee leaves a company and wants to leave a mark by deleting files in bulk, you can ensure data integrity, despite that. However the feature was long awaited by admins and greatly increases SharePoint Online data security, there are a few facts to keep in mind, mentioned in restore a document library:
To use the feature, you need to be a site owner. During the restore action, visitors will see a notice that recovery is in progress
The feature requires versioning set up and turned on. Turning off the version history will disable the option to restore items to their previous versions.
Emptying site collection recycle bin makes restore impossible
The feature is meant for disaster recovery when a lot of documents are deleted or corrupted at the same time, it cannot be used for recovering single items, or excluding some items from the restore
Already mentioned litigation holds and retention policies can be used for another layer of protection. However, they will not cover each and every angle.
Limitations of retention policies and litigation holds
The native options are trusted to be very reliable and helpful, especially in terms of eDiscovery. However, they are not perfect for backup purposes. Here is why:
A litigation hold is not cut out to restore backed up content.
Litigation holds and retention policies greatly increase the size of an Office 365 tenant. In case of an indefinite global retention policy, there is no way to delete contents granularly.
Both native alternatives to backup store the content in the same physical location. This is against good backup practices.
They are dependent on Microsoft services. Not only does it create a potential unavailability risk, but also the Microsoft Purview compliance portal is one of the most rapidly changing services in an Office 365 tenant. Whenever there is a change, there is also a risk.
Preservation Hold libraries (a place which stores the deleted SharePoint content) are only visible to site collection admins.
Litigation hold's main purpose is to make content discoverable in case of litigation. Incorrect use of the hold may make all content discoverable, creating additional risks.
Don't forget you will need at least an E3 subscription for hold/retention capabilities.
The solution
Fortunately, there is a simple solution which allows you to back up SharePoint Online and OneDrive for Business, as well as all mailbox data in Exchange Online. This complete Office 365 backup solution is CodeTwo Backup for Office 365.
CodeTwo Backup for Office 365 is a tool which allows you to back up and quickly restore SharePoint Online, OneDrive for Business and Exchange Online data. This software lets you create a continuous incremental backup of your data to a local storage or an Azure-located VM. In case of unexpected data damage, data loss, or unavailability, you can access all backed up content at all times. Granularly restore the data to its original location or even to a different tenant.
It is highly recommended if you value data confidentiality and security.
How to back up SharePoint Online and OneDrive for Business?
Here is a short preview of how to back up and restore SharePoint Online and OneDrive for Business data:
First, download Backup for Office 365 (it includes a 30-day free trial version).
Next, on the Jobs tab, create a new SharePoint backup job.

It will start an easy-to-use wizard. You can decide what to back up, when a backup job should start and how often it should run. For a step-by-step presentation of how to configure a backup job, take a look at this User's manual article.

The best part is that your data can be accessed and restored at any time. You can restore whole site collections, libraries or even single items to their original destination or, if you need, to another tenant. To learn more about restoring SharePoint data from backup, refer to this User's manual article.

CodeTwo Backup for Office 365 offers an easy and reliable way to back up and restore SharePoint, OneDrive for Business and Exchange Online data. What is more, thanks to the ability to restore data to a different tenant, the software can be used as a SharePoint migration tool. To learn more about this solution, take a look at this website. You can also watch the video below on how it is important to back up SharePoint Online data.
If you want to learn more about Office 365 backup, check out the following articles: