This software has been discontinued. You can check the list of
currently available CodeTwo products here.
Outlook Add-in
The Outlook Add-in is one of the CodeTwo Public Folders Client Apps that enables sharing Outlook items between several computers in real time. That is why, the Add-ins should be installed on every computer that will be used for sharing Outlook folders.
Info
Please note that all you have to do after the installation to start the program is reopening your Outlook. After that, your CodeTwo Public Folders Add-in will be already there ready to use.
Read more about the Outlook Add-in installation
Read more about the Outlook Add-in configuration
Thanks to this solution, every user with the Outlook Add-in installed can see and work on different shared Outlook items prior to obtaining appropriate access rights set by the programs' administrator.
Read more about setting access rights to shared Outlook items
Furthermore, thanks to the real-time synchronization, every Add-in user connected to the same Syncing Master (either published locally or on the internet), can work on the updated data.
Read more about types of connections with the Syncing Master
After the installation of the Outlook Add-in, you may open its settings from the Start menu by clicking All programs, CodeTwo, Public Folders Client Apps, Configuration (Fig. 1.).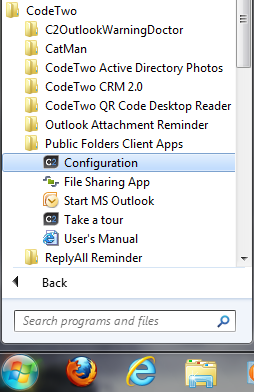 Fig. 1. Opening the Add-in settings panel from the start menu.
On the other hand, you can also open the Add-in configuration panel by clicking on the CodeTwo Public Folders tab in the Outlook client and choosing Options (Fig. 2.).

Fig. 2. Opening the Add-in settings panel from Outlook.
In both cases, the following window will show. To enter the Outlook Add-in settings click the Outlook sharing tab (Fig. 3.).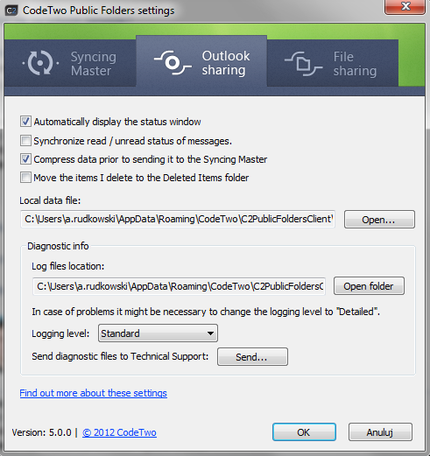 Fig. 3. The Outlook Add-in configuration panel.
The Add-in configuration panel is divided into three areas:
The checkbox area includes:


automatic display of the Add-in status, which, when ticked, shows whether there is a connection with the Syncing Master and also what operations on data are currently in progress,
synchronization status of read/unread messages, that will let users see whether messages were already read or not,
compression of data before sending it to the Syncing Master that can significantly improve the speed of sharing large files with other users,
moving your deleted items to the Deleted Items Folder (it will make your deleted Outlook items visible to other users in a public "recycle bin").

Local data file shows the path where your data is stored.
Diagnostic info: Log files location shows the path to the program's diagnostic files.

Warning

CodeTwo Public Folders has been discontinued and Customer Support for this software is no longer available. That is why you should not send diagnostic files to our Technical Support, but you can use these files for your own diagnostic purposes.
In the links below, you will find out how to share personal and public folders in Outlook: